Womens Road Bike Accessories - Road Bike Shop
Shop
>
Women's Apparel Clothing
>
Women's Apparel Road Bike Clothing
>
Women's Apparel Road Bike Accessories
Giro New Road Merino Wool Arm Warmers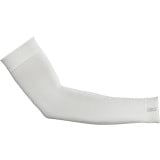 With merino serving as such a versatile natural material for jerseys and other active apparel, Giro smartly developed its Merino Wool Arm Warmers using a soft blend of it as well. The warmers use what Giro calls a "seasonal weight" blended merino wool, which means they provide ample warmth and...
Giro Pneumo Helmet
Retail Price:
$149.95
Our Price: $74.97
buy now
We can never get enough of versatility. Sure, there are some things that are better left dedicated, like time trial helmets, but this still doesn't dispel the excitement of using the same helmet on the road, trail, or commute to work. However, until the Giro Pneumo Helmet, this simply wasn't a...
Giro Prolight Replacement Helmet Pad Set
Three pads. That's the totality of the padding inside the Giro Prolight helmet. Another reason why the Prolight is so feather-light. The set comprises of a left brow, a right brow, and a top pad. Like the Giro Ionos, the pads are made from X-Static, which has anti-microbial/thermodynamic silver...
Giro Reverb Helmet
Retail Price:
$59.95
Our Price: $44.96
buy now
The Giro Reverb Helmet may look as though it just fell out of a faded 1991 Tour de France poster, but if you look closer, you'll find modern re-tooling, and subtle homage to the famed helmet that put a then little-known Giro Sport Design on the map. Gone are the outdated standards of yesteryear,...
Giro Sapphire Helmet - Women's
Retail Price:
$149.95
Our Price: $112.46
buy now
Giro's In-Mold Composite Reinforcement and Roll Cage technology allows its designers to provide the Sapphire Women's Helmet with cooling ventilation and class leading safety. The In-Mold Composite Reinforcement fuses the shell and impact-absorbing EPS foam into one lightweight structure. In-Mold...
Giro Saros Helmet
Retail Price:
$124.95
Our Price: $93.71
buy now
To us, the hallmark of a Giro design are its three central vents. And, not coincidentally, you'll find this feature on the Giro Saros Helmet. It was originally part of the Prolight design, but nearly every subsequent helmet has revolved around the three prominent central holes. To us, this...
Giro Savant Helmet
Retail Price:
$89.95
Our Price: $67.46
buy now
Whether you're a weekend warrior, a power commuter, or just finding your legs with the local cycling club, the 'buy the cheapest helmet that fits well' method isn't exactly podium-worthy advice to ensure happy riding. Luckily for you, the aptly-named Giro Savant carries every drop of Giro's...
Gore Bike Wear Countdown 2.0 Summer Women's Gloves
Retail Price:
$45.95
Our Price: $32.17
buy now
Like the mountain itself, summer plays by a different set of rules. We're commonly faced with making decision between excess protection at the cost of overheating, or too little protection at the cost of breathability. Luckily, though, Gore Bike Wear's Countdown apparel series addresses this very...
Gore Bike Wear Power Glove - Women's
A firm grip on your bars is required to climb a mountain road and ride down the winding backside with comfort and confidence. The GORE BIKE WEAR Women's Power Glove aids your efforts at an all-day, body-testing bike ride. Stretchy, breathable nylon and elastane fabric on backhand and palm...
Gore Bike Wear Universal 2.0 Arm Warmers
The Gore Bike Wear Universal 2. 0 Arm Warmers are true to their name, providing protection in a wide range of temperatures. The Universal arm warmers were sewn from a proprietary blend of Gore's nylon/elastane Warmer fabric to provide protection in both hot and cold conditions. This blend is...
<< Prev | Back | 1 | 2 | 3 | 4 | 5 | 6 | 7 | 8 | 9 | 10 | More | Next >>