Womens Road Bike Accessories - Road Bike Shop
Shop
>
Women's Apparel Clothing
>
Women's Apparel Road Bike Clothing
>
Women's Apparel Road Bike Accessories
Cratoni C-Breeze Cycling Helmet
Retail Price:
$179.99
Our Price: $143.99
buy now
The Cratoni "Sea Breeze" won't get you buzzed. In fact, it's designed to do basically the opposite. It wants to protect your head from wooziness, by way of insulating it from the impact you just may experience if you fall off your bicycle. Our fingers are crossed that such things don't happen,...
De Marchi Arm Screens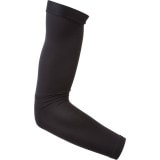 Not only do we like the way De Marchi calls its sleeves "Arm Screens," but we also love the smooth materials and finishing details that set these apart from your standard upper body protective layer. Not to be confused with warmers, the screens were made from a superlight 44-gauge Lycra blend,...
De Marchi Thermal Arm Warmers
Retail Price:
$59.95
Our Price: $41.96
buy now
We feel that cold-weather rides are no time for experimenting with new technology, especially when what we've got works so well. As evidenced by the Italian manufacturer's Thermal Arm Warmers, De Marchi is, apparently, a kindred spirit in this regard. Their simple, effective construction is...
De Marchi Thermal Knee Warmers
Retail Price:
$69.95
Our Price: $48.96
buy now
Thermal Knee Warmers
De Marchi Thermal Leg Warmers
Retail Price:
$79.95
Our Price: $55.96
buy now
De Marchi's Thermal Leg Warmers are the easy solution to rides that only warrant a rating of "cool." When combined with summer-weight shorts, they roll easily into the late fall. For temperatures that register as full-on "cold," pair them with insulated shorts for warmth and protection that you...
Etxeondo Goxo Arm Warmers
Retail Price:
$44.95
Our Price: $26.97
buy now
When the shoulder season is upon you, and the morning air is brisk, the Etxeondo Goxo Arm Warmers are the perfect accessory. Knit from a lightweight Dryarn fiber, they are heavy enough to keep the chill off your arms but not so heavy that you'll be soaked in sweat once the air warms. Dryarn wicks...
Etxeondo Luze Leg Warmers
Retail Price:
$49.95
Our Price: $29.97
buy now
Complete your Etxeondo cold-weather ensemble with its Luze Leg Warmers. These warmers are knit from Dryarn, a microfiber fabric that is designed as an ideal first layer against the skin due to its soft, flexible properties. It's thick enough to keep your legs warm, but it's also breathable so...
Giordana Body Clone Lightweight Knitted Dryarn Arm Warmer
Retail Price:
$49.95
Our Price: $39.96
buy now
Giordana used moisture-wicking Dryarn fabric to make the Body Clone Arm Warmer fit like a second skin. Elastic grippers hold warmers in place--and you'll need them to, especially when your favorite metal song begins on your MP3 Player.
Giordana Forma Red Carbon Summer Glove - Women's
Retail Price:
$49.95
Our Price: $12.49
buy now
Carbon fibers in the Giordana Women's Forma Carbon Cycling Glove repel electrical interference and energy-sapping UV rays, while the Body-Clone-collection fit enhances the second-skin feel. If the idea of wearing a second skin kind of freaks you out (we don't blame you), just forget that image...
Giordana G Shield Arm Warmers
If you live in an area where your winter is wetter than it is cold, a winter jacket offers too much protection for your ride. But when that ride is threatened by storm clouds, you need to be protected from the weather without running the risk of heatstroke. The Giordana G Shield Arm Warmers are...
<< Prev | Back | 1 | 2 | 3 | 4 | 5 | 6 | 7 | 8 | 9 | 10 | More | Next >>