Womens Road Bike Accessories - Road Bike Shop
Shop
>
Women's Apparel Clothing
>
Women's Apparel Road Bike Clothing
>
Women's Apparel Road Bike Accessories
Catlike Chrono Aero WT Helmet
Catlike's Chrono Aero WT Helmet is fast. But don't take our word for it. In fact, don't take anyone's word. Instead, let the results during the 2012 Vuelta's opening team time trial speak for the helmet's born-for-speed pedigree. Underneath a full complement of Chrono Aero WT Helmets, Movistar...
Catlike Kompacto Helmet
The Kompacto Helmet is the elder statesmen of the Catlike line, having pioneered the whimsical styling that later developed into the Whisper and Mixino helmets. If you're not keen on the latters' price tags, but you do like the aesthetics, CES (Crash Energy Splitter) exoskeleton, and MPS...
Catlike Mixino Helmet
The first thing you notice when looking at the Catlike Mixino, or any other Catlike helmet, really, is the completely unconventional shell and vent layout. Buried inside that shell, though, is where the real magic sits. Keeping your head protected is always priority number one for a helmet, with...
Catlike Mixino Movistar Team Helmet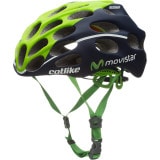 Retail Price:
$298.99
Our Price: $194.34
buy now
There's a lot to balance in a helmet. Strength, weight, ventilation, comfort, and fit all have to work together, and if even one is off, you might not be too psyched. For those demanding helmet perfection, there's the Catlike Mixino Movistar Team Helmet, which combines a whole host of...
Catlike Mixino VD2.0 Helmet
Aero road helmets are all the rage and Catlike wasn't going to be left with the grupetto. It took its highly successful Mixino Helmet and redefined it into the cutting-edge, wind-cheating Mixino VD2. 0 -- all the features of the original, just faster. Catlike is best known for its high protection...
Catlike Mixino VD2.0 Helmet
We have mixed feelings about the Mixino VD2. 0 Helmet, Catlike's foray into the realm of aerodynamic safety. We're sorry to see the hugely effective ventilation system of its Mixino helmets go, but the gains in aerodynamic efficiency made by incorporating a solid shell are undeniable and, in...
Catlike Tako Helmet
Catlike rarely ventures outside the world of road cycling. When it does, you know the product is going to be something special. The Tako helmet brings Catlike's extensive helmet experience to singletrack and, in doing so, creates a helmet as beautiful as it is functional. The Tako uses Catlike's...
Catlike Vacuum Helmet
Retail Price:
$139.99
Our Price: $69.99
buy now
Catlike's Vacuum Helmet is a surprising addition to the Spanish company's helmet line because, well, it looks very similar to the Platonic idea of a bike helmet. That's not to say it doesn't have some unique touches that only Catlike offer, but that it packages those features in a more...
Catlike Whisper Helmet
Some people say they don't like wearing a helmet because they haven't found one that's comfortable. Catlike takes the wind out of that excuse's sails with the Whisper Helmet. It'll protect your noggin just as well as any other helmet out there and is so light and comfy that you'll barely know it...
Craft Body Control Arm Coolers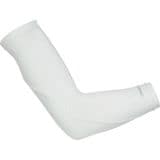 Retail Price:
$39.95
Our Price: $21.97
buy now
The temperature has reached the triple digits and you have miles to go. Wouldn't a little shade be nice? Craft Body Control Arm coolers are the shade you can carry with you -- well, sort of. The stretchy polyester and Lycra fabric provides light compression to reduce fatigue and UPF50+ protection...
<< Prev | Back | 1 | 2 | 3 | 4 | 5 | 6 | 7 | 8 | 9 | 10 | More | Next >>