Womens Road Bike Accessories - Road Bike Shop
Shop
>
Women's Apparel Clothing
>
Women's Apparel Road Bike Clothing
>
Women's Apparel Road Bike Accessories
Castelli Nano Flex+ Arm Warmer
Retail Price:
$49.95
Our Price: $47.70
buy now
A bright, brisk fall or spring day can turn drizzly in a flash and leave standard arm warmers damp, chilly, and certainly not doing their job to keep you warm. That is, unless you have a pair of Nano Flex+ Arm Warmers. Made from Castelli's proprietary, drizzle-blocking Nanoflex fabric, these...
Castelli Nano Flex+ Leg Warmer
Retail Price:
$69.95
Our Price: $62.65
buy now
It sometimes takes a bit of self-encouragement to get out the door and start a ride in the drizzle, so the last thing you need is a pair of leg warmers soaking up the rain and making you colder or slipping down to expose bare skin. Kit up in a pair of Castelli's Nano Flex+ Leg Warmers to stay...
Castelli Nanoflex Knee Warmers
Retail Price:
$49.95
Our Price: $22.48
buy now
In rainy conditions, knee warmers suffer from the same problems that legwarmers do. Basically, the fabric absorbs water and their ability to keep your joints warm becomes compromised. Lucky for you, the Castelli Nanoflex Knee Warmers have remedied the issues that challenge knee warmers in cold...
Castelli Nanoflex Leg Warmers
Retail Price:
$69.95
Our Price: $24.48
buy now
If there's one failing to most legwarmers, it's that they absorb water like a proverbial sponge. On rainy days, they end up waterlogged and providing compromised warmth. However, the Castelli Nanoflex Leg Warmers are perfect for riding in conditions that are both cold and wet. Then again, outside...
Castelli Rosso Corsa Pave Glove - Women's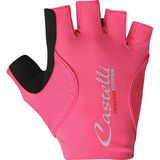 Retail Price:
$49.95
Our Price: $29.97
buy now
The cycling world houses widely varied opinions about the necessity of gloves, and while some people can afford to go glove-free, we're firmly in the camp that a couple of little tan lines are a small price to pay for having intact palms should things jump sideways. In addition to their...
Castelli Tempesta 2 Leg Warmer
Fall and winter riding tend to lend themselves to an awful lot of wheel spray, and your lower legs have a knack for being the main receiver of the unpleasant, frigid road-water. Castelli has an eye out for you though, thanks to the Tempesta 2 Leg Warmers, made with Nano Flex fabric on the thighs,...
Castelli Tempesta Leg Warmers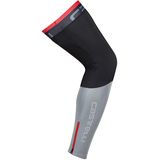 Retail Price:
$99.95
Our Price: $79.96
buy now
As summer gives way to blustery fall weather, rain and cold become more common companions on your training rides. If you're determined to ride through whatever comes your way, make sure you give yourself maximum protection with Castelli's Tempesta Leg Warmers. Made to be worn with the Tempesta 3...
Castelli Thermoflex Arm Warmer
Retail Price:
$39.95
Our Price: $35.80
buy now
Cold arms are uncomfortable and distracting when you're pushing through a cool shoulder-season ride, but it's an easy problem to fix. Slide on the Castelli Thermoflex Arm Warmer before you head out on a crisp day, and the microfleece-lined thermal fabric will hold heat next to your arms while...
Castelli Thermoflex Knee Warmers
Retail Price:
$39.95
Our Price: $33.18
buy now
The small tendons, ligaments, and muscles around your knees play an integral role in your ride quality, so don't leave them cold and exposed when you're riding in unpredictable shoulder season weather. A light breeze in your driveway turns brisk in a hurry when you drop into a long descent, so...
Castelli Thermoflex Leg Warmer
Your legs are your engine, but you can't expect them to work their best if you leave them bare in the cold. Let Castelli's Thermoflex Leg Warmers stand between your gams and the crisp spring air around them, and you'll enjoy less likelihood of muscle tightness and discomfort when you're out on...
<< Prev | Back | 1 | 2 | 3 | 4 | 5 | 6 | 7 | 8 | 9 | 10 | More | Next >>