Womens Road Bike Accessories - Road Bike Shop
Shop
>
Women's Apparel Clothing
>
Women's Apparel Road Bike Clothing
>
Women's Apparel Road Bike Accessories
Hincapie Sportswear Arenberg Knee Warmer
Keep your knees nice and toasty with the Hincapie Arenberg Knee Warmer. Soft gripper elastic keeps the warmers in place without discomfort, while the auto-locking reflective zips make sliding these soft, insulating warmers on a struggle-free experience.
Hincapie Sportswear Arenberg Leg Warmer
If your ride starts with a morning chill and ends with sun baked pavement, roll out with the Hincapie Arenberg Leg Warmers. The soft SuperRoubaix fleece will keep your pistons warm until the sun catches up, and reflective zippers make removing these easier than dismounting your carbon road weapon.
Hincapie Sportswear Arenberg Zero Knee Warmers
The Arenberg Forest has a special place in the heart of Hincapie Sportswear's namesake. Though he never won the race in which it features, his passion for it is unmatched, so you'd expect any gear that bears its name to reflect that. The Arenberg Zero Knee Warmers don't disappoint. In a race...
Hincapie Sportswear Chantilly Arm Warmers - Women's
Retail Price:
$34.95
Our Price: $19.22
buy now
Hincapie didn't stop with just a jersey and shorts when developing the Chantilly collection. The designers knew that you'd be out for cool morning spins and evening group rides, which is why they created the matching Chantilly Women's Arm Warmers. Made with a soft BodE Thermal Heat material,...
Hincapie Sportswear Es Pasion Rain Arm Warmers
Retail Price:
$49.95
Our Price: $22.48
buy now
Hincapie Sportswear's Es Pasion line is a nod toward Big George's Colombian heritage, with the bright colors meant to be a visual manifestation of Colombia's passion for all things, cycling included. The Es Pasion Rain Arm Warmers meet these requirements with their asymmetrical colors, but...
Hincapie Sportswear Ghisallo Arm Warmers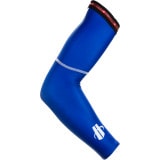 Retail Price:
$49.95
Our Price: $17.48
buy now
Sure, legs get most of the credit when it comes to riding, and rightly so, but that doesn't mean you shouldn't protect your arms as well. So when it's too cold for short sleeves, but it's not quite jacket weather, the Hincapie Ghisallo arm warmer is just right. Built from a synthetic fleece for...
Hincapie Sportswear Ghisallo Knee Warmers
Retail Price:
$59.95
Our Price: $20.98
buy now
When the mercury drops, you already know it's time for knee warmers. So keep your joints protected in style with the Hincapie Ghisallo knee warmer. Built from a synthetic fleece for warmth, and treated with AcquaZero for durable waterproofness, they'll shrug off cold winds and light precip. They...
Hincapie Sportswear Vantage Arm Warmers
The Hincapie Vantage Arm Warmers help you stay color-coordinated when you're pounding the pavement. This knee warmer was built from BodE Thermal Heat fabric--chosen for its warming characteristics and moisture-wicking abilities. Silicone grippers at the upper arm keep these warmers from creeping...
ICEdot Band
To complement the ICEdot Crash Sensor, the Band is a silicone bracelet with your personal identification number. In the event of an emergency, it allows another person to alert contacts by calling and entering the pin. Then online-stored contacts are alerted via text, phone, or email.
ICEdot Crash Sensor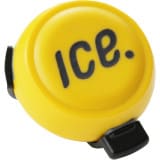 The ICEdot Crash Sensor detects life-threatening impacts and sends an emergency message through your smartphone to someone who can get you medical help. When an incident happens, the ICEdot sends a Bluetooth signal to an app on your smartphone. An alarm will sound on the phone, giving you a...
<< Prev | Back | 11 | 12 | 13 | 14 | 15 | 16 | 17 | 18 | 19 | 20 | More | Next >>