Womens Road Bike Accessories - Road Bike Shop
Shop
>
Women's Apparel Clothing
>
Women's Apparel Road Bike Clothing
>
Women's Apparel Road Bike Accessories
Gore Bike Wear Universal Windstopper Kidney Warmer
We all have felt the chilling effects of long, off-season rides on our extremities. But have you ever really thought about your core? Sure, you put on a baselayer and a wind-cheating jacket, but are you really staying as warm as you should be? For bitterly cold days, when you just have to get out...
ICEdot Band
Retail Price:
$19.95
Our Price: $9.58
buy now
To complement the ICEdot Crash Sensor, the Band is a silicone bracelet with your personal identification number. In the event of an emergency, it allows another person to alert contacts by calling and entering the pin. Then online-stored contacts are alerted via text, phone, or email.
ICEdot Crash Sensor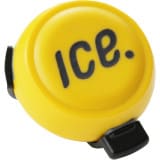 The ICEdot Crash Sensor detects life-threatening impacts and sends an emergency message through your smartphone to someone who can get you medical help. When an incident happens, the ICEdot sends a Bluetooth signal to an app on your smartphone. An alarm will sound on the phone, giving you a...
ICEdot Sensor Mount 2-Pack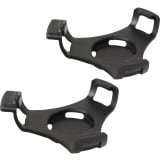 Retail Price:
$14.95
Our Price: $7.47
buy now
Chances are you have more than one helmet. If that's the case, use the ICEdot Sensor Mount 2-Pack to add mounts to two more helmets. It's constructed from plastic and uses zip ties to attach to virtually any helmet.
Kali Protectives Maraka Road Helmet
Kali's a name you know from their ultra-protective trail helmets and full-faces, but they've now applied that technology to a road line. The Maraka was designed to keep your head safe, while also making sure you stay as cool as possible. The helmet features a stunning 25 vents, oriented in a...
Kali Protectives Phenom Helmet
Kali Protectives makes it easy to pay subtle homage to the stripes while being protected -- not weighed down -- on the roads with the Phenom Helmet. Occupying the upper echelon of Kali helmets, the Phenom was designed with all of the aerodynamic and weight considerations that characterize helmets...
Kali Protectives Saha Helmet
For a long time, just wearing any type of helmet was seen as a good decision for your overall safety, but we're glad to see a trend of manufacturers now questioning the materials that go into making the helmets that protect us on our bikes. Considering the impact all of our old helmets have on...
Kask Bambino Pro Helmet Visor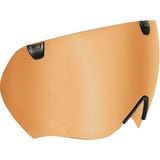 There are any number of reasons why a cyclist might want a spare Kask Bambino Pro Helmet Visor on hand. Maybe the original was involved in an unfortunate incident deep in the chaotic bowels of the kit bag. Maybe the lighting conditions for a given event require more or less tint. Maybe the reason...
Kask Infinity Helmet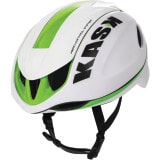 Retail Price:
$369.95
Our Price: $295.96
buy now
Though you might not think about it, chances are your cycling helmet is causing extra drag when you're chasing your friends down lonely stretches of highway and sprinting all-out at regional race events. The Kask Infinity Helmet offers an aerodynamic solution to your high-drag helmet woes with...
Kask Protone Helmet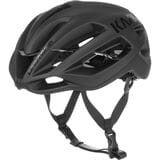 The Kask Protone uses In-Mold Construction. This means that the polycarbonate shell is bonded to an EPS foam body. This is then secured over a frame, which allows the shell to absorb impact while keeping the structural integrity of the helmet. The Protone is secured with Kask's Octo Fit Cradle...
<< Prev | Back | 11 | 12 | 13 | 14 | 15 | 16 | 17 | 18 | 19 | 20 | More | Next >>