Womens Road Bike Accessories - Road Bike Shop
Shop
>
Women's Apparel Clothing
>
Women's Apparel Road Bike Clothing
>
Women's Apparel Road Bike Accessories
Louis Garneau Course Helmet
When the engineers at Louis Garneau began researching the history of aerodynamics for its new Course Helmet, they found that there were considerable differences between aerodynamic equations and practical applications. In other words, the extensive research and wind tunnel testing would only take...
Louis Garneau Course Windpro Arm Warmers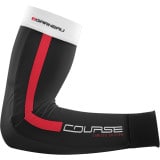 The Louis Garneau Course Windpro Arm Warmers have the usual perks you'd expect, but with two key differences. The most immediately obvious one is the elastic-free fit of the upper cuff, which LG is calling the Gladiator grip. This all but eliminates pinching and over-compression while still...
Louis Garneau Diamond II Helmet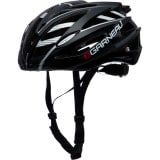 It's true, we're starting to see an industry trend that's leading away from helmet ventilation in favor of aerodynamics. However, the question begs to be asked, 'what are you willing to give up for marginal gains?' And while we're a fan of free speed and innovation, in our books, ventilation is...
Louis Garneau Knee Warmers
It's certainly not their only application, but knee warmers such as the Louis Garneau Knee Warmers 2 are popular at cyclocross races. Why? Because they strike an effective balance between providing the insulation you need at the knee and minimizing the total amount of fabric you're wearing. After...
Louis Garneau Leg Warmers 2
The Louis Garneau Leg Warmers 2 could be an ideal complement to your favorite bib shorts when your ride starts out chilly and then you're met with a surprise warm-up. The Leg Warmers 2 are made of Garneau's HeatMaxx fabric, a polyester/elastane blend with a brushed fleece back to retain body heat...
Louis Garneau Mondo 2 Gloves - Women's
If suffering from sore hands sounds familiar, the Louis Garneau Mondo 2 Women's Gloves just may be the answer you've been looking for. These well-vented, short-finger gloves feature a generously padded gel palm, which cuts down on road vibration, hand numbness, and pain. While the palms are plush...
Louis Garneau Quartz II Helmet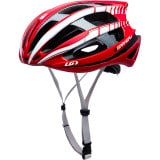 Retail Price:
$149.95
Our Price: $52.48
buy now
Basic logic tells us that more ventilation equates to less materials, meaning that a well ventilated helmet should, in theory, be lightweight. However, comparing the the Louis Garneau Diamond II to the Quartz II turns this logic on its head. You see, while the Diamond II has the most ventilation...
Louis Garneau Sharp Helmet
Whether it be your six-mile commute, a weekend ride with friends, or just a quick jaunt down to the grocery for toilet paper, never leave the house without your Louis Garneau Sharp Helmet. Reinforced by Garneau's patented U-Bar exoskeleton and wrapped in their Super MSB shock ring which...
Louis Garneau X-Lite Helmet
Retail Price:
$169.95
Our Price: $59.48
buy now
With 37 vents, the Louis Garneaue X-lite Helmet not only provides protection during a crash--it keeps your noggin cool when pushing hard. An ergonomic, anatomically correct fit, easy-to-adjust fit system and ultra low weight help keep the X-Lite as unnoticeable as possible when spinning pedals....
Louis Garneau Zip-Leg Warmers 2
If full-length tights aren't your thing, and you're wary of the very idea of embrocation, the Louis Garneau Zip-Leg Warmers 2 are the obvious choice for your winter closet. Featuring a proprietary warming fabric and a stay-put fit, the Zip-Leg Warmers 2 will help you in your conquest of harsh...
<< Prev | Back | 11 | 12 | 13 | 14 | 15 | 16 | 17 | 18 | More | Next >>