Womens Road Bike Accessories - Road Bike Shop
Shop
>
Women's Apparel Clothing
>
Women's Apparel Road Bike Clothing
>
Women's Apparel Road Bike Accessories
Hincapie Sportswear Es Pasion Rain Arm Warmers
Retail Price:
$49.95
Our Price: $39.96
buy now
Hincapie Sportswear's Es Pasion line is a nod toward Big George's Colombian heritage, with the bright colors meant to be a visual manifestation of Colombia's passion for all things, cycling included. The Es Pasion Rain Arm Warmers meet these requirements with their asymmetrical colors, but...
Hincapie Sportswear Ghisallo Arm Warmers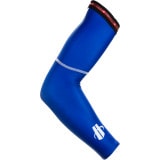 Retail Price:
$49.95
Our Price: $22.48
buy now
Sure, legs get most of the credit when it comes to riding, and rightly so, but that doesn't mean you shouldn't protect your arms as well. So when it's too cold for short sleeves, but it's not quite jacket weather, the Hincapie Ghisallo arm warmer is just right. Built from a synthetic fleece for...
Hincapie Sportswear Ghisallo Knee Warmers
Retail Price:
$59.95
Our Price: $29.98
buy now
When the mercury drops, you already know it's time for knee warmers. So keep your joints protected in style with the Hincapie Ghisallo knee warmer. Built from a synthetic fleece for warmth, and treated with AcquaZero for durable waterproofness, they'll shrug off cold winds and light precip. They...
Hincapie Sportswear Vantage Arm Warmers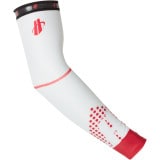 Retail Price:
$34.95
Our Price: $27.96
buy now
The Hincapie Vantage Arm Warmers help you stay color-coordinated when you're pounding the pavement. This knee warmer was built from BodE Thermal Heat fabric--chosen for its warming characteristics and moisture-wicking abilities. Silicone grippers at the upper arm keep these warmers from creeping...
ICEdot Band
To complement the ICEdot Crash Sensor, the Band is a silicone bracelet with your personal identification number. In the event of an emergency, it allows another person to alert contacts by calling and entering the pin. Then online-stored contacts are alerted via text, phone, or email.
ICEdot Sensor Mount 2-Pack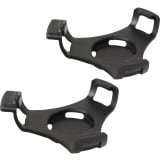 Chances are you have more than one helmet. If that's the case, use the ICEdot Sensor Mount 2-Pack to add mounts to two more helmets. It's constructed from plastic and uses zip ties to attach to virtually any helmet.
Kali Protectives Maraka Road Helmet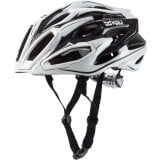 Retail Price:
$190.00
Our Price: $152.00
buy now
More air forced through frontal vents equals better cooling; the downfall of larger openings is usually weakened overall structure. The Maraka Road Helmet features 25 vents, with five of them using Kali Protectives' Supervent technology to maximize air intake and, most importantly, to easily pass...
Kask 50 Bike Helmet
Retail Price:
$149.95
Our Price: $119.96
buy now
Tipping the scales at the 260g mark, Kask's 50 Bike Helmet's not only a feathery option, but incredibly capable in the cooling department, too. This comes in the form of 24 intakes within the in-molded polycarbonate and expanded polystyrene shell. For fit, the Kask 50 Bike Helmet uses a hinged...
Kask Bambino Helmet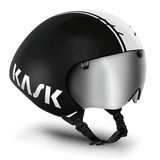 Wind-tunnel tested, Team Sky approved--the Kask Bambino TT Helmet combines unsurpassed safety, outstanding aerodynamics, and breath-taking Italian styling into one magnificent time-trial helmet. Kask started the Bambino in the wind tunnel. Its innovative bob-tail design delivers ultra-slippery...
Kask Bambino Helmet Visor - Universal
The Kask Bambino is a part of the new generation of short-tailed aerodynamic helmets. To assist with making it as clean as possible for the air to move over, it features an integrated lens system. Whether your current lens is scratched or you merely need a different lens tint for varying...
<< Prev | Back | 11 | 12 | 13 | 14 | 15 | 16 | 17 | 18 | 19 | More | Next >>