Womens Mountain Bike Tops - Road Bike Shop
Shop
>
Women's Apparel Clothing
>
Women's Apparel Mountain Bike Clothing
>
Women's Apparel Mountain Bike Tops
Mavic Bellissima Women's Jacket
Retail Price:
$139.90
Our Price: $55.96
buy now
A wind jacket is an essential tool in every cyclist's wardrobe. It must be perfectly lightweight, and it must keep you protected from chill winds and dry in surprise rain showers. What it mustn't do is billow out behind you like a parachute as you ride. The Mavic Bellissima Jacket has learned...
Mavic Cloud Jacket - Women's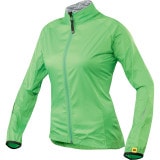 Retail Price:
$89.95
Our Price: $40.48
buy now
It only takes an instant for a beautiful sunny day to turn chilly and wet. The Mavic Women's Cloud Cycling Jacket uses wind-resistant and rain-repellent fabric to keep you ready for quick downturns in the weather. All you have to do is pull this compressible jacket from your jersey pocket, slip...
Mavic Cloud Thermo Jacket - Women's
While not quite as ready for severely cold temperatures as Mavic's Athena Thermo Jacket, the Mavic Women's Cloud Thermo Jacket does a fantastic job of shielding you from the elements this winter without costing quite as much. You'll want to layer up well for the coldest days, but for everything...
Mavic Oxygen H20 Women's Jacket
Cycling is a sport that owes much of its harrowing nature to Murphy's Law. If something can go wrong on your bike, or with the weather, chances are it probably will. Luckily though, keeping the Mavic Oxygen H20 Jacket on hand will dramatically reduce your chances of having a another ride ruined...
Mavic Oxygen Women's Jacket
The Mavic Women's Oxygen Jacket's lightweight, bulk-free design won't even be noticed until the wind kicks up and you pull it out of your jersey pocket. the Oxygen protects you from wind and light rain so you can get on with your ride even if the weather tries to throw you a curve-ball.
Oakley Continuity Sports Bra - Women's
Move seamlessly from pose to pose in your hot yoga class when you wear the Oakley Women's Continuity Sports Bra. Lightweight in terms of both material andsupport, the Continuity Bra offers air-conditioned comfort for most cup sizes during yoga, pilates, dog-walking, and other low-impact...
Patagonia Active Mesh Bra - Women's
The Patagonia Active Mesh Bra gives you seamless support, and it wicks moisture so you stay comfortable while you move. Recycled polyester causes less stress on the environment so you can support the earth while the Active Mesh Bra supports you.
Pearl Izumi Elite Barrier Convertible Jacket - Women's
Retail Price:
$109.95
Our Price: $87.96
buy now
When inclement weather is on the horizon, slide into the versatile Pearl Izumi Elite Barrier Convertible Women's Jacket. With its removable sleeves, you can adjust to the conditions on hand, in real-time. However, don't think that zip-off sleeves are the extent of this jacket's weather-resistance...
Pearl Izumi Elite Barrier WxB Women's Jacket
Retail Price:
$199.95
Our Price: $99.97
buy now
Pearl Izumi's Elite Barrier WxB Women's Jacket gets its name from its waterproof and breathable features. The jacket is aligned at the top of Izumi's Wind+Water collection, as its watertight construction ensures that you remain warm, comfortable, and most importantly, dry while logging your...
Pearl Izumi Elite Prima Reverse Jacket - Women's
Pearl Izumi is billing the Elite Prima Reverse Jacket as two jackets in one because it blocks wind and provides thermal insulation. This limiting billing leaves a few key performance elements off of the list, though, including the jacket's lightweight, non-restrictive construction and its...
<< Prev | Back | 1 | 2 | 3 | 4 | 5 | 6 | 7 | 8 | 9 | 10 | More | Next >>