Womens Mountain Bike Tops - Road Bike Shop
Shop
>
Women's Apparel Clothing
>
Women's Apparel Mountain Bike Clothing
>
Women's Apparel Mountain Bike Tops
Troy Lee Designs Skyline Jersey - Women's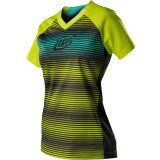 Retail Price:
$49.95
Our Price: $29.97
buy now
A polar opposite of road-inspired, rear-pocket tops, Troy Lee Designs' Skyline Women's Jersey is a smart mix of technical fabrics and purpose tailoring for desert riding, summertime alpine adventures, and humid climates. Designed for pack-less, lift-access riding, or hydration-pack laden...
Twin Six Beyond Categorie T-Shirt - Short-Sleeve - Women's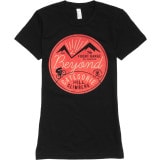 Retail Price:
$23.95
Our Price: $17.96
buy now
Let everyone know that hills don't phase you with the Twin Six Beyond Categorie Women's T-Shirt. This super-soft 100% cotton tee is emblazoned with a graphic that's a testament to your willingness to grind it out, even when it gets steep and painful. Because after all, you know how sweet the...
Twin Six Bicycle T-Shirt - Short-Sleeve - Women's
If you've ever been asked what you love about riding bikes, your answer may be like ours: the reasons are both complicated and simple. If you need to explain it, they're never going to get it. The Twin Six Women's Bicycle T-Shirt is the same way.
Twin Six Commuter T-Shirt - Short Sleeve - Women's
Though its graphics are reminiscent of the road markings that shepherd you through your commute, the Twin Six's Commuter T-Shirt's bright colors will help you stand out from the tarmac and add an element of safety to your errands. It also looks pretty damn cool. The super-soft cotton shirt is...
Twin Six Everyday Olympian T-Shirt - Short-Sleeve - Women's
Retail Price:
$23.95
Our Price: $14.37
buy now
Sometimes just rolling out of bed can take all of your strength and will, yet you manage this daunting task every single day. We figure that alone makes you a champion, whether it's a sport that's recognized by the international athletic community or not. Go ahead and grab a Twin Six Women's...
Twin Six Freedom T-Shirt - Short-Sleeve - Women's
Freedom ain't free. We all know that. That's why we appreciate it. Now appreciate it out loud with the Twin Six Freedom Women's T-Shirt.
Twin Six Hapless Hare T-Shirt - Short Sleeve - Women's
Given its colors ("tri-cranberry" and "mustard") and subject matter (a hare and a tire), you'd be excused for thinking Twin Six's Hapless Hare T-shirt was meant to depict a bizarro world's Thanksgiving leftover sandwich. Instead, it's about a cycling event that may or may not exist and in which...
Twin Six Level Up T-Shirt - Short-Sleeve - Women's
Twin Six's Level Up T-Shirt suggests that, just like with the experience points in the RPG video games of our youth, getting stronger on the bike is all about grinding out base miles. Only there aren't goblins and you have no MP. And it hurts a lot more. And the potions taste like energy gels. OK...
Velocio Mid 2.0 Jacket - Women's
There are three items every cyclist needs when the weather turns cold. The first is a pair of knit gloves. The second is a mid-weight, windproof top like the Velocio Mid 2. 0 Jacket. The third is a hot cup of coffee -- otherwise, the thought of getting out of bed and confronting a chilly workout...
Velocio Zero Jacket - Women's
Velocio is fast becoming a favorite label around the Competitive office, and the Zero Jacket is prime example why. We're suckers for style, and the Zero has it in droves. Clean lines, subtle color choices, and a splash of flair with its signature color at the right cuff and collar. We also love...
<< Prev | Back | 11 | 12 | 13 | 14 | 15 | More | Next >>