Womens Mountain Bike Tops - Road Bike Shop
Shop
>
Women's Apparel Clothing
>
Women's Apparel Mountain Bike Clothing
>
Women's Apparel Mountain Bike Tops
Assos DB.11 activityPolo Lady SS
Retail Price:
$129.95
Our Price: $38.98
buy now
The new DB. 11 activityPolo SS for ladies was designed with a casual style, yet it relies on the advanced fabrics and small details that signify all things Assos. The 'D' and the 'B' from its title refer to 'Dopo Bici,' which translates to 'after bike.' That's exactly what this shirt was built...
Assos iJ.Intermediate_s7 Jacket - Women's
The Assos iJ. Intermediate_s7 Women's Jacket is a relatively simple concept employed with very un-simple fabrics to make for one of the most advanced cycling pieces you may ever wear. The Intermediate_s7 Jacket is light enough that it could be called a long-sleeve jersey, but we think that's one...
Assos iJ.pompaDour_S7 Women's Jacket
It's rare that a jacket is able to tell its story through sheer numbers, but not surprisingly, the iJ. pompaDour_S7 achieves just that. For its construction, Assos used 30 pattern pieces, 10 different textiles, and 12 separate components. In other words, Assos put some thought into this jacket....
Assos jS.laalaLai Women's Short Sleeve Shell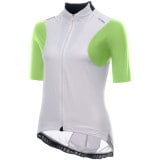 Retail Price:
$308.95
Our Price: $123.58
buy now
The name might have you confused. It reads like a mistake. A short sleeve shell? Is it a jersey that's been waterproofed, or a shell that's been hacked? Assos has done neither. The jS. LaaLaLai Women's Short Sleeve Shell is a lightweight jersey that combines a windproof front panel with a mesh...
Assos umaJack Jacket - Women's
Retail Price:
$399.95
Our Price: $259.97
buy now
The aggressive patterning of Assos winter clothing is attractive to the part of us that delights in modern design. But what might make it appealing to a fashionista isn't its most important feature. Clothing like Assos' women's-specific umaJack Jacket is an intensely technical piece of cycling...
Bellwether Velocity Women's Jacket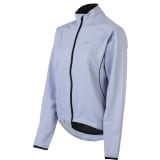 Retail Price:
$74.99
Our Price: $22.50
buy now
Bellwether's Velocity Women's Jacket is the ideal outer layer for those days when the weather just can't seem to make up its mind. Bellwether constructed the Velocity Jacket from its EXO-Grid fabric. This is a lightweight material that is both wind and water repellent. At the same time it's...
Capo Siena HiVis MidWeight Jacket - Women's
Retail Price:
$199.95
Our Price: $79.98
buy now
While the Capo Siena jacket is more than adequate for a wide variety of weather conditions, Capo also realizes that the weather conditions aren't always your only challenge. Sometimes, on top of weather, it's traffic, and more specifically, the dangerous type that might not see you as you travel...
Castelli Alpha Jacket - Women's
Winter riding can have its fair share of challenges, most of which can be addressed by the right combination of clothing and gear. However, we'd argue that trying to regulate body temperature while climbing is probably one of the most difficult parts of winter riding. After you sweat under your...
Castelli Confronto Jacket - Women's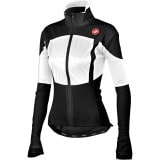 Retail Price:
$149.95
Our Price: $89.97
buy now
Castelli combined the best attributes provided by softshell and hardshell jackets when developing its new Confronto. By using advanced fabrics and a new paneling design, Castelli created the jacket to provide you with a full range of motion while on the bike, as well as complete upper body...
Castelli Core Mesh Base Layer - Sleeveless - Women's
The Castelli Core Mesh Sleeveless Women's Base Layer is a sweltering summer specialist, actively wicking moisture to keep you cool on the hottest rides of the year. This sleeveless base layer fits effortlessly under your favorite jersey, facilitating wicking and evaporative cooling with its...
<< Prev | Back | 1 | 2 | 3 | 4 | 5 | 6 | 7 | 8 | 9 | 10 | More | Next >>