Womens Mountain Bike Shoes - Road Bike Shop
Shop
>
Women's Apparel Clothing
>
Women's Apparel Mountain Bike Clothing
>
Women's Apparel Mountain Bike Shoes
Diadora Escape 2 Shoe - Women's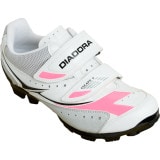 Retail Price:
$88.95
Our Price: $71.16
buy now
Diadora's Escape 2 Women's Shoes are designed to get you off flat pedals, and into the more-efficient world of clipless pedals. Clipless pedals are intimidating on their own, and a pair of too-stiff, too-slippery shoes makes it worse. The Escape 2 features a softer-durometer rubber on the sole...
Diadora X Phantom Women's Shoes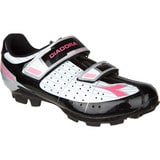 You can spend lots of money on fancy bike shoes and get plenty of carbon fiber, NASA-level tech, and voice-activated features, but at the end of the day, a shoe is no better than its fit, which is why Diadora's X Phantom Women's Mountain Bike Shoes are so awesome. They don't have the doodads,...
Diadora X Trivex Plus Women's Shoes
When you're putting in miles and exploring trails, the last thing you want is your feet slipping around inside your shoes. We've all been there, and ending a ride early with blisters and welts is no fun. And while, feet are feet, women's feet tend to have a lower volume and a narrower heel....
Fi'zi:k M5 Donna Boa Shoes - Women's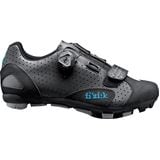 Mountain bike shoes come in all shapes and sizes, but perhaps none are as comfortable as the Fizik M5 Donna Boa Women's Shoes. Fizik has become well known for making the best-fitting, most foot-pleasing shoes on the market, so it should be no surprise that the Donna's padded collars and...
Fi'zi:k M5 Donna Shoes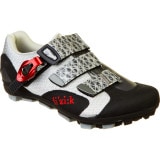 Retail Price:
$179.95
Our Price: $98.97
buy now
Fi'zi:k's road shoes have become well known for their incredible comfort, so it only makes sense to bring that same experience to the mountain bike set. The Fi'zi:k M5 Donna Shoes are a strong example of this trickle down. Basically, you get the full befit of Fi'zi:k's considerable know-how,...
Five Ten Impact Karver Shoe - Women's
Retail Price:
$139.95
Our Price: $58.78
buy now
Five Ten's shoe for serious lady freeriders offers every feature in the book for zero-compromise downhill performance. The Impact Karver combines Five Ten's sticky rubber sole, an Action leather upper, mesh venting panels and Slingshot construction for an unmatched combination of freeride...
Giro Manta Women's Shoes
You don't need to go without food for a week to buy a high-quality mountain bike shoes. The Giro Manta is packing all the best features of top-shelf mountain bike shoes, including the ratcheting buckle, at a fraction of the cost of most. Giro didn't pull any punches with the design of the Manta,...
Giro Terradura Mountain Shoe - Women's
Mountain bike shoes seem to come in two categories: those with ultra-stiff soles that provide excellent power transfer but terrible grip when you're forced to hike-a-bike, or soft-soled gravity shoes that feel like you're pedaling with slippers on your feet. Not to mention, women's cycling shoes...
Louis Garneau Monte MTB Women's Shoes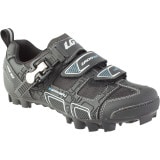 There are enough hyper-specialized shoes out there that something as versatile as the Louis Garneau Monte MTB Women's Shoe is as welcome as a cool breeze on some hot summer singletrack. Designed for riders who love to get outside but aren't necessarily interested in racing, the Monte uses a...
Louis Garneau Terra MTB Women's Shoes
No sense in being modest, you may dabble in the occasional mountain bike ride with your significant other, but you really need the Louis Garneau Terra MTB Shoe so you can dominate your spin class. A stiff, high-density nylon sole maximizes your power transfer, but doesn't compromise your walking...
<< Prev | 1 | 2 | Next >>