Womens Mountain Bike Accessories - Road Bike Shop
Shop
>
Women's Apparel Clothing
>
Women's Apparel Mountain Bike Clothing
>
Women's Apparel Mountain Bike Accessories
100% ACCURI Enduro Goggles
The 100% Accuri Enduro Goggles share the same standard features as the Accuri model, only they come equipped with a dual-pane lens for the ultimate in protection and anti-fogging properties. And if you're unfamiliar with 100%, it's a long time player in the motocross world. And recently, 100% has...
100% ACCURI Goggles
Retail Price:
$44.95
Our Price: $33.71
buy now
The similarities between mountain biking and motocross is no secret, that's why we're seeing cross overs from the motorized to the self-propelled market. The 100% Accuri Goggles are one such product to make the leap. Proven on the dirt track, the 100% Accuri Googles are ready for the world of big...
100% ACCURI Sand Goggles
The 100% Accuri Sand Googles are an enhanced version of the Accuri model that have been designed specifically for desert use. Instead of three-layer foam, the Sand model features closed-cell foam in order to prevent tiny particles from either penetrating or embedding in the foam. 100%'s Accuri...
100% ACCURI Youth Goggles
Retail Price:
$34.95
Our Price: $26.21
buy now
There's no reason that Junior should be running gear that's less capable than what you use -- especially, when it comes to safety equipment like goggles. The 100% Accuri Youth Goggles provide the same technologies and construction as the adult models, only it's been scaled down for smaller faces....
100% Aircraft DH Helmet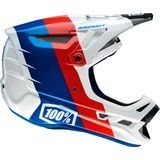 Get rad and drop in with the 100% Aircraft DH Helmet's super-light construction and massive ventilation. Coming from a brand long known for its goggles and eyewear, the Aircraft is 100%'s first foray into completing the system with full-face, DH-focused dome protection and top-end materials. 100%...
100% Barstow Classic Goggles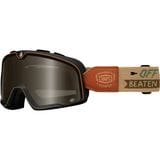 Snow goggles are made for snow, which is great, but wouldn't some dirt-specific goggles be a good idea when you're on your bike? 100% thought so, so it made the Barstow Classic Goggles just for dirt devils. The minimal frame design fits comfortably under full-faces, and the large upper vents push...
100% RACECRAFT Goggles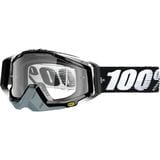 Retail Price:
$74.95
Our Price: $56.21
buy now
Disc brakes, knobby tires, and suspension are not all that's shared with dirt bikes. Our protective equipment is derived from moto, as well. In fact the 100% Racecraft Goggles are the same goggles that it sells for motocross racing. Proven on the race track, the Racecraft goggles are 100%'s top...
100% STRATA Goggles
Retail Price:
$30.00
Our Price: $22.50
buy now
Like disc brakes and suspension, goggles are as essential to mountain biking as they are to motocross. But, all-too-often, mountain-bike-specific goggles overlook the importance of tear-offs. Thankfully, all 100% Goggles, like the Strata Goggles, include tear-off tabs. Finally, the proper...
100% Strata Goggles - Kids'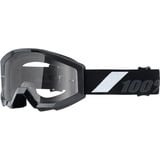 Protect your little ripper's eyes as they gain confidence at high speeds with the Ride 100% Strata Jr. Goggles, which are designed with the same mix of style and function as the adult version but sized right for young riders. The design is simple: eye protection that stays in place using a...
Bell Event XC Helmet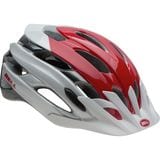 Retail Price:
$69.95
Our Price: $38.47
buy now
Cross-country racers need breathable protection in a lightweight package, and the Bell Event XC Helmet delivers. Made from lightweight foam with an In-Mold polycarbonate shell, the Event XC absorbs shock better than less-expensive joint-molded helmets. The Overbrow ventilation system pulls cool...
<< Prev | Back | 1 | 2 | 3 | 4 | 5 | 6 | 7 | 8 | 9 | 10 | More | Next >>