Womens Mountain Bike Accessories - Road Bike Shop
Shop
>
Women's Apparel Clothing
>
Women's Apparel Mountain Bike Clothing
>
Women's Apparel Mountain Bike Accessories
100% ACCURI Goggles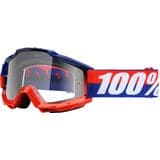 The similarities between mountain biking and motocross is no secret, that's why we're seeing cross overs from the motorized to the self-propelled market. The 100% Accuri Goggles are one such product to make the leap. Proven on the dirt track, the 100% Accuri Googles are ready for the world of big...
100% ACCURI Youth Goggles
There's no reason that Junior should be running gear that's less capable than what you use -- especially, when it comes to safety equipment like goggles. The 100% Accuri Youth Goggles provide the same technologies and construction as the adult models, only it's been scaled down for smaller faces....
100% Aircraft DH Helmet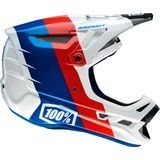 Retail Price:
$450.00
Our Price: $225.00
buy now
100% knows a few things about eye protection on the dirt track, but it cares about your gray matter too. Go bold and barrel into the tough stuff on your next ride with the protection of the 100% Aircraft DH Helmet. A full-face construction gives you coverage appropriate for lift-accessed...
100% Aircraft MIPS Helmet
Send stomach-dropping lines that make you feel like your idols knowing your brain is protected with the 100% Aircraft MIPS Helmet. 100% took a leap into the helmet world with the original version of this helmet, and the goggle and accessory company shows it's committed to helmets for the long...
100% Barstow Classic Goggles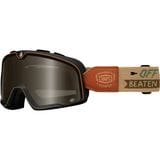 Snow goggles are made for snow, which is great, but wouldn't some dirt-specific goggles be a good idea when you're on your bike? 100% thought so, so it made the Barstow Classic Goggles just for dirt devils. The minimal frame design fits comfortably under full-faces, and the large upper vents push...
100% RACECRAFT Goggles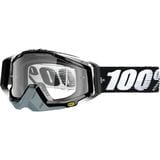 Disc brakes, knobby tires, and suspension are not all that's shared with dirt bikes. Our protective equipment is derived from moto, as well. In fact the 100% Racecraft Goggles are the same goggles that it sells for motocross racing. Proven on the race track, the Racecraft goggles are 100%'s top...
100% STRATA Goggles
Like disc brakes and suspension, goggles are as essential to mountain biking as they are to motocross. But, all-too-often, mountain-bike-specific goggles overlook the importance of tear-offs. Thankfully, all 100% Goggles, like the Strata Goggles, include tear-off tabs. Finally, the proper...
100% Strata Goggles - Kids'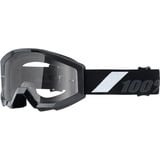 Protect your little ripper's eyes as they gain confidence at high speeds with the Ride 100% Strata Jr. Goggles, which are designed with the same mix of style and function as the adult version but sized right for young riders. The design is simple: eye protection that stays in place using a...
6D Helmets ATB-1T Helmet
Retail Price:
$268.95
Our Price: $210.00
buy now
6D Helmets has been doing cool things with lids on the moto side of things for a while, but now it's jumping into the mountain bike realm with the all-new ATB-1T Helmet and its revolutionary Omni-Directional Suspension (ODS) Technology. Two and a half years in the making, this helmet breaks new...
Alpinestars Stella F-Lite Gloves - Women's
Retail Price:
$26.95
Our Price: $13.47
buy now
Exceptionally lightweight, stretchy, and breathable, the Stella F-Lite Women's Gloves from Alpinestars are perfect for hot and dusty trail rides under a punishing summer sun. Alpinestars made the upper from breathable spandex and the palm from perforated synthetic leather, the better to keep your...
<< Prev | Back | 1 | 2 | 3 | 4 | 5 | 6 | 7 | 8 | 9 | 10 | More | Next >>