Mens Road Shoes - Road Bike Shop
Shop
>
Men's Apparel Clothing
>
Men's Apparel Road Bike Clothing
>
Men's Apparel Road Shoes
Assos CyclingSlipper Shoes - Men's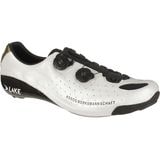 When it comes to fit that feels virtually molded to a cyclist's body, Assos definitely knows the score. For cycling shoes with carbon soles that can literally be molded to a cyclist's feet, Lake pretty much wrote the book. Combine the two, and you have what may be the most luxurious cycling shoes...
Chrome 415 Work Boots - Men's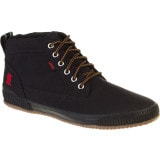 The Chrome 415 Work Boots offers you stylish footwear that is built to stand up to the day-to-day beatings of urban riding. Chrome uses the tough, 1000 denier Cordura for the boot's uppers, which is roughly the same material that they use for their incredibly resilient messenger bags. The 415...
Chrome Dima Shoe - Men's
Retail Price:
$84.95
Our Price: $55.22
buy now
Slip on the ultra-easy, ultra-relaxed Men's Dima Shoes from Chrome and pedal on down to the bike-polo tournament at the local park. Durable canvas uppers keep your feet safe, and the antimicrobial sockliner keeps funk down. A contoured footbed offers comfortable support throughout the day, and a...
Chrome Kursk SPD 2.0 Shoe - Men's
When you're one of the lucky ones who spends half the day on the bike and half the day walking around the city, you need special equipment. Chrome provides. The Kursk SPD 2. 0 shoe is designed for your day-to-day, with a comfortable footbed, a tough vulcanized outsole, an even tougher upper, and...
Chrome Peshka Shoe - Men's
Retail Price:
$109.95
Our Price: $60.47
buy now
The Men's Peshka Shoe comes in a style suitable for the city, and Chrome made it highly durable for all your bicycle commutes. Chrome's Forged Rubber offers what could arguably be the strongest vulcanization out of any sneaker out there.
Chrome Truk Shoes - Men's
Since it appeared on the scene, Chrome has had a reputation for durable, high-quality products. They have to be tough to stand up to the abuse that bike messengers dish out. Chrome Truk shoes are just as tough as its messenger bags. After all, they're made out of the same ultra-tough 1000-denier...
Chrome Truk SPD Shoe - Men's
Snap into your Shimano SPD pedals with the ultra-durable Chrome Truk SPD Shoe and ride without fear of dreaded footwear blowouts. Chrome has been making urba-bike-messenger-worthy gear for years now, and has earned a reputation for quality. Truk SPD shoes keep this tradition alive. Truk SPD shoes...
Diadora Phantom II Shoes - Men's
Stepping up to clipless pedals and cycling shoes can be intimidating, especially if you're relatively new to cycling; however, if you're thinking about investing in your first pair, we recommend models like Diadora's Phantom II Men's Shoes. With a forgiving price and trickle-down technology from...
Diadora Phantom Jr Shoes - Men's
Diadora believes young riders deserve shoes with much of the same technology as the adults they look up to, which is why the brand created the Phantom Jr -- a kid-sized version of the adult shoe of the same name built to accompany aspiring cyclists as they ride further, experience new terrain,...
Diadora Phantom Shoes - Men's
Retail Price:
$98.95
Our Price: $59.37
buy now
Triathlons can be won and lost in the transition zones, so it's important to have your switchovers dialed. Slipping wet feet into snug shoes can cost you valuable time, so Diadora made sure the Phantom Men's Shoes are easy to get on and off, without sacrificing the fit you need to make time on...
<< Prev | 1 | 2 | 3 | 4 | 5 | 6 | 7 | 8 | 9 | 10 | Next >>