Mens Road Shoes - Road Bike Shop
Shop
>
Men's Apparel Clothing
>
Men's Apparel Road Bike Clothing
>
Men's Apparel Road Shoes
Shimano SH-RP9 Cycling Shoes - Wide - Men's
Retail Price:
$274.95
Our Price: $206.21
buy now
If you're tired of being the one guy on your group ride who's constantly adjusting dials and straps in the hopes of making your shoes feel bearable for a few miles, we have good news. While cycling shoes are rarely associated with being accommodating or wide, some, like the Shimano SH-RP9 Wide...
Shimano SH-RT400 Cycling Shoe - Men's
Rather than spending all spring saying "I should ride into work one of these days", you're committing to commuting for real this year. Besides saving money on gas and getting more exercise every day, your new habit also gives you the excuse take advantage of the expansive range of commuting kit...
Shimano SH-RT500 Cycling Shoe - Men's
The rising popularity of bike touring is bringing about some changes to cycling catalogs across the world, with a focus on function and style that's just as at home on the open road as it is when you stop at the local roaster. The Shimano Men's SH-RT5 Cycling Shoes blend the efficient power...
Shimano SH-TR32 Shoes - Men's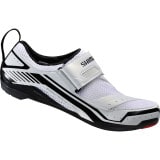 Retail Price:
$129.95
Our Price: $45.48
buy now
The longer the race, the more the details matter. Getting the little things right doesn't necessarily mean adding bells and whistles, though; sometimes it's simplicity that makes the difference. For proof, just take a peep at the Shimano SH-TR32 Men's Tri Shoes. From the soles to the upper to the...
Sidi Avast Rain Cycling Shoe - Men's
Retail Price:
$299.95
Our Price: $104.98
buy now
Rolling out under looming clouds and precipitous weather forecasts usually means battening down the mental hatches and resigning yourself to hours of soggy socks and sloshy shoes, even if you've got the rest of the rain kit dialed in. Sidi steps in to save your toes from a pruny fate with its Men...
Sidi Ergo 4 Carbon Cycling Shoe - Men's
Sidi's Ergo 4 Carbon Men's Cycling Shoes are an investment, but the iconic brand hasn't earned its reputation making overpriced, overhyped shoes. With replaceable parts and thoughtful construction, Sidi shoes are made to last you seasons of hard riding. The Ergo 4 is a newer offering from the...
Sidi Ergo 4 Carbon Mega Shoe - Men's
Euro brands have a reputation for cobbling slim, sculptured shoes that remain tantalizingly off-limits to cyclists not blessed with the delicate feet to match. Before you write off Euro brands completely, slide your foot into the Sidi Ergo 4 Carbon Mega Shoe and experience a slipper with expert...
Sidi Genius 7 Carbon Mega Shoe - Men's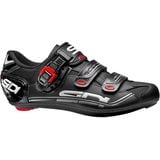 Retail Price:
$249.99
Our Price: $174.96
buy now
It's hard to overstate the reputation Sidi shoes have earned over the past few decades, earning a cult-like following throughout the peloton and amongst self-sponsored cyclists alike. Built with extra circulation-saving space to free your toes from the confines of regular-width shoes, the Genius...
Sidi Genius Fit Carbon Narrow Shoes - Men's
Sidi's Genius Fit shoes hold a place as one of the most well-loved and time-tested cycling shoes for riders of all levels, with replaceable hardware and durability to stand up to year after year of hard-ridden miles. The Sidi Genius Fit Carbon Narrow Men's Shoes carry on this tradition for riders...
Sidi Genius Fit Carbon Shoe - Men's
Sidi's Genius Fit Carbon Shoes for men are a staple for many riders. With replaceable buckles and heel pads, they are sure to outlast your latest kit. The uppers of the Fit are Technomicro material, which is water-repellent, mildew-resistant, and breathable to keep your feet dry inside and out....
<< Prev | Back | 1 | 2 | 3 | 4 | 5 | 6 | 7 | 8 | 9 | 10 | More | Next >>