Mens Road Shoes - Road Bike Shop
Shop
>
Men's Apparel Clothing
>
Men's Apparel Road Bike Clothing
>
Men's Apparel Road Shoes
Shimano SH-RC7 Cycling Shoe - Wide - Men's
Shimano's SH-RC7 Men's Wide Cycling Shoes bring race-ready quality to those of us needing a higher volume shoes. Mirroring the standard width version, these shoes boast a carbon composite sole and comfortable upper to strike a balance between high intensity efforts and long mile comfort all at a...
Shimano SH-RP2 Cycling Shoe - Men's
We're not one to shy away from spreadsheets when sifting through product choices, but color coding and comparing all the cycling shoe options out there would be an undertaking even the most organized of us would dread. Shimano eliminates the need for data tables and takes the stress out of the...
Shimano SH-RP3 Cycling Shoe - Wide - Men's
The Men's SH-RP3 Wide Cycling Shoes are Shimano's answer to riders with wider feet looking for comfortable road shoes with functionality that punches well above its price point. The SH-RP3s feature an outsole stiffness rating of six on Shimano's 12-point scale, which sits in the middle of the...
Shimano SH-RP300 Cycling Shoe - Men's
Retail Price:
$119.95
Our Price: $89.96
buy now
The Shimano Men's SH-RP3 Cycling Shoes feature exceptional comfort and functionality with a wallet-friendly price point. Their reinforced soles make for efficient pedaling over long gran fondo routes and weekend club rides, but we wouldn't recommend them for the aspiring racer. With both two-bolt...
Shimano SH-RP500 Cycling Shoe - Men's
The Shimano SH-RP5 Men's Cycling Shoes feature a carbon plate within a reinforced nylon sole to up the stiffness factor compared to its RP3 and RP2 siblings. Their outsole stiffness rating of seven out of 12 places the SH-RP5s solidly in the middle of comfort and competition, marking this as a...
Shimano SH-RP9 Cycling Shoe - Men's
When you jump out of the car after work and kit up for a ride, you just want to throw everything on and go bask in golden hour bliss out on the roads. If functionality is what earns kit the most coveted spot in your closet, Shimano's flagship SH-RP9 Cycling Shoe deserves your attention. Shimano...
Shimano SH-RP9 Cycling Shoes - Wide - Men's
If you're tired of being the one guy on your group ride who's constantly adjusting dials and straps in the hopes of making your shoes feel bearable for a few miles, we have good news. While cycling shoes are rarely associated with being accommodating or wide, some, like the Shimano SH-RP9 Wide...
Shimano SH-RT400 Cycling Shoe - Men's
Rather than spending all spring saying "I should ride into work one of these days", you're committing to commuting for real this year. Besides saving money on gas and getting more exercise every day, your new habit also gives you the excuse take advantage of the expansive range of commuting kit...
Shimano SH-RT500 Cycling Shoe - Men's
The rising popularity of bike touring is bringing about some changes to cycling catalogs across the world, with a focus on function and style that's just as at home on the open road as it is when you stop at the local roaster. The Shimano Men's SH-RT5 Cycling Shoes blend the efficient power...
Shimano SH-TR32 Shoes - Men's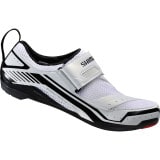 Retail Price:
$129.95
Our Price: $51.98
buy now
The longer the race, the more the details matter. Getting the little things right doesn't necessarily mean adding bells and whistles, though; sometimes it's simplicity that makes the difference. For proof, just take a peep at the Shimano SH-TR32 Men's Tri Shoes. From the soles to the upper to the...
<< Prev | Back | 1 | 2 | 3 | 4 | 5 | 6 | 7 | 8 | 9 | 10 | More | Next >>