Mens Road Shoes - Road Bike Shop
Shop
>
Men's Apparel Clothing
>
Men's Apparel Road Bike Clothing
>
Men's Apparel Road Shoes
Northwave Typhoon Evo Shoes - Men's
Retail Price:
$179.95
Our Price: $53.99
buy now
Race your way to the top with the advantage of the viciously powerful Northwave Men's Typhoon Evo Shoe. Like its namesake storm, the Typhoon blends power and airflow to keep your foot comfortable so that you can focus on the mental power needed to grind, crank, and push all the way to the front....
Pearl Izumi P.R.O. Leader Shoe - Men's - Men's
Retail Price:
$269.95
Our Price: $188.96
buy now
Innovation is often born out of necessity. In the 1950s, in Tokyo, a father constructed a cycling kit for his young son, a simple gesture of support for his aspiring career. Nearly 60 years later, those humble beginnings have evolved into one of the most recognized lines of technical cycling and...
Pearl Izumi Race RD III Shoes - Men's - Men's
Drawing inspiration from their top-tier P. R. O. Leader Shoes, Pearl Izumi's engineers looked at how they could create an advanced shoe that possessed its same fit and many of the exact technical features, but at a more reasonable price point. The result is the new Race RD III Men's Shoes, which...
Shimano SH-R088 Shoes - Men's
The deeper that we get into Shimano's new line of cycling shoes, the more that we start to wonder, 'where's the entry-level?' Simply by going in order, the new SH-R088 Shoes fall second in the catalog. However, it retains key features from Shimano shoes well above it. Shimano had one key...
Shimano SH-R107 Men's Shoes - Men's
Contemporary logic tells us that we need to refinance the house in order to invest in a quality pair of cycling shoes. And if weren't for Shimano, that might be true. However, with new developments like the SH-R107 Shoes, you get in the weight ballpark of Shimano's top-end offerings, carbon...
Shimano SH-R170 Shoes - Men's
Retail Price:
$199.95
Our Price: $159.96
buy now
Outside of flashy graphics and fluorescent color schemes, have you ever stopped to think about what a $400 pair of shoes have that a $200 pair doesn't? Well, lucky for you, these are the kind of things that we're obsessive about, and the answer might surprise you. When compared to the likes of...
Shimano SH-R241 Shoes - Men's
Retail Price:
$299.95
Our Price: $59.99
buy now
Shimano's SH-R241 Custom Fit Shoes feature heat-moldable insoles and a curved anatomical last to make yours the comfiest feet in the peloton. The carbon fiber composite sole provides power-transferring bliss for crushing sprints, and the oversized micro-adjust buckle and dual offset straps...
Shimano SH-R320 Shoes - Men's
Retail Price:
$379.95
Our Price: $303.96
buy now
It's a rarity that one shoe can combine comfort with rigidity. After all, by definition, the two are at odds with each other. However, not every shoemaker has the pedigree or the ambition to innovate that Shimano does. And for its latest top-tier offering, the SH-R320 Shoes, Shimano pushed past...
Shimano SH-RT82 Shoes - Men's
When the trip dictates days in the saddle, you want to give your foot a comfortable ride. The Shimano SH-RT82 Shoe is a touring-specific shoe built for comfort, durability and pedaling efficiency. Stretch-resistant synthetic leather and mesh upper for a comfortable fit that lastsMicro-adjust...
Shimano SH-TR32 Shoes - Men's - Men's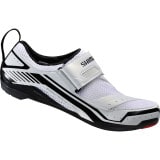 Retail Price:
$129.95
Our Price: $103.96
buy now
While triathlon, especially ultras, are hard on bodies from head to toe, feet take the brunt of the force. The Shimano SH-TR32 Shoes are specifically designed to support feet during the bike portion, while being comfortable enough that the transition to the run is a piece of cake. If you are not...
<< Prev | Back | 1 | 2 | 3 | 4 | 5 | 6 | 7 | 8 | 9 | 10 | More | Next >>