Mens Road Shoes - Road Bike Shop
Shop
>
Men's Apparel Clothing
>
Men's Apparel Road Bike Clothing
>
Men's Apparel Road Shoes
Shimano SH-R321 Cycling Shoes - Men's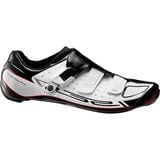 The engineers at Shimano have apparently been sneaking into the Competitive offices and nosing through our diaries while we're out on lunch rides, because the new SH-R321 Cycling Shoes check off all of our secret (and not-so secret) wish list items for top-caliber road shoes. These features start...
Shimano SH-RP3 Cycling Shoe - Wide - Men's
The Men's SH-RP3 Wide Cycling Shoes are Shimano's answer to riders with wider feet looking for comfortable road shoes with functionality that punches well above its price point. The SH-RP3s feature an outsole stiffness rating of six on Shimano's 12-point scale, which sits in the middle of the...
Shimano SH-RP3 Cycling Shoes - Men's
The Shimano Men's SH-RP3 Cycling Shoes feature exceptional comfort and functionality with a wallet-friendly price point. Their reinforced soles make for efficient pedaling over long gran fondo routes and weekend club rides, but we wouldn't recommend them for the aspiring racer. With both two-bolt...
Shimano SH-RP5 Cycling Shoes - Men's
The Shimano SH-RP5 Men's Cycling Shoes feature a carbon plate within a reinforced nylon sole to up the stiffness factor compared to its RP3 and RP2 siblings. Their outsole stiffness rating of seven out of 12 places the SH-RP5s solidly in the middle of comfort and competition, marking this as a...
Shimano SH-RP9 Cycling Shoes - Men's
You've dutifully logged your miles in nylon soles, and by the state of your shoes, you've earned an upgrade this season. If you're going to make the investment in a fresh new pair of kicks, Shimano's SH-RP9 Cycling Shoes occupy the same space many of us do -- between pro and mid-range -- with a...
Shimano SH-RP9 Cycling Shoes - Wide - Men's
If you're tired of being the one guy on your group ride who's constantly adjusting dials and straps in the hopes of making your shoes feel bearable for a few miles, we have good news. While cycling shoes are rarely associated with being accommodating or wide, some, like the Shimano SH-RP9 Wide...
Shimano SH-RT82 Shoes - Men's
In the battle between rugged trail shoes and super stiff road shoes, the Shimano SH-RT82 Shoes swoop in from the clouds to take the win for riders tackling long road touring rides. These shoes feature stretch-resistant synthetic leather and mesh up top for comfy cooling and easily adjustable...
Shimano SH-TR32 Shoes - Men's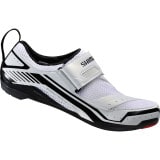 The longer the race, the more the details matter. Getting the little things right doesn't necessarily mean adding bells and whistles, though; sometimes it's simplicity that makes the difference. For proof, just take a peep at the Shimano SH-TR32 Men's Tri Shoes. From the soles to the upper to the...
Sidi APO LTD Euro Edition Cycling Shoes - Men's
Retail Price:
$149.99
Our Price: $52.50
buy now
The Sidi APO LTD Euro Edition Cycling Shoes add Italian flair to any group ride with classic Sidi styling and quality to last through the miles. Whether you're out on a social ride, training for the next century, or dipping your toes in the local racing scene, these shoes are down for whatever...
Sidi Five Euro Edition Shoe - Men's
Retail Price:
$216.00
Our Price: $75.60
buy now
With a reputation for race-proven quality, Sidi tops the list of shoe brands for many cyclists at all levels of the sport. Sidis can be found turning the pedals across the world during training rides, gran fondos, Grand Tours, and everything in between. The Sidi Five Euro Edition Men's Shoes...
<< Prev | 1 | 2 | 3 | 4 | 5 | 6 | 7 | 8 | 9 | 10 | Next >>