Mens Road Shoes - Road Bike Shop
Shop
>
Men's Apparel Clothing
>
Men's Apparel Road Bike Clothing
>
Men's Apparel Road Shoes
Pearl Izumi P.R.O. Leader II Shoes - Men's
Retail Price:
$269.95
Our Price: $202.46
buy now
Weighing a paltry 245 grams each with a seamless upper that's only 0. 9-millimeters thick, the Pearl Izumi Men's P. R. O. Leader II Shoes are some of the lightest, thinnest cycling shoes on the market. Pearl achieved this ultra-light, incredibly thin design by leveraging its Seamless 0....
Pearl Izumi Race RD III Shoes - Men's
Drawing inspiration from their top-tier P. R. O. Leader Shoes, Pearl Izumi's engineers looked at how they could create an advanced shoe that possessed its same fit and many of the exact technical features, but at a more reasonable price point. The result is the new Race RD III Men's Shoes, which...
Shimano SH-R065 Cycling Shoes - Men's
Retail Price:
$79.95
Our Price: $59.96
buy now
To provide balance between long-distance comfort and race-ready stiffness, Shimano constructed SH-R065 with a sole made from fiberglass-reinforced nylon, which allows you to put power efficiently into the pedals without cutting off circulation or making it nearly impossible to walk. On top of the...
Shimano SH-R088 Shoes - Men's
Shimano's SH-R088 challenged our notions of what entry-level cycling shoes could be. The SH-R088 offers expert-level performance at a price point that is perfect for club and recreational riders. When it comes to high-performance road shoes, we've all been told that stiffer is better. While this...
Shimano SH-R107 Men's Shoes
With Shimano's Dynalast technology and a hollow-channeled, carbon-reinforced composite outsole, the SH-R107 Men's Shoes bring the power-transferring stiffness, low weight, and general feel of pro-level shoes to a price point that won't cost you one of the legs you'd like to attach them to....
Shimano SH-R170 Shoes - Men's
Retail Price:
$199.95
Our Price: $69.98
buy now
Outside of flashy graphics and fluorescent color schemes, have you ever stopped to think about what a $400 pair of shoes have that a $200 pair doesn't? Well, lucky for you, these are the kind of things that we're obsessive about, and the answer might surprise you. When compared to the likes of...
Shimano SH-R171 Cycling Shoes - Men's
Retail Price:
$199.95
Our Price: $149.96
buy now
Shimano's SH-R171 Cycling Shoe offers pro-level features at a price that accommodates a recreational cyclist's pocketbook. To start, Shimano uses a lightweight and stiff carbon fiber for the SH-R171's outsole to maximize power transfer to the pedals. Shimano's Dynalast construction also increases...
Shimano SH-R260 Shoes - Men's
Retail Price:
$299.95
Our Price: $224.96
buy now
High-performance racing demands a different kind of shoe than casual touring, and Shimano's SH-R260 Shoe is set up to deliver tons of comfort and plenty of power for riders who demand the best. A brutally stiff but badly fitting shoe just isn't worth the pain, so Shimano made the fit of the...
Shimano SH-R321 Cycling Shoes - Men's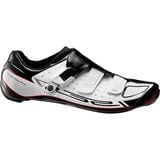 Retail Price:
$379.95
Our Price: $284.96
buy now
The engineers at Shimano have apparently been sneaking into the Competitive offices and nosing through our diaries while we're out on lunch rides, because the new SH-R321 Cycling Shoes check off all of our secret (and not-so secret) wish list items for top-caliber road shoes. These features start...
Shimano SH-RT82 Shoes - Men's
In the battle between rugged trail shoes and super stiff road shoes, the Shimano SH-RT82 Shoes swoop in from the clouds to take the win for riders tackling long road touring rides. These shoes feature stretch-resistant synthetic leather and mesh up top for comfy cooling and easily adjustable...
<< Prev | 1 | 2 | 3 | 4 | 5 | 6 | 7 | 8 | 9 | 10 | Next >>