Mens Road Shoes - Road Bike Shop
Shop
>
Men's Apparel Clothing
>
Men's Apparel Road Bike Clothing
>
Men's Apparel Road Shoes
Louis Garneau LS-100 Men's Shoes - Men's
Retail Price:
$159.95
Our Price: $119.96
buy now
Getting top-shelf awesomeness without paying for it is generally a pipe dream, but the Louis Garneau LS-100 Men's Shoes are flesh-and-blood--well, synthetic-and-mesh--proof that it can be done. No one would complain, really, if the LS-100 cost an extra hundred dollars, but the fact that it doesn...
Louis Garneau Pro Race Shoe - Men's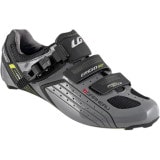 Retail Price:
$279.95
Our Price: $209.96
buy now
If you're a rider who swears by having a quiver of shoes ready for every occasion, prepare to have your mind blown by the Louis Garneau Pro Race Men's Cycling Shoe. To be fair, it probably can't replace every single shoe in your cycling collection, but the interchangeable footbeds,...
Louis Garneau Revo XR3 Shoes - Men's
It's tough to keep cool in the heat of the summer and you're cranking out miles in the triple digits. The Louis Garneau Men's Revo XR3 Shoe does everything in its power to keep your foot cool and dry, even in your most desperate hour.
Louis Garneau Ventilator II Shoe - Men's - Men's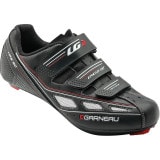 The folks at Louis Garneau understand that not every cyclist is an aspiring pro. At least not yet. That's why they designed their Road Sport Collection, where every piece emphasizes a minimalist approach with a focus on the things that the aspiring cyclist needs-value, versatility, and comfort....
Mavic Cosmic Ultimate Shoe - Men's - Men's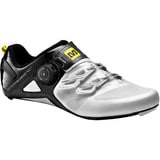 Retail Price:
$374.95
Our Price: $299.96
buy now
Mavic developed the Cosmic Ultimate Men's Cycling Shoe in a secret lab on the 7th moon of Jupiter, with a little input from the cycling champions of Neptune, so there's no doubting its technical chops. Luckily, Mavic focused the design around a human foot, not some alien appendage, so the fit...
Mavic CXR Ultimate Shoes - Men's - Men's
Retail Price:
$399.95
Our Price: $319.96
buy now
Nobody wants to hear it, but there's a limit to the power you can put out in a day. You can't avoid hitting that threshold when you're going all out, but you can move it back by wearing light, aerodynamic gear like the Mavic CXR Ultimate Men's Cycling Shoes. Their sleek construction reduces air...
Mavic Frost Shoe - Men's
Retail Price:
$199.95
Our Price: $159.96
buy now
Mavic's Frost Shoe lets you power through harsh winter rides with comfort, flexibility, and total coverage. The Frost features the Energy Composite Outsole, the same light, stiff outsole that Mavic uses on its entry-level race shoes. In addition, the Frost uses the Ergo Fit 2D insole, which...
Mavic Galibier Shoe - Men's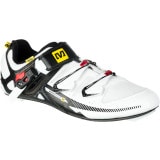 Retail Price:
$179.95
Our Price: $80.98
buy now
Even if your podium ambitions are limited to the local Thursday training crit, you still deserve to reap the benefits of comfort and technology designed for the pros. The Mavic Galibier Shoe features a racing DNA culled from Mavic's high end road shoes that won't break your budget. Taking a...
Mavic Ksyrium Elite Shoes - Men's - Men's
Retail Price:
$129.95
Our Price: $103.96
buy now
Double-guac burritos get expensive when you eat two a day, so save your money. You won't have to skimp on new cycling shoes to do it, either, what with the Mavic Ksyrium Elite Shoes being as comfortable and efficient as they are. Mavic's training and touring shoe, the Ksyrium Elite brings a...
Mavic Ksyrium Pro Shoe - Men's - Men's
Retail Price:
$179.95
Our Price: $143.96
buy now
The Mavic Ksyrium Pro Road Bike Shoe packs all the features you need to stomp the competition without stomping your wallet. The foundation of the Ksyrium Pro is the Energy Carbon Comp outsole, which provides a stiff platform for powerful pedaling and a low stack height for optimal energy transfer...
<< Prev | Back | 1 | 2 | 3 | 4 | 5 | 6 | 7 | 8 | 9 | 10 | More | Next >>