Mens Road Shoes - Road Bike Shop
Shop
>
Men's Apparel Clothing
>
Men's Apparel Road Bike Clothing
>
Men's Apparel Road Shoes
Louis Garneau L.A. 84 Shoe - Men's
You've curious about the return of the lace-up shoe for a while now, long enough to realize that what started as a trend looks to have staying power. Whether you remember when lace-ups reigned or are considering upgrading to cycling-specific shoes for the first time, Louis Garneau's L. A. 84 Shoe...
Louis Garneau Nickel Cycling Shoe - Men's
Retail Price:
$94.95
Our Price: $66.46
buy now
Lace up for your morning commute in casual style with the Louis Garneau Men's Nickel Cycling Shoes. On the outside, the Nickel presents as a casually styled lace-up sneaker with a low-profile sole that stealthily conceals some serious cycling utility. The sole is semi-rigid, finding the balance...
Louis Garneau Platinum Shoes - Men's
Retail Price:
$149.95
Our Price: $104.96
buy now
If your first pair of cycling shoes have seen their share of miles and are starting to beg for retirement, Louis Garneau's all-new men's Platinum Shoes would be a good place to start your search for a replacement. With a slim silhouette and trickle-down technology from Garneau's pro-level models,...
Louis Garneau Signature 84 Shoes - Men's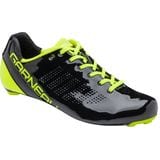 Retail Price:
$199.95
Our Price: $129.97
buy now
The laces, fluo color scheme, and high-gloss uppers on Louis Garneau's Signature 84 men's Shoes combine the contemporary aesthetics of modern cycling shoes with an apparently old-school closure system. We write "apparently" because the six points of contact provide twice the fit adjustment...
Mavic Cosmic Pro LTD Shoe - Men's
Subdued footwear is so two years ago, and it's time to let your fluoro shine with a pair of Mavic's Mavic Cosmic Pro LTD Men's Cycling Shoes wrapped comfortably around your feet. This limited edition shoe mirrors the footwear worn by the best riders in the world and brings a blend of light weight...
Mavic Cosmic Pro Shoe - Men's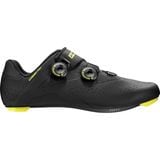 Retail Price:
$269.95
Our Price: $175.47
buy now
You may have seen more than a few pairs of Mavic's Cosmic Pro Men's Cycling Shoes clipped into race bikes across the country last season, and you're ready with your own pair to line up and throw down this spring. The stiff carbon sole means all those hard-earned watts you gained over the winter...
Mavic Cosmic Ultimate II Shoe - Men's
Retail Price:
$379.95
Our Price: $246.97
buy now
If it's good enough for a British pro continental team, the Mavic Cosmic Ultimate II Shoe is surely good enough for you. You may not fill your calendar with the same array of races as a pro team, but you log enough miles to know that foot comfort is paramount to getting the most out of your ride....
Mavic Cosmic Ultimate II Shoes - Wide - Men's
The Mavic Men's Cosmic Ultimate II Wide Shoes retain the space-age tech and carbon fiber rigidity of the standard version, but in a higher volume shape that alleviates foot cramping for wide-footed riders. Designed for the needs of the British racing team, JLT Condor, the Cosmic Ultimate II...
Mavic Ksyrium Elite II Shoes - Men's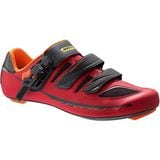 Retail Price:
$149.95
Our Price: $89.97
buy now
The Ksyrium line, as you may know, is hallowed ground in cycling wheels where its bombproof, to-the-point, and swift characteristics are now legendary. You'll find these same qualities embedded in the "sole" of the Ksyium Elite II Shoe. The Energy Carbon Comp sole, stable uppers, with...
Northwave Extreme Shoes - Men's
Retail Price:
$299.95
Our Price: $119.98
buy now
It's obvious that Northwave's Italian designers dumped all their all energy into designing the Extreme Shoe--not naming it. Constructed using an Ultralight Carbon sole and three hook-and-loop straps, the Extreme shoe enters the market as one of the lightest shoes available, and light shoes mean...
<< Prev | 1 | 2 | 3 | 4 | 5 | 6 | 7 | 8 | 9 | 10 | Next >>