Mens Road Shoes - Road Bike Shop
Shop
>
Men's Apparel Clothing
>
Men's Apparel Road Bike Clothing
>
Men's Apparel Road Shoes
Lake CX217 Shoes - Men's - Men's
Longtime cycling footwear staple Lake has considerable experience building race-worthy kicks, and the CX217 Shoes illustrate that the focus on pro-level equipment doesn't have to come at the expense of value. Employing many of the lessons learned from the top-tier CX402, the CX217 employs a...
Lake CX237 Road Shoes - Men's - Men's
Lake's CX237 Road Shoes are designed to be both comfortable and brutally efficient, a line not often walked this gracefully in the footwear department. To close the shoes, you'll find two Boa reels, able to be adjusted independently so you can lock in your heel without strangling your forefoot....
Lake CX300 Superlight Road Shoes - Men's - Men's
Retail Price:
$299.95
Our Price: $134.98
buy now
The CX300 Superlight Road Shoes have been designed with all the thoughtful details and fit present in Lake's custom shoes. The main difference is that the CX300s were constructed from synthetic as opposed to kangaroo leather. Starting at the uppers, the Tektile microfiber is not only lightweight,...
Lake CX402 Shoes - Men's - Men's
Like gloves for your feet, the Lake CX402 Men's Shoes bring custom fit to the cycling masses. Lake begins by using kangaroo leather to construct the uppers. Known for its suppleness and durability, the leather is combined with mesh panels and perforations to increase airflow and keep your feet...
Lake CX402 Speedplay Shoe - Men's - Men's
The Lake CX402 Speedplay Shoes are more or less identical to the three-holed version, just built specifically for your Speedplay cleat interface. No shims, adapters, or three different kinds of bolts to get your cleats mounted, just a quick-and-easy bolt on. We should all be so lucky. And, of...
Louis Garneau 0-degrees LS-100 Shoes - Men's
Based on the T-Flex LS-100 Shoes, Louis Garneau's 0-Degrees LS-100 Shoes let cold weather commuters, and fat bike riders alike, cut through the chill. This means that you'll enjoy the same Carbon T-Flex Power Blade and BOA L4 single rail as the LS-100, only in a package that's warmed by insulated...
Louis Garneau Carbon LS-100 Shoes - Men's
If you thought that you were getting bang for your buck with the standard Louis Garneau LS-100 Shoes, wait till you see the Carbon LS-100 Shoes. With them, you get a noticeable weight reduction, a stiffer carbon fiber outsole, and an upgraded heel cup. We challenge you to find a better shoe at...
Louis Garneau Carbon X-Lite Shoe - Men's - Men's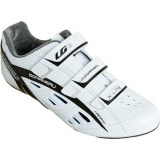 Retail Price:
$279.95
Our Price: $97.98
buy now
Light? Come on! You won't even know that you're wearing the Louis Garneau Men's Carbon X-Lite Shoes until you feel the instant power transfer from your legs to the rear wheel. Louis Garneau pushed its design to the edge to create a sub-200 gram shoe that gives the competitive cyclist the...
Louis Garneau Course 2LS Shoes - Men's
If we were to ask you what's important to you in a cycling shoe, your reply would most likely revolve around the pillars of stiffness, weight, and comfort. However, if we then asked you what shoes embody all three of those design principles? We're ready to be conversing with a blank stare. But,...
Louis Garneau Course Air Lite Shoes - Men's - Men's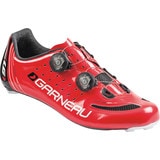 Louis Garneau didn't pull a single punch with the Course Air Lite Road Shoe. This one has all the bells and whistles: a carbon fiber outsole with titanium inserts, the Boa closure system, Garneau's patented air channel system, and a paper-thin 4. 3mm stack height. That all sounds great, but here...
<< Prev | Back | 1 | 2 | 3 | 4 | 5 | 6 | 7 | 8 | 9 | 10 | More | Next >>