Mens Road Shoes - Road Bike Shop
Shop
>
Men's Apparel Clothing
>
Men's Apparel Road Bike Clothing
>
Men's Apparel Road Shoes
Louis Garneau Carbon LS-100 Shoes - Men's
If you thought that you were getting bang for your buck with the standard Louis Garneau LS-100 Shoes, wait till you see the Carbon LS-100 Shoes. With them, you get a noticeable weight reduction, a stiffer carbon fiber outsole, and an upgraded heel cup. We challenge you to find a better shoe at...
Louis Garneau Carbon X-Lite Shoe - Men's - Men's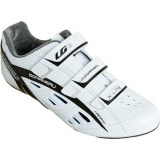 Retail Price:
$279.95
Our Price: $83.99
buy now
Light? Come on! You won't even know that you're wearing the Louis Garneau Men's Carbon X-Lite Shoes until you feel the instant power transfer from your legs to the rear wheel. Louis Garneau pushed its design to the edge to create a sub-200 gram shoe that gives the competitive cyclist the...
Louis Garneau Course 2LS Shoes - Men's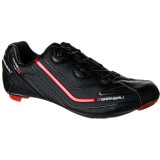 If we were to ask you what's important to you in a cycling shoe, your reply would most likely revolve around the pillars of stiffness, weight, and comfort. However, if we then asked you what shoes embody all three of those design principles? We're ready to be conversing with a blank stare. But,...
Louis Garneau Glacier RD Shoes - Men's
Retail Price:
$179.95
Our Price: $89.98
buy now
Don't leave your dogs out in the cold. Those Italian uber-ventilated race shoes that you bought this spring just won't cut the mustard once the mercury drops. The Louis Garneau Men's Glacier RD Shoe seals out nasty weather like a pit bull holds off an army of marauding pygmy kittens, which means...
Louis Garneau LS-100 Men's Shoes - Men's
Who doesn't appreciate value? We certainly do, and if you're looking at the Louis Garneau LS-100 Shoes, you must as well. We simply can't think of any other shoes that better match technology features with price. In fact, with a BOA L4 retention system, a stiff outsole, and nearly unrivaled...
Louis Garneau Revo XR3 Shoes - Men's
It's tough to keep cool in the heat of the summer and you're cranking out miles in the triple digits. The Louis Garneau Men's Revo XR3 Shoe does everything in its power to keep your foot cool and dry, even in your most desperate hour.
Louis Garneau Ventilator II Shoe - Men's - Men's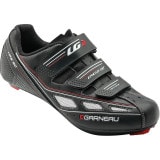 The folks at Louis Garneau understand that not every cyclist is an aspiring pro. At least not yet. That's why they designed their Road Sport Collection, where every piece emphasizes a minimalist approach with a focus on the things that the aspiring cyclist needs-value, versatility, and comfort....
Mavic Frost Shoe - Men's - Men's
Riding in the winter is invigorating. Fresh, lung-clearing clean air. A crisp breeze. Frozen feet. Well, two out of three isn't bad. Mavic knows that you value every second you can get outside on your bike and to that end they have designed a shoe worthy of the elements. The Mavic Frost shoe is a...
Mavic Galibier Shoe - Men's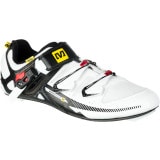 Retail Price:
$179.95
Our Price: $80.98
buy now
Even if your podium ambitions are limited to the local Thursday training crit, you still deserve to reap the benefits of comfort and technology designed for the pros. The Mavic Galibier Shoe features a racing DNA culled from Mavic's high end road shoes that won't break your budget. Taking a...
Mavic Pro Road Shoe - Men's - Men's
Retail Price:
$199.95
Our Price: $89.98
buy now
When you want the fit of a high-end road cycling shoe but don't want to dent your wallet, look to the Mavic Pro Road Shoe as the answer to your piggy bank's prayers. Mavic designs a complete line of road shoes, with their lightest, and the lightest shoe in the world, being the Huez. To this end,...
<< Prev | Back | 1 | 2 | 3 | 4 | 5 | 6 | 7 | 8 | 9 | 10 | More | Next >>