Mens Road Shoes - Road Bike Shop
Shop
>
Men's Apparel Clothing
>
Men's Apparel Road Bike Clothing
>
Men's Apparel Road Shoes
Giro Trans Shoes - Men's
Retail Price:
$224.95
Our Price: $112.47
buy now
Transfer power comfortably and effectively with the Giro Trans Shoe. This carbon-soled flyweight gives you the performance you require without having to break into your daughter's piggy bank. Offset straps mitigate hot spots, and Easton's carbon fiber mastery ensures you won't be wasting a watt....
Giro Treble II Shoes - Men's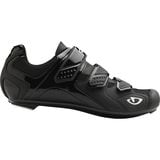 As you head out for your next shop ride or weekend sportive, keep your feet content and your pedal stroke efficient with Giro's Treble II Shoes. With a simple, classic design and versatile two- or three-bolt compatibility, the Treble II shoes offer comfort and functionality at a wallet-friendly...
Lake CX217 Shoes - Men's
Retail Price:
$229.95
Our Price: $160.97
buy now
Built with high levels of power transfer and comfort in mind, the Lake CX217 Men's Shoes give you many of the desirable traits of Lake's flagship CX402, but without its uncompromising commitment to race performance. Its action leather and mesh upper provide a well-bolstered feel, with ample...
Lake CX237 Road Shoes - Men's
Lake's CX237 Road Shoes are designed to be both comfortable and brutally efficient, a line not often walked this gracefully in the footwear department. To close the shoes, you'll find two Boa reels, able to be adjusted independently so you can lock in your heel without strangling your forefoot....
Lake CX300 Superlight Road Shoes - Men's
Retail Price:
$299.95
Our Price: $89.98
buy now
The CX300 Superlight Road Shoes have been designed with all the thoughtful details and fit present in Lake's custom shoes. The main difference is that the CX300s were constructed from synthetic as opposed to kangaroo leather. Starting at the uppers, the Tektile microfiber is not only lightweight,...
Lake CX331 Speedplay Shoe - Men's
Retail Price:
$379.95
Our Price: $189.97
buy now
Lake's CX331 Speedplay Shoes borrow heavily from the top-of-the-line CX402s, and simplifies them with a single BOA closure. There's also the addition of Speedplay-specific 4-hole mounting for the lowest possible cleat mount. The supple kangaroo leather upper gets better as you put on the miles,...
Lake CX402 Limited Edition Shoes - Men's
Lake's CX402's have a lot to live up to as the Dutch company's top-of-the line offering, and they continue to uphold expectations for both fit and power transfer. Newly available in limited edition coloring, they'll brighten up your kit while still providing the non-special edition's supple...
Lake CX402 Shoes - Men's
Like gloves for your feet, the Lake CX402 Men's Shoes bring custom fit to the cycling masses. Lake begins by using kangaroo leather to construct the uppers. Known for its suppleness and durability, the leather is combined with mesh panels and perforations to increase airflow and keep your feet...
Lake CX402 Speedplay Shoe - Men's
The Lake CX402 Speedplay Shoes are more or less identical to the three-holed version, just built specifically for your Speedplay cleat interface. No shims, adapters, or three different kinds of bolts to get your cleats mounted, just a quick-and-easy bolt on. We should all be so lucky. And, of...
Louis Garneau 0-degrees LS-100 Shoes - Men's
Retail Price:
$199.95
Our Price: $159.96
buy now
Based on the T-Flex LS-100 Shoes, Louis Garneau's 0-Degrees LS-100 Shoes let cold weather commuters, and fat bike riders alike, cut through the chill. This means that you'll enjoy the same Carbon T-Flex Power Blade and BOA L4 single rail as the LS-100, only in a package that's warmed by insulated...
<< Prev | 1 | 2 | 3 | 4 | 5 | 6 | 7 | 8 | 9 | 10 | Next >>