Mens Road Shoes - Road Bike Shop
Shop
>
Men's Apparel Clothing
>
Men's Apparel Road Bike Clothing
>
Men's Apparel Road Shoes
Lake CX237 Road Shoes - Men's
Lake's CX237 Road Shoes are designed to be both comfortable and brutally efficient, a line not often walked this gracefully in the footwear department. To close the shoes, you'll find two Boa reels, able to be adjusted independently so you can lock in your heel without strangling your forefoot....
Lake CX301 Cycling Shoe - Men's
Upgrade your clunky, worn out shoes and wrap your feet in modernly streamlined style with Lake's CX301 Cycling Shoes. A single Boa dial adorns the side of each shoe, providing precise fit adjustments and on-the-fly utility for exceptional comfort while maintaining clean lines and that coveted...
Lake CX301 Cycling Shoe - Wide - Men's
While many of us love the streamlined look of Lake's CX301 cycling shoes, not all of us can fit our feet comfortably into its narrow last. Those of us with wider feet can now breathe a sigh of relief with the availability of a wide version of the venerable CX301. Featuring 15mm of extra width...
Lake CX332 Cycling Shoe - Men's
Sitting second only to Lake's customizable CX402 shoes, the CX332 Men's Cycling Shoes live up to their race-worthy reputation. Lake uses kangaroo leather to craft the upper, prized for its durability and suppleness for a fit that molds to your foot as you ridel.Over the top, a dual Boa closures...
Lake CX402 Shoes - Men's
Like gloves for your feet, the Lake CX402 Men's Shoes bring custom fit to the cycling masses. Lake begins by using kangaroo leather to construct the uppers. Known for its suppleness and durability, the leather is combined with mesh panels and perforations to increase airflow and keep your feet...
Lake CX402 Speedplay Shoes - Men's
The Lake CX402 Speedplay Shoes are more or less identical to the three-holed version, just built specifically for your Speedplay cleat interface. No shims, adapters, or three different kinds of bolts to get your cleats mounted, just a quick-and-easy bolt on. We should all be so lucky. And, of...
Lake CX402 Wide Road Shoe - Men's
Finally: you can stop lamenting your relatives for passing on the paddle feet genes to you and ride with the same opulent cycling shoes as your slender-hoofed ride buddies. Sure, not every cycling shoe comes available in a wide width, but the Lake's enviable CX402 Wide Road Shoe does, and you won...
Louis Garneau Actifly Cycling Shoes - Men's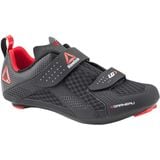 Retail Price:
$109.95
Our Price: $82.46
buy now
Trainer season is just around the corner, and if you've done it before you know that the amount of sweat generated in an hour on that machine blows your average bike ride out of the water. With no cool breeze to wick away the sweat and keep you dry, aside from a small room fan, you end up soaking...
Louis Garneau Carbon LS-100 II Cycling Shoe - Men's
Retail Price:
$219.95
Our Price: $164.96
buy now
Taking on a sleeker, more streamlined profile than its LS-100 predecessor, the Louis Garneau Men's Carbon LS-100 II Cycling Shoes borrow aesthetic hits from some of the more popular footwear in the peloton and brings it to your closet at a much more wallet-friendly price point. Their combination...
Louis Garneau Carbon LS-100 Shoes - Men's
Retail Price:
$199.95
Our Price: $109.97
buy now
You'll be hard-pressed to find better shoes than the Louis Garneau Men's Carbon LS-100 Cycling Shoes at this price--or at any price for that matter. With a stiff carbon fiber outsole for maximum power transfer and an upgraded heel cup to eliminate slippage, these shoes are light and fast. The HM...
<< Prev | Back | 1 | 2 | 3 | 4 | 5 | 6 | 7 | 8 | 9 | 10 | More | Next >>