Mens Road Shoes - Road Bike Shop
Shop
>
Men's Apparel Clothing
>
Men's Apparel Road Bike Clothing
>
Men's Apparel Road Shoes
Fi'zi:k R3 Uomo Boa Shoes - Men's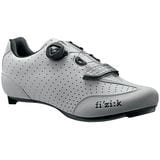 Fi'zi:k's R-Series runs the gamut from affordable everyday shoe to pro-ready race rocket, and the R3 Uomo Boa Men's Shoe nestles right in the middle, a better value than the R1 but with more race DNA than the R5. The first thing you'll notice is how clean the R3 is. It looks so good that you...
Fi'zi:k R3 Uomo Men's Shoes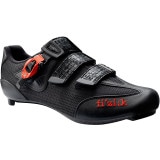 Retail Price:
$299.95
Our Price: $119.98
buy now
If you're examining high-end road shoes from Fi'zi:k, you'll notice a few subtle differences between its top R1 Uomo offering and its R3 Uomo Shoes. First, the closure on the R3 utilizes a lightweight aluminum buckle in place of the R1's Hex/MC carbon fiber version. Second, the insole of the R3...
Fi'zi:k R5 Uomo Shoe - Men's
Retail Price:
$179.95
Our Price: $80.98
buy now
We have to admit that it took us a bit to distinguish the differences between the R3 and Fi'zi:k's newest creation, the R5 Uomo Shoes. Some points are obvious, like the replacement of kangaroo leather for Microtex on the uppers and a carbon-reinforced nylon outsole instead of the R3's carbon...
Fi'zi:k R5B Uomo Boa Shoe - Men's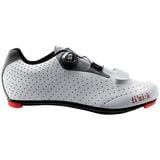 While the Fizik R1 Uomo shoes are some of the most comfortable, high performance shoes we've worn, they may be a little pricey for riders who want comfort but who aren't rolling to that start line on a regular basis. For this reason, Fizik introduced the R5 Uomo Boa Men's Shoes. While they aren't...
Giro Apeckx II HV Shoe - Men's
The Giro Men's Apeckx II HV Shoes bring all the streamlined, race-worthy style and affordability of the Apeckx to those of us with wide or high-volume feet. The Apeckx II HV is packed with top-end technology, superb stiffness, and comfort while leaving a few extra dollars in the bank for...
Giro Apeckx II Shoes - Men's
In the search for a solid, streamlined, road-racing shoe, it's easy to feel like you need to drop a month's rent just to get what you want. Giro solves that dilemma with the Men's Apeckx II Shoes. The Apeckx II features top-end technology, race-quality stiffness, and comfort in an affordable...
Giro Apeckx Shoes - Men's
Retail Price:
$149.95
Our Price: $89.97
buy now
Buckle up and get on the road with the Giro Apeckx Shoes. Taking design inspiration from Giro's top-line Prolight and Factor shoe offerings, these shoes strike a streamlined profile with a wallet-friendly price tag. Swapping out the carbon sole offerings of their older siblings, these shoes come...
Giro Empire ACC Limited Shoes - Men's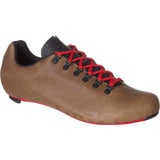 If the design Giro's creative engineering department cooked up for the men's Empire ACC Limited Shoes seems familiar to you, then you're not alone. For us, they recall the mountaineering boots we saw on the swarthy adventurers scrambling up slopes of scree or trundling well-laden across a granite...
Giro Empire ACC Shoes - Men's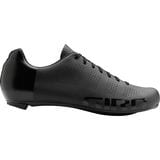 One glance at Giro's Empire ACC Shoes, and you'll see they're different. Rather than the ubiquitous buckle/strap combo, Giro's outfitted them with something decidedly old-fashioned -- laces. That's about where the old-fashioned nature stops, though. The uppers are a single piece of Evofiber...
Giro Empire SLX Shoes - Men's
At just 175 grams, the Giro Empire SLX shoes are breathing some pretty rarefied air. Not many shoes on the market come within 100 grams of the Empire, but it's not giving up anything in terms of performance, either. The uppers are a single piece of Evofiber microfiber, which is highly breathable,...
<< Prev | 1 | 2 | 3 | 4 | 5 | 6 | 7 | 8 | 9 | 10 | Next >>