Mens Road Shoes - Road Bike Shop
Shop
>
Men's Apparel Clothing
>
Men's Apparel Road Bike Clothing
>
Men's Apparel Road Shoes
Giro Apeckx II Shoes - Men's
You have a genuine passion for cycling and don't want to throw in the towel to settle for the same monotone cycling shoes that make your sport seem like an afterthought. The Giro Apeckx II road shoe treats you to classic two-tone design that goes well with any of your favorite kits. A trusted...
Giro Empire ACC Limited Edition Cycling Shoes - Men's
We're loving the lace-up revolution, which is why we decided to partner with Giro--the instigator-in-chief--to produce the Empire ACC Limited Edition Cycling Shoes. They're essentially the same shoes as the regular Empire, just bathed in our logo's own take on the tricolor: red, grey, and lighter...
Giro Empire ACC Shoes - Men's
One glance at Giro's Empire ACC Shoes, and you'll see they're different. Rather than the ubiquitous buckle/strap combo, Giro's outfitted them with something decidedly old-fashioned -- laces. That's about where the old-fashioned nature stops, though. The uppers are a single piece of Evofiber...
Giro Empire SLX Limited Edition Shoe - Men's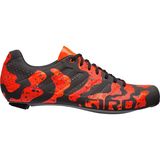 A few years ago, Giro revived the lace-up cycling shoe with the Empire and Empire SLX shoes. For its follow-up act, the California-based brand did the only logical thing: added lava lamp-inspired camouflage. The Empire SLX Limited Edition Shoes are an homage to the long-haired lava lamp crowd for...
Giro Empire SLX Shoes - Men's
Retail Price:
$349.95
Our Price: $192.47
buy now
At just 175 grams, the Giro Empire SLX shoes are breathing some pretty rarefied air. Not many shoes on the market come within 100 grams of the Empire, but it's not giving up anything in terms of performance, either. The uppers are a single piece of Evofiber microfiber, which is highly breathable,...
Giro Factor Techlace Shoe - Men's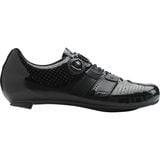 Retail Price:
$349.95
Our Price: $227.47
buy now
In an ever more contentious world, Giro proves that erstwhile foes can become valuable allies if they simply work together. The Factor Techlace Men's Shoes combine three of the most common fastening systems--Boa's IP1 dial, laces, and hook-and-loop straps--allowing them to peacefully coexist as...
Giro Grynd Shoes - Men's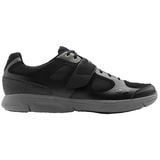 Retail Price:
$119.95
Our Price: $77.97
buy now
If you're used to riding clipped-in, even a quick trip to the grocery store on your bike with normal shoes feels wrong. But walking up and down the aisles with your cleats clacking once you get there isn't always ideal either. Giro's Grynd Shoes will allow you to pedal efficiently during your...
Giro New Road Republic Shoes - Men's
Retail Price:
$149.95
Our Price: $97.47
buy now
Modeled along the same lines as the top-level competition Empire shoes, the New Road Republic Shoes democratize the casual-meets-cycling aesthetics of Giro's lace-up cycling kicks. Instead of the low weight and high price of the ambitious Empire, the Republic features a walking sole made of...
Giro Prolight Techlace Shoes - Men's
Give yourself a serious competitive edge with the Giro Men's Prolight Techlace Shoes. Tipping the scale at a mere 150 grams, the Prolight balances ultralight construction with top of the line pedaling performance from its progressive upper and outsole. Adorned with three quick and convenient...
Giro Republic LX Shoes - Men's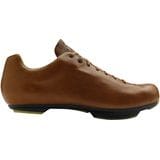 Retail Price:
$189.95
Our Price: $123.47
buy now
Giro's Republic LX Shoes offer the perfect combination of functionality and style, providing you a smooth transition from the bike to the street. Giro gave the new Republic LX a touch of sophistication with the beautiful leather upper and micro-suede heel counter. Giro also added a molded EVA...
<< Prev | 1 | 2 | 3 | 4 | 5 | 6 | 7 | 8 | 9 | 10 | Next >>