Mens Road Shoes - Road Bike Shop
Shop
>
Men's Apparel Clothing
>
Men's Apparel Road Bike Clothing
>
Men's Apparel Road Shoes
Chrome Truk SPD Shoe - Men's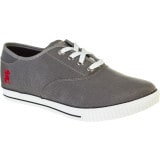 Snap into your Shimano SPD pedals with the ultra-durable Chrome Truk SPD Shoe and ride without fear of dreaded footwear blowouts. Chrome has been making urba-bike-messenger-worthy gear for years now, and has earned a reputation for quality. Truk SPD shoes keep this tradition alive. Truk SPD shoes...
Diadora Phantom Shoes - Men's
Retail Price:
$98.95
Our Price: $69.26
buy now
Triathlons can be won and lost in the transition zones, so it's important to have your switchovers dialed. Slipping wet feet into snug shoes can cost you valuable time, so Diadora made sure the Phantom Men's Shoes are easy to get on and off, without sacrificing the fit you need to make time on...
Diadora Speed-Vortex Shoes - Men's
Retail Price:
$298.95
Our Price: $239.16
buy now
Diadora has learned to walk a fine line between comfort, efficiency, and weight in its cycling shoes. For the Speed Vortex Cycling Shoes, the Italian manufacturer opts for a slightly heavier sole (by 10 grams per pair) that incorporates the same NET breathing technology found in the line-topping...
Diadora Tornado Shoes - Men's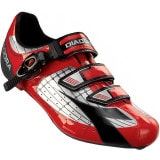 Retail Price:
$168.95
Our Price: $135.16
buy now
Built with an ideal blend of comfort and performance, the Diadora Men's Tornado Shoes feature many of the same bells and whistles as Diadora's flagship Proracer 3, but with materials that are a bit easier on your wallet. As such, the Tornado shoes use a synthetic leather upper with Suprell...
Diadora Trivex Plus Shoes - Men's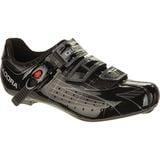 Retail Price:
$128.95
Our Price: $103.16
buy now
Everyday cycling shoes shouldn't dent your feet, your pride, or your wallet, so Diadora designed the Trivex Plus Shoes with a combo of fit, power, and price that make them perfect for recreational riders of all stripes. Underlying the whole package is Diadora's Performance Road CR sole, which...
Diadora Vortex Comp Shoes - Men's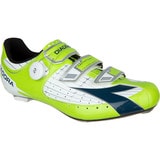 Retail Price:
$238.95
Our Price: $191.16
buy now
If that title seems contradictory, it's only because manufacturers have, by and large, struggled to design a shoe that blends all-day comfort with race-level power, and we think that's just because they haven't tried hard enough. Diadora's figured it out, at least, with the Vortex Comp Cycling...
Diadora Vortex Pro Shoes - Men's
Retail Price:
$378.95
Our Price: $227.37
buy now
The Vortex Pro is made with Diadora's Pro Road outsole, a full 3k carbon fiber sole with NET breathing technology. The outsole combines synthetic mesh and an impermeable membrane for protection from external elements (moisture, mud, etc.) all while enhancing the shoe's overall breathability. In...
DMT Libra Look Cycling Shoe - Men's
Retail Price:
$265.00
Our Price: $79.50
buy now
DMT (Diamant) has been designing cycling footwear since 1978. But it doesn't do it alone. DMT has over 200 athletes in all disciplines of cycling that it uses to test and provide input before products are marketed to the public. Its Libra Look Road Shoes combine the technology found in its more...
Fi'zi:k R1 Uomo Shoe - Men's
Retail Price:
$399.95
Our Price: $319.96
buy now
Fizik is known for its attention to detail in all its accessories. The R1 Uomo Men's Shoes are no exception, with the finest of leathers and the stiffest of soles to keep your feet swaddled in comfort mile after mile. First, unlike so many shoes that are constructed from synthetic leather, the R1...
Fi'zi:k R3 SL Uomo Shoes - Men's
Retail Price:
$349.95
Our Price: $139.98
buy now
Fi'zi:k's innovative designs and top-shelf materials are putting a fresh face on cycling shoes. The R3 SL Uomo Shoes is no exception. Building on the existing R3 platform, the SL Uomo forgoes kangaroo leather for a full MicroTex upper. This rendition satisfies the vegan cyclist and weight...
<< Prev | 1 | 2 | 3 | 4 | 5 | 6 | 7 | 8 | 9 | 10 | Next >>