Mens Road Shoes - Road Bike Shop
Shop
>
Men's Apparel Clothing
>
Men's Apparel Road Bike Clothing
>
Men's Apparel Road Shoes
Diadora Speed-Vortex Shoes - Men's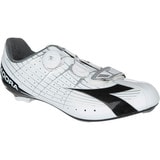 Diadora has learned to walk a fine line between comfort, efficiency, and weight in its cycling shoes. For the Speed Vortex Cycling Shoes, the Italian manufacturer opts for a slightly heavier sole (by 10 grams per pair) that incorporates the same NET breathing technology found in the line-topping...
Diadora Tornado Shoes - Men's
Built with an ideal blend of comfort and performance, the Diadora Men's Tornado Shoes feature many of the same bells and whistles as Diadora's flagship Proracer 3, but with materials that are a bit easier on your wallet. As such, the Tornado shoes use a synthetic leather upper with Suprell...
Diadora Trivex Plus Shoes - Men's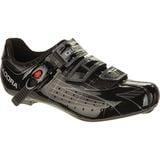 Everyday cycling shoes shouldn't dent your feet, your pride, or your wallet, so Diadora designed the Trivex Plus Shoes with a combo of fit, power, and price that make them perfect for recreational riders of all stripes. Underlying the whole package is Diadora's Performance Road CR sole, which...
Diadora Vortex Comp Cycling Shoes - Men's
Retail Price:
$238.95
Our Price: $83.63
buy now
If that title seems contradictory, it's only because manufacturers have, by and large, struggled to design a shoe that blends all-day comfort with race-level power, and we think that's just because they haven't tried hard enough. Diadora's figured it out, at least, with the Vortex Comp Cycling...
Diadora Vortex Pro Shoes - Men's
Retail Price:
$378.95
Our Price: $208.42
buy now
The Vortex Pro is made with Diadora's Pro Road outsole, a full 3k carbon fiber sole with NET breathing technology. The outsole combines synthetic mesh and an impermeable membrane for protection from external elements (moisture, mud, etc.) all while enhancing the shoe's overall breathability. In...
Diadora Vortex-Pro II Shoes - Men's
Whether you train continuously and race only occasionally or find yourself eagerly anticipating next year's race lineup already, Diadora's Vortex-Pro II men's Shoes were designed to seamlessly transfer every one of your hard-earned watts directly to your pedals while you ride. They're Diadora's...
Diadora Vortex-Pro Movistar Cycling Shoe - Men's
Retail Price:
$378.95
Our Price: $151.58
buy now
Get pro level performance and rock your favorite team's colors with the Diadora Vortex-Pro Movistar Cycling Shoe. These shoes feature a stiff, Pro Road carbon sole for excellent power transfer to get down the road fast, and a boa closure system for a customized fit every time you ride. The upper...
Fi'zi:k R1 Uomo Shoe - Men's
Retail Price:
$399.95
Our Price: $319.96
buy now
Fizik is known for its attention to detail in all its accessories. The R1 Uomo Men's Shoes are no exception, with the finest of leathers and the stiffest of soles to keep your feet swaddled in comfort mile after mile. First, unlike so many shoes that are constructed from synthetic leather, the R1...
Fi'zi:k R3 Uomo Boa Shoes - Men's
Retail Price:
$299.95
Our Price: $269.95
buy now
Fi'zi:k's R-Series runs the gamut from affordable everyday shoe to pro-ready race rocket, and the R3 Uomo Boa Men's Shoe nestles right in the middle, a better value than the R1 but with more race DNA than the R5. The first thing you'll notice is how clean the R3 is. It looks so good that you...
Fi'zi:k R3 Uomo Men's Shoes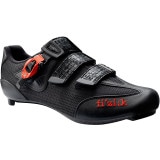 Retail Price:
$299.95
Our Price: $89.98
buy now
If you're examining high-end road shoes from Fi'zi:k, you'll notice a few subtle differences between its top R1 Uomo offering and its R3 Uomo Shoes. First, the closure on the R3 utilizes a lightweight aluminum buckle in place of the R1's Hex/MC carbon fiber version. Second, the insole of the R3...
<< Prev | 1 | 2 | 3 | 4 | 5 | 6 | 7 | 8 | 9 | 10 | Next >>