Mens Road Shoes - Road Bike Shop
Shop
>
Men's Apparel Clothing
>
Men's Apparel Road Bike Clothing
>
Men's Apparel Road Shoes
Chrome Tobruk Shoes - Men's
Retail Price:
$70.00
Our Price: $21.00
buy now
Some mornings, laces are just too damn hard. The Chrome Tobruk Shoe makes the haze a little easier to get through, thanks to an effortless slip-on style and a low-profile design that's easy to stuff into toe cages. Vulcanized rubber sole provides great grip and protection from...
Chrome Truk Pro Men's Shoes - Men's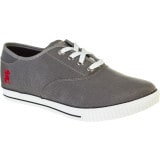 Stiff and slick carbon-soled cycling shoes have their place, but running errands around town isn't one of them. That's why Chrome's Truk Pro Shoes strike a balance with comfortable, SPD-compatible shoes. So, when riding to the bar becomes equally important to racing, you won't be slipping around...
Chrome Truk Shoes - Men's
When toe cages and double straps destroy everything that they come into contact with, durable shoes are crucial. Not only to avoid burning away your money, but so that you don't develop tree knot sized blister scars where the tops of your feet used be. And believe it or not, this ailment is easy...
Diadora Aerospeed 2 Shoe - Men's - Men's
Retail Price:
$149.00
Our Price: $59.60
buy now
Pull on the Diadora Aerospeed 2 Shoe, and start logging some training miles. The Aerospeed 2 features a supple synthetic leather upper and an EVA foam footbed for maximum comfort.
Diadora Jet Racer Shoes - Men's
Retail Price:
$399.00
Our Price: $199.50
buy now
The name 'Diadora' is derived from the Greek 'dia-Dorea,' which means 'to share gifts and honors.' And while we doubt that Cadel is ever going to share his 2011 Tour victory with anyone other than his teammates, with Diadora's release of the Jet Racer Shoes, you're at least able to share the same...
Diadora Phantom Shoes - Men's
For a triathlete, the transition is crucial. You want to get in and out quickly and efficiently, and you practice for hours on end to do just that. The fact remains, nothing is less efficient than trying to put damp feet into fitted cycling shoes. The Diadora Phantom Shoes combine a well-fitting...
Diadora Speed Racer 2 Carbon Shoes - Men's
Retail Price:
$199.00
Our Price: $149.25
buy now
As cycling technology continues to evolve, shoes are now becoming included in the trickle-down effect that we've seen with hard goods over the past decade. This is good news, as the materials and designs we see on pro racers' feet have become available to us, and more importantly, at prices that...
Diadora Speedracer 2 Carbon Shoe - Men's - Men's
Retail Price:
$255.00
Our Price: $127.50
buy now
When you can't compromise comfort for performance, strap your dogs into a pair of Diadora Speedracer 2 Carbon Shoes. Innovative features like the Power Flow ventilation system, V-Fit Adjust strap, and an ergonomic insole deliver the highest level of comfort, while an ultra-light, super-stiff...
Diadora Sprinter 2 Shoes - Men's
Retail Price:
$119.99
Our Price: $60.00
buy now
Put the power to the pedals with the stiff, lightweight Diadora Sprinter 2 Shoes. An EVA midsole takes some of the edge off long rides, and mesh inserts promote airflow to keep your foot cool.
Diadora Tornado Shoes - Men's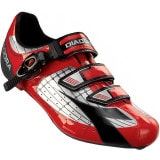 The Diadora Tornado Road Shoe is designed with all the bells and whistles of the Proracer 3, but is constructed with materials that won't set your wallet ablaze.One of the differences you'll see between the Proracer and the Tornado is the construction of the sole. While the Proracer is carbon...
<< Prev | 1 | 2 | 3 | 4 | 5 | 6 | 7 | 8 | 9 | 10 | Next >>