Mens Road Bike Tops - Road Bike Shop
Shop
>
Men's Apparel Clothing
>
Men's Apparel Road Bike Clothing
>
Men's Apparel Road Bike Tops
100% Official T-Shirt - Short Sleeve - Men's
Rock some comfy style after an epic day of shredding trail and rep your favorite brand at the post-ride brew fest in the 100% men's short-sleeve Official T-Shirt. Made from soft cotton, this shirt is sure to be a favorite for the years ahead. A screen-printed 100% logo adorns the chest in classy,...
2XU Active Tri Singlet - Men's
Retail Price:
$69.95
Our Price: $55.96
buy now
Your clothing plays a big part in your comfort during a race, but an effective kit doesn't have to come laden with tech and extra details. The 2XU Active Tri Singlet's design is simple and sleek, constructed out of the mid-gauge SBR Skin X fabric to provide a mix of muscle support and...
2XU Compression Sleeveless Top - Men's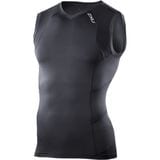 Whether you're looking for an edge in your next tri or hoping to get more out of your cross-training workouts, the 2XU Compression Sleeveless Top is a versatile way to add upper body compression into your routine. Designed to help improve posture and improve muscle support and circulation around...
2XU Compression Top - Short-Sleeve - Men's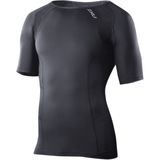 Whether you're cycling, running, or doing a strength workout at the gym, the short-sleeve 2XU Compression Top can help support your muscles during your workout and speed up your recovery time for the rest of the week. The top's graduated compression seeks to improve circulation and limit muscle...
2XU MCS Elite Compression Arm Guards - Men's
Calf muscles seem to get all the focus from compression gear, but the muscles in your arms can benefit just as much from the improved circulation and support that compression can deliver. 2XU provides you with the opportunity to show your arms some love with the MCS Elite Compression Arm Guards,...
2XU Perform Tri Singlet - Women's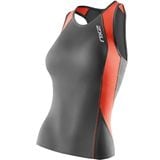 Retail Price:
$89.95
Our Price: $71.96
buy now
Even if you aren't into the idea of a one-piece tri suit, you'll still want your separates to match when you show up on race day. Aesthetics aside, knowing that your top was designed to work with your shorts means you're far more likely to be comfortable while you're racing. The 2XU women's...
2XU Performance Run Calf Sleeves - Men's
The benefits of compression garments like the 2XU Performance Run Sleeves are something of a hot topic in sports science these days, with some studies supporting the claimed benefits while the skeptical are left wondering if it's all just superstition. This divide is partly because of popular...
2XU Thermal Compression Top - Long-Sleeve - Men's
The advantages of muscle compression are no secret. We know how our bodies feel after a few hours in compression wear compared to the dark ages of old wives' remedies. So when it comes to staying warm and keeping your muscles comfortable during fall and winter rides, slip on the 2XU Long Sleeve...
2XU Thermal Compression Top - Long-Sleeve - Women's
The 2XU Women's Long-Sleeve Thermal Compression Top gives you the baselayer warmth you need with the benefit of compression to fight early muscle fatigue and speed in your recovery. Compression tops are made to hold close to the body like a second skin, but certain parts of the body need more...
7mesh Industries G2 Jersey - Short-Sleeve - Men's
We have a hard time discussing the fabrics in 7mesh Industries' minimalist kits without the word sumptuous entering into the conversation at some point. Sure, it's a word that more readily brings to mind a rest day spent at the spa than a day in the saddle, but in this case, it fits. Brand new...
<< Prev | Back | 1 | 2 | 3 | 4 | 5 | 6 | 7 | 8 | 9 | 10 | More | Next >>