Mens Road Bike Tops - Road Bike Shop
Shop
>
Men's Apparel Clothing
>
Men's Apparel Road Bike Clothing
>
Men's Apparel Road Bike Tops
100% Hydromatic Cycling Jacket - Men's
When weather rolls in don't hunker down, layer up with the 100% Hydromatic Jacket for men, and hit the dirt with the same power you do on the clear days. With lightweight and stretchy polyester-elastane blend, and fabric moves with you for full range of motion no matter what trail you're tackling...
2XU Compression Top - Short-Sleeve - Men's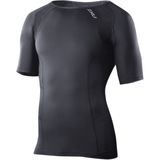 Retail Price:
$79.95
Our Price: $67.96
buy now
Whether you're cycling, running, or doing a strength workout at the gym, the short-sleeve 2XU Compression Top can help support your muscles during your workout and speed up your recovery time for the rest of the week. The top's graduated compression seeks to improve circulation and limit muscle...
2XU Thermal Compression Top - Long-Sleeve - Men's
The advantages of muscle compression are no secret. We know how our bodies feel after a few hours in compression wear compared to the dark ages of old wives' remedies. So when it comes to staying warm and keeping your muscles comfortable during fall and winter rides, slip on the 2XU Long Sleeve...
7mesh Industries Callaghan Jersey - Men's
Retail Price:
$174.95
Our Price: $113.72
buy now
While this might be a terribly archaic way of saying something (and for that we apologize), moisture is simply a fact of life. Whether it occurs by way of perspiration or precipitation, moisture happens, and sometimes we require a little assistance in mitigating that the performance moisture....
7mesh Industries Corsa Long-Sleeve Softshell Jersey - Men's
Riding on a sunny, crisp fall day surrounded by fading green hillsides and orange and red trees is the stuff of poetry. The air has just enough of a hint of crispness to stop you from ever really sweating, and the smell of fall in the air somehow gives everything an overtone of nostalgia. Those...
7mesh Industries G2 Jersey - Short-Sleeve - Men's
Retail Price:
$139.95
Our Price: $90.97
buy now
We have a hard time discussing the fabrics in 7mesh Industries' minimalist kits without the word sumptuous entering into the conversation at some point. Sure, it's a word that more readily brings to mind a rest day spent at the spa than a day in the saddle, but in this case, it fits. Brand new...
7mesh Industries Highline Ultralight Jersey - Short-Sleeve - Men's
Ready for grueling KOMs, high-octane training rides, and grinds up alpine passes, the 7mesh Industries Men's Highline Ultralight Jersey caters to aggressive riders exerting themselves at full-throttle on every ride. This impressively light jersey conforms to your body with its stretch-woven...
7mesh Industries Northwoods Jacket - Men's
Spring brings with it a newfound freedom from layers as the snow melts and high mountain roads reappear. We've all been tempted to set out on an early April ride armed with only a jersey in temperatures just on this side of warm, with fingers crossed the wind remains low and the cloud cover stays...
7mesh Industries Oro Jacket - Men's
In a world of bells and whistles, 7mesh Industries offers salvation from the complicated with the Oro jacket, featuring a truly minimalist design that focuses on the benefits of eliminating the excess. Built with exceptional materials, and nothing else, the Oro weighs just shy of nothing, and...
7mesh Industries Outflow Jacket - Men's
A long weekend of epic bikepacking, remote camping, and general adventuring awaits to celebrate the last weeks of crisp scenery before winter really digs in. Keep your pack light and cover all your bases against the chill with the 7mesh Industries Men's Outflow Jacket. With light, breathable...
<< Prev | Back | 1 | 2 | 3 | 4 | 5 | 6 | 7 | 8 | 9 | 10 | More | Next >>