Mens Road Bike Tops - Road Bike Shop
Shop
>
Men's Apparel Clothing
>
Men's Apparel Road Bike Clothing
>
Men's Apparel Road Bike Tops
Assos Ss.rallytrekkingJersey_evo7 - Men's
The Ss. rallytrekkingJersey represents the absolute pinnacle of Assos' mountain jersey technology. The rally trekking jersey is light, anatomically pre-shaped and protective. This moisture-wicking top layer is specifically designed to keep you cool when partnered with an Assos Skinfoil baselayer,...
Assos SS.suissefedjersey_evo7 - Men's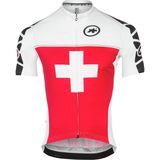 The white cross and red field of Switzerland's unusually-shaped flag was originally inspired by strips of white cloth crossed perpendicularly on the clothing of 14th-century soldiers as a field mark for identification. It was later adopted on the battle standards of various Swiss Cantons. In the...
Assos ss.suisseOlympiakos_s7 Cycling Jersey - Men's
Retail Price:
$208.95
Our Price: $125.37
buy now
For more than 10 years, Assos has been a proud sponsor of the Swiss Cycling Federation. Year after year, this select group of Swiss cyclists continues to serve as product testers for the company, providing critical feedback that aids in the creation of the most advanced cycling apparel in the...
Assos SS.Uno_s7 Jersey - Men's
Retail Price:
$188.95
Our Price: $113.97
buy now
Since its inception, Assos has been the leading innovator in cycling apparel. Racking up patent after patent, while continually developing new textiles, Assos has never been content with new designs just for the sake of new graphics. That's why we're excited to introduce the new SS. Uno_s7 Jersey...
Assos sV.blitzFeder Men's Vest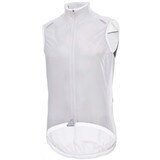 For riding in cool or cold conditions, it's extremely difficult to beat the practicality of a great vest. Element-proof materials that keep the wind and rain off of you go a very long way in preserving your overall comfort when the temperature drops. Their packability means convenience, too. All...
Assos sV.emergency Vest - Men's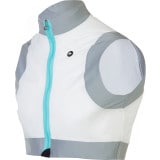 Have you ever stopped to think just how archaic it is for racers to be stuffing their jerseys with newspapers at the summit of a climb? Seriously, though, this has been going on for over a hundred years. Frames have turned to carbon, and our apparel has likewise turned to technology. However, L...
Attaquer CORE Jersey - Short Sleeve - Men's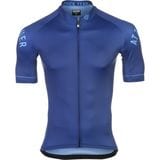 Add a flash of classic style to any ride with the Attaquer CORE Jersey. Known for its eye-catching patterns, Attaquer has toned it down with the CORE Jersey with retro-inspired minimalist graphics that stand out just as well as any bright print. Attaquer doesn't sacrifice quality for style with...
Bellwether Aqua No Jacket - Men's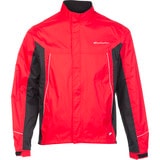 Retail Price:
$149.95
Our Price: $44.98
buy now
In designing the Aqua NO Jacket, Bellwether used its extremely effective, if purely utilitarian, Stormfront Jacket as a base platform and added a few extra details for better ventilation, additional storage options, and even more protection. The Aqua NO is made from fabric of the same name. It...
Bellwether Criterium Jersey - Short Sleeve - Men's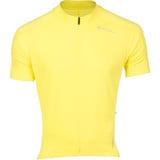 Retail Price:
$49.95
Our Price: $32.47
buy now
The Bellwether Criterium Jersey is very similar to the company's Pro Mesh jersey in several respects, although it comes in a more aesthetically conservative package, which is exactly what many riders are looking for. A simple monochromatic design characterizes the Criterium jersey's appearance --...
Bellwether Helius Jersey - Short Sleeve - Men's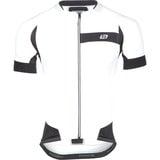 Retail Price:
$89.95
Our Price: $35.98
buy now
Whereas Bellwether's Pro Mesh keeps you cool with light, highly porous fabrics, the Bellwether Helius Jersey takes it to the next level with a competition-ready cut and the integration of even more high-tech materials. The Helius is really only similar to the Pro Mesh jersey in that both do a...
<< Prev | Back | 1 | 2 | 3 | 4 | 5 | 6 | 7 | 8 | 9 | 10 | More | Next >>