Mens Road Bike Tops - Road Bike Shop
Shop
>
Men's Apparel Clothing
>
Men's Apparel Road Bike Clothing
>
Men's Apparel Road Bike Tops
Santini Photon Aero Jersey - Short-Sleeve - Men's - Men's
Santini focused on two things when it designed the Photon Aero Jersey: aerodynamics and comfort during hot-weather rides. The Photon Aero's synthetic fabric closely follows the contours of your body for excellent aerodynamics, and its ultra-lightweight, breathable fabric protects your body from...
Santini Rebel Printed Winter Jacket - Men's - Men's
Retail Price:
$234.95
Our Price: $129.22
buy now
Santini's Rebel Printed Winter Jacket provides the intense protection you need from the elements this winter, without the insane price tag. Sure, it's not inexpensive, but when you consider that it competes favorably with jackets costing twice as much -- and looks great, too -- it's a serious...
Santini Sportivo Jersey - Short Sleeve - Men's - Men's
The Sportivo line offers the well-respected, time-tested Italian quality that's made Santini famous, without the sticker shock of some top-level jerseys. Built off this function-first philosophy, the Santini Men's Sportivo Jersey offers lightweight, moisture-wicking comfort and a slim,...
Santini Sprinter Jersey - Short Sleeve - Men's - Men's
Retail Price:
$129.95
Our Price: $90.96
buy now
As the supplier of leading race jerseys for the Giro, Santini epitomizes Italian racing heritage and iconic cycling style. As such, the Santini Men's Sprinter Jersey, or Maglia Rossa as it's formerly known, honors the Giro's fastest man/points leader with its rich red color. Teaming up with...
Santini Tech Wool Long Sleeve Jersey - Men's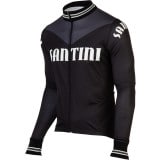 Retail Price:
$249.95
Our Price: $124.98
buy now
While Santini has fully embraced the technological world of synthetic fabrics, it also acknowledges that timeless fabrics and designs will always have their place. For this reason, Santini created its Heritage Collection, with the standout piece being the new Tech Wool Long Sleeve Jersey. Its...
Santini UCI Rainbow Jersey - Long Sleeve - Men's - Men's
Retail Price:
$219.95
Our Price: $153.96
buy now
Clothing the world's best cyclists for the UCI World Championships since the '90s, Santini passionately brings its Italian craftsmanship and attention to detail to the world stage in both individual and team events. As such, it's only fitting that the revered rainbow stripes made their way to the...
Santini Wool Heritage Jersey - Short Sleeve - Men's - Men's
No sport loves history more than cycling, but the two-wheeled community is as obsessed with innovation as it is with its past, so what's a guy to do? Well, you could outfit your vintage steel frame with all carbon everything, wear a cotton cap that's infused with EPO, or just rock the Santini...
Santini Zest Jersey - Short-Sleeve - Men's - Men's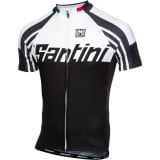 When we think of the past 50 years of cycling, our minds keep seeing this little SMS logo on champions' jerseys as far back as Hinault. Naturally, as astute students of Italian race history, our hearts melt under the banner of Santini Maglificio Sportivo. And why not? Everyone from Pantani to...
Santini Zone Vest - Men's - Men's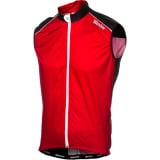 Let's face it, most outerwear is a drag, literally. It will always seem counterproductive to have a vest that's 'protecting you' from the wind while it's flapping away in it like mad. That's why the Italian icon, Santini, developed its Zone Vest. With the Zone vest, you still receive all of the...
Shimano DryShield Basic Rain Jacket - Men's - Men's
Retail Price:
$79.95
Our Price: $39.97
buy now
Since the Shimano clothing brand has only just become available in the North American market, items like the DryShield Basic Rain Jacket have been absent from our cycling wardrobe. The jacket has quickly become a staple, though, courtesy of its DryShield fabric, layer-friendly fit, and typically...
<< Prev | Back | 51 | 52 | 53 | 54 | 55 | 56 | 57 | 58 | 59 | 60 | More | Next >>