Mens Road Bike Tops - Road Bike Shop
Shop
>
Men's Apparel Clothing
>
Men's Apparel Road Bike Clothing
>
Men's Apparel Road Bike Tops
POC Fondo Wind Vest - Men's
Navigating changing weather conditions is all in a day's work when you head out for an all-day ride. Whether you're exploring a new point-to-point route or are taking advantage of being able to ride one of your favorite scenic routes under clear skies, the temperature is likely to change between...
POC Raceday Aero Jersey - Short-Sleeve - Men's
Retail Price:
$199.95
Our Price: $119.97
buy now
Extreme aerodynamics don't matter for casual cyclists and weekend warriors, but when you're putting tons of time and plenty of money into training and racing, the seconds start to count a little more. POC developed the Raceday Aero Jersey to help you slice through the air with unparalleled...
POC Raceday Climber Jersey - Short-Sleeve - Men's
Retail Price:
$149.95
Our Price: $59.98
buy now
Staying cool is essential when you're pedaling near the redline, and POC's Raceday Climber Jersey is designed specifically to breathe, wick moisture, and keep you from overheating on the toughest climbs and hottest days. Built from ultralight polyester, the Raceday almost instantly transports...
POC Raceday Crewneck Jersey - Long-Sleeve - Men's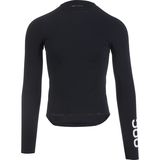 The POC Raceday Crewneck Men's Jersey brings clean aesthetics and streamlined comfort to the start line. Featuring stretchy, breathable, and fast drying fabric, this jersey offers unimpeded range of motion and impeccable moisture management to keep you focused and cool when the intensity rises....
POC Raceday Gilet - Men's
Easily one of the most versatile pieces in your cycling wardrobe, the POC Raceday Gilet offers lightweight, easy-stashing protection from heat-robbing breezes and chilly temperatures. It retains a streamlined, aerodynamic profile to maximize performance in training and racing scenarios....
POC Raceday LT Aero Jersey - Short-Sleeve - Men's
When summer rolls around with scorching temperatures and cloudless skies, stay cool in the POC Men's Raceday Super Light Short-Sleeve Jersey. Made from light, breathable, and stretchy 3D fabric, this jersey boasts a streamlined fit and whisks moisture away for fast-drying comfort.In addition to...
POC Raceday Speed Suit - Men's
The POC Men's Raceday Speed Suit is the result of carefully engineered textiles strategically placed for improved breathability, comfort, and streamlined shaping. The Raceday Speed Suit features woven stretch along the shoulders for reduced drag along its leading edges. Four-way stretch at the...
POC Raceday Stretch Light Rain Jacket - Men's
There's a reason why, on the days leading up to a target event, we're often glued to the forecast, keeping an eye on even the most minimal changes to the Doppler that might spell disaster or offer relief come race day. If it's sunny, proceed as usual; if it's raining, though, we roll out in POC's...
POC Raceday Thermal Jacket - Men's
Most riding jackets primarily focus on repelling the elements at the expense of a streamlined, aerodynamic fit. Not here. The Poc Raceday Thermal Jacket keeps you blissfully warm and dry in the face of nasty weather, but in a sleek, aerodynamic profile that slips through the oncoming breeze with...
POC Resistance Mid Jacket - Men's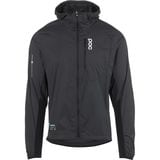 Retail Price:
$149.95
Our Price: $74.97
buy now
If you ride in an area where rainy days are common, you're well aware that heading out under threatening skies only adds to the adventure. You also probably already know how important it is to have the right gear along with you so you can fully enjoy floating over those soft, loamy trails under...
<< Prev | Back | 51 | 52 | 53 | 54 | 55 | 56 | 57 | 58 | 59 | 60 | More | Next >>