Mens Road Bike Tops - Road Bike Shop
Shop
>
Men's Apparel Clothing
>
Men's Apparel Road Bike Clothing
>
Men's Apparel Road Bike Tops
Pinarello Corsa Jersey - Men's
Retail Price:
$159.95
Our Price: $111.96
buy now
The Corsa Men's Jersey is par for the course--if, that is, you consider that the metric it's being held to is Pinarello, one of cycling's most names. The jersey combines all the daily functionality of the race-specific Tour Jersey with a more accommodating fit (we aren't all built like Froome,...
Pinarello Stamp T-Shirt - Men's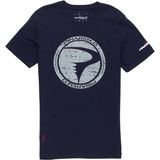 Retail Price:
$30.00
Our Price: $15.00
buy now
You can't ride your Pinarello all the time, as much as you wish you could, so for the times you're forced to step out of the saddle and mingle with pedestrian society, Pinarello provides a way to still show everyone around you what you'd rather be doing. The Stamp Men's T-Shirt is made with a...
Pinarello Strada Jersey - Men's
Retail Price:
$99.95
Our Price: $79.96
buy now
In an industry diving ever further down the painted-on, aerodynamic jersey rabbit hole, more traditional items like the Pinarello Strada Men's Jersey are a welcome reminder that not every cyclist is a pencil-neck climber and not every ride is a full-on hammerfest. The Strada features a more...
Pinarello Tour Jersey - Men's
Retail Price:
$199.95
Our Price: $129.97
buy now
Given the fact that its frames have been ridden to four of the last five Tour victories, Pinarello's choice to name its top racing jersey the Tour Men's Jersey is an obvious reference to a certain French race in July. The jersey's design also speaks to the top levels of the sport, with Giordana...
POC 2 Color Print T-Shirt - Short-Sleeve - Men's
Retail Price:
$39.95
Our Price: $19.97
buy now
After spending a full summer day riding lifts at the resort with good friends, there's nothing better than finding a spare tee hiding in the back of your car to change into. Whether your group's style is sitting in hatchbacks in the parking lot, drinking from a communal cooler, or you've got a...
POC Aero TT Suit - Men's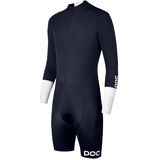 Retail Price:
$449.95
Our Price: $314.96
buy now
POC's Aero TT Suit blends the time-tested skinsuit model with POC's own specialists at the in-house WATTS Lab for a design as aerodynamic as it is well-fitted. The back and shoulders are key to the latter quality, so POC ensures an accommodating fit with a four-way stretch material. The fabric's...
POC AVIP Backprotection Jersey - Men's
Retail Price:
$199.95
Our Price: $125.97
buy now
Standing for Attention, Visibility, Interaction, and Protection, the POC Men's AVIP Backprotection Jersey promotes safety, functionality, and comfort when you're cranking out serious miles on the road. The first thing you'll notice is the jersey's Koroyd lower-back protection, which consists of...
POC AVIP Jersey - Long-Sleeve - Men's
Retail Price:
$189.95
Our Price: $115.87
buy now
The POC AVIP Long-Sleeve Jersey combines all the cozy functionality you're looking for in a cool-weather jersey with high-safety, hi-viz color blocking to increase your visibility to motorists out on the road. With strategically placed mesh panels under the arms and a full-length zipper, this...
POC AVIP Jersey - Men's
Retail Price:
$169.95
Our Price: $73.08
buy now
While it won't always guarantee safety, Poc's penchant for high-visibility, color-blocked fashion--one display with the AVIP Short Sleeve Jersey--does help ensure you'll be seen from a distance. That may not be helpful for launching sneak attacks during a race, but it is nice being noticed on...
POC AVIP Light Wind Jacket - Men's
A chilly descent will turn you into an ice cube in minutes, but POC's AVIP Light Wind Jacket will help keep your core warm so you'll be ready to put the hammer down when you hit the next climb. This ultralight 78-gram jacket features a full polyamide construction to block wind, but employs mesh...
<< Prev | Back | 51 | 52 | 53 | 54 | 55 | 56 | 57 | 58 | 59 | 60 | More | Next >>