Mens Road Bike Tops - Road Bike Shop
Shop
>
Men's Apparel Clothing
>
Men's Apparel Road Bike Clothing
>
Men's Apparel Road Bike Tops
Mavic Ksyrium Pro Thermo Jacket - Men's
The first real snow of winter has blanketed the trees and covered the roads, but that's just an easy excuse for the weak-legged, faint-of-heart, fair-weather riders to head for the garage. For the dedicated and well-equipped, the cold weather means empty roads and increased solitude -- but it...
Mavic Ksyrium Pro Vest - Men's
Retail Price:
$109.95
Our Price: $71.47
buy now
You know the weather looks unpredictable, but the longer you sit inside looking out the windows, the more ride time you're wasting, and the Mavic Ksyrium Pro Men's Vest helps equip you for whatever may come. Shoulder-season cycling--or even summer riding in the mountains--is often rife with days...
Nalini Aeprolight Bodysuit - Men's
Retail Price:
$403.95
Our Price: $262.57
buy now
Nalini's form-fitting Aeprolight Bodysuit is designed to tackle the hottest mid-summer rides in comfort. Nalini treated its proprietary synthetic fabric with Coldblack to reduce temperature and a hydrophilic treatment to pull moisture away from your skin.The main body fabric is Nalini's...
Nalini Aeprolight Half Body Jersey - Men's
Retail Price:
$233.95
Our Price: $152.07
buy now
Be cool and collected through warm summer rides and strike a stealthy, race-ready profile at Tuesday night worlds in the Nalini Aeprolight Half Body Men's Jersey. Made from fabrics designed to whisk moisture out and away and featuring classic Nalini construction, this jersey is a speedy addition...
Nalini Aeprolight Mesh TI Jersey - Short Sleeve - Men's
Retail Price:
$189.95
Our Price: $113.97
buy now
The Hot Moa Xlight material that makes up Nalini's Aeprolight Mesh TI Jersey is a barely-there mesh that all but eliminates any layers between your skin and the air on hot summer rides. As you'd imagine, it's about as well-ventilated as a material can get, and it's also been hit with Nalini's Moa...
Nalini Crit Body Skinsuit - Men's
Retail Price:
$239.95
Our Price: $155.97
buy now
Maximize speed during racing events with the streamlined, form-fitting design of the Nalini Men's Crit Body Skinsuit. The Crit Body Skinsuit features Nalini's XRace fit that tightly hugs your body like a second skin, minimizing drag when you're competing in criterium, track, time trial, road, and...
Nalini Crit TI Jersey - Men's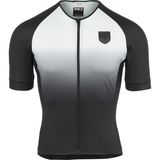 Retail Price:
$159.95
Our Price: $103.97
buy now
Line up for the weekly time trial with an aerodynamic advantage in the Nalini Men's Crit TI Jersey. Featuring Nalini's next-to-skin Xrace fit, this jersey minimizes bunching and excess fabric bulges to put forward a streamlined profile as you swoop through the wind. With Nalini's fast-drying and...
Nalini Curva TI Jersey - Men's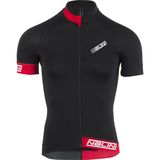 Retail Price:
$129.95
Our Price: $84.47
buy now
As part of Nalini's Red Line, the Curva TI Jersey was created with recreational cycling in mind, but it's got a very streamlined, racing cut. The Curva TI is ideal for the in-shape racer embarking on hot, sunny training miles, as it's constructed with one of Nalini's thinnest jersey materials,...
Nalini Graphite TI Jersey - Men's
Retail Price:
$139.95
Our Price: $90.97
buy now
Don't subject yourself to sweat-soaked discomfort when the temperature skyrockets. Instead, zip into the lightweight, cool-wearing sensation of the Nalini Graphite TI Jersey before embarking on spirited rides through oppressive heat. Engineered for summer riding, Hot Moa XLight fabric breathes...
Nalini Light Packable Wind Jacket - Men's
Retail Price:
$79.95
Our Price: $51.97
buy now
Riders blessed with stunning alpine passes and winding country roads are often at the whim of Mother Nature's volatile demeanor. One minute it's beaming pleasant sunshine and the next it's pouring rain, with whipping winds stealing precious body heat. Protecting you from unpredictable weather...
<< Prev | Back | 41 | 42 | 43 | 44 | 45 | 46 | 47 | 48 | 49 | 50 | More | Next >>