Mens Road Bike Tops - Road Bike Shop
Shop
>
Men's Apparel Clothing
>
Men's Apparel Road Bike Clothing
>
Men's Apparel Road Bike Tops
Sugoi RSE NeoShell Jacket - Men's
When it comes to outerwear, cyclists have two choices -- enjoy the stretch and ventilation of a soft shell and risk rain penetration, or opt for the hard shell with superior waterproof properties and risk clamminess and a limited range of motion. Sugoi, however, achieved the best of both worlds...
Sugoi RSX NeoShell Men's Jacket - Men's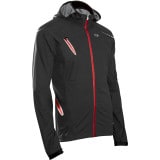 Retail Price:
$299.95
Our Price: $239.96
buy now
It's a long-held truth that foul weather cycling apparel will be fraught with compromise, and nowhere is this more apparent than riding jackets. In days past, you had to choose between a waterproof hardshell, which invariably turned into a sweatbox, or a breathable softshell that did little when...
Sugoi Shift Men's Vest - Men's
Retail Price:
$69.95
Our Price: $55.96
buy now
When it comes to packable shelter, nothing's lighter or easier to stow than a vest. Carrying on with this theme, Sugoi made it a priority that you hardly notice its new Shift Vest, whether it's in your pocket or on your body. This reduces flapping at high speed when you're, say, dropping down the...
Sugoi Wheelmen Jersey - Short Sleeve - Men's - Men's
Retail Price:
$69.95
Our Price: $48.96
buy now
Wheelmen is the endearing name often given to riders who embrace life on the bike -- much like calling the seafaring "watermen." Whether you love to tour or joined a Wheelman Club to get faster and toe the start line, Sugoi's Wheelman Jersey will keep you looking stylish while staying cool. Sugoi...
Twin Six Ankle Busters T-Shirt - Short-Sleeve - Men's - Men's
Whether you cruise the coastline on a surfboard, a fixie, or both, you're a part of the Ankle Busters Crew, and we have good news--your uniform has just arrived from Twin Six. The sun is rising over the Ankle Busters T-Shirt's deep blue cotton, or it might be setting--that depends on where you...
Twin Six Argyle Jersey - Short Sleeve - Men's - Men's
There are cycling jerseys and then there are Twin Six cycling jerseys. And what sets Twin Six apart are its distinctive, yet attractive graphics -- like what's found on this Argyle Jersey. However, don't think that this jersey's form precedes its function. After all, Twin Six knows that looks...
Twin Six Badlands Jersey - Short-Sleeve - Men's - Men's
Inspired by South Dakota's famous park, the Twin Six Badlands Short Sleeve Jersey is built to keep you feeling fresh when you're working hard. The subtle graphics are a nod to the area's original residents, which makes it entirely fitting that this jersey was built in the USA. Think of it as a...
Twin Six Badlands T-Shirt - Short-Sleeve - Men's - Men's
Twin Six made the Badlands Men's T-Shirt to celebrate the awesome riding in Badlands national park. The design is a nod to the area's original inhabitants, making it appropriate that this soft cotton tee was made in the USA. Whether you're speeding through, or taking the scenic route, this shirt...
Twin Six Beyond Categorie T-Shirt - Short-Sleeve - Men's - Men's
If you've ever wished for a bigger cassette, you'll appreciate the Twin Six Beyond Categorie Men's T-Shirt. It's simultaneously a nod to Colorado's Front Range, as well as steep-as-hell climbs the world over. This American-made shirt lets everyone know that you appreciate the struggle to reach...
Twin Six Brew Pub Jersey - Short-Sleeve - Men's - Men's
The Twin Six Brew Pub Short Sleeve Men's Jersey is a souvenir from a biking bar we wish actually existed. After all, it's hard to imagine anything more fulfilling than summiting Alpe d'Huez, and quenching your thirst with a cold one, surrounded by the beautiful views and memorabilia celebrating...
<< Prev | Back | 41 | 42 | 43 | 44 | 45 | 46 | 47 | 48 | 49 | 50 | More | Next >>