Mens Road Bike Tops - Road Bike Shop
Shop
>
Men's Apparel Clothing
>
Men's Apparel Road Bike Clothing
>
Men's Apparel Road Bike Tops
Levi's Commuter Packable Vest - Men's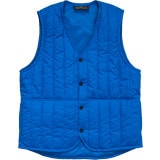 Retail Price:
$87.95
Our Price: $35.18
buy now
Levi's knows that a little cold weather isn't going to stop us from pedaling to and from our urban destinations, which is why its designers created a versatile layer that's perfect for keeping us warm while commuting during the cold months. It's called the Commuter Packable Vest, and its lightly...
Levi's Commuter Trouser Shorts - Men's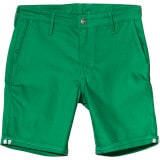 Retail Price:
$67.95
Our Price: $13.59
buy now
While it's still hard to believe, we remember a study from the UK which stated that cyclists in full garb were more likely to be involved in auto-on-bicycle accidents. We think that the jury is still out on that one, given that the same study said that drivers approached you closer if you wore a...
Levi's Packable Commuter Shell Jacket - Men's
Retail Price:
$107.95
Our Price: $37.78
buy now
When you left this morning, the sky was clear and blue as can be. Now you're heading home, and the last thing you wanted to see was that deep grey thunderhead parked over your route home, seconds away from opening up and turning your ride home into a swim. That's when you reach the side-pouch of...
Louis Garneau Alpha Vest - Men's
It's well understood that sleeves are surplus to pretty much everyone's requirements, so Louis Garneau did you a favor and made the Alpha Men's Cycling Vest. It provides lightweight core insulation on chilly rides with a windproof front, stretchy and breathable back, and highly packable design...
Louis Garneau Blink RTR Jacket - Men's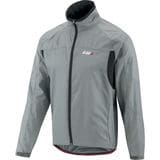 Block the wind and be seen in the Louis Garneau Blink RTR Jacket. Made from a mix of breathable, wind-blocking, and glow-in-the-dark reflective materials, this jacket boosts your visibility to motorists during early morning training rides and evening commutes. Additional reflective detailing...
Louis Garneau Blink RTR Vest - Men's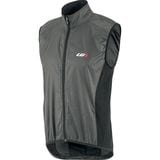 Grabbing a wind vest on your way out the door and stuffing it into a jersey pocket is a small extra step that can have big payoffs later on in your ride. Louis Garneau's Blink RTR Vest weighs almost nothing, but its wind blocking properties and breathability will save you from spending a long...
Louis Garneau Cabriolet Jacket - Men's
Ventilation, meet wind protection. That might as well be the tagline of the Louis Garneau Cabriolet Men's Jacket, which features a unique removable-sleeve construction that lets you armor up against chilly gusts while giving you the possibility to cool down if things heat up on the road. The...
Louis Garneau Cargo Jersey - Short Sleeve - Men's
Retail Price:
$149.95
Our Price: $67.48
buy now
Time trialists should look elsewhere, but cyclists who are in it for the long haul should check out the Louis Garneau Cargo Men's Short-Sleeve Jersey. It sets the focus squarely on preparation, with eight pockets--two at the chest, two on the side, three in the back, and one for a phone--so you...
Louis Garneau Chill T-Shirt - Short Sleeve - Men's
Retail Price:
$24.95
Our Price: $23.99
buy now
The Louis Garneau Chill T-Shirt's name should tell you everything about its intended use -- relaxing post ride. With a slim fit and 100% cotton construction, it's not exactly revolutionary, but it sure is nice. And the clean, simple designs will fit right in whether you're at the coffee shop, or...
Louis Garneau Clean Imper Jacket - Men's
Stuff the Louis Garneau Clean Imper Jacket in your jersey pocket when the clouds look a little menacing. The Clean Imper will keep the rain off you until you get home, and, thanks to a little mesh under the arms, you won't get off the bike feeling like you just rode a century in a steam room.
<< Prev | Back | 41 | 42 | 43 | 44 | 45 | 46 | 47 | 48 | 49 | 50 | More | Next >>