Mens Road Bike Tops - Road Bike Shop
Shop
>
Men's Apparel Clothing
>
Men's Apparel Road Bike Clothing
>
Men's Apparel Road Bike Tops
Assos SS.mangussta_s7 Jersey - Short-Sleeve - Men's - Men's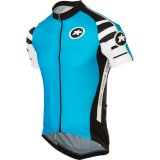 Assos' new SS. mangussta_s7 Jersey was designed with the same attention to the most finite detail that you expect from Assos, only with the added benefits of new fabrics and a more comfortable, streamlined fit. In fact, the Assos SS. mangussta_s7 Jersey is based on the same design platform as the...
Assos SS.Mille Jersey - Short-Sleeve - Men - Men's
Retail Price:
$239.95
Our Price: $170.00
buy now
Assos bib shorts have long abided by a trio of classifications -- . 13, Mille, and Uno. And while Assos long ago introduced their ss. 13 and ss. Uno short sleeve jerseys, it's interesting that they never made an ss. Mille jersey. Interesting for what reason, you might ask? It's because the ss....
Assos ss.suisseOlympiakos_s7 Cycling Jersey - Men's
For more than 10 years, Assos has been a proud sponsor of the Swiss Cycling Federation. Year after year, this select group of Swiss cyclists continues to serve as product testers for the company, providing critical feedback that aids in the creation of the most advanced cycling apparel in the...
Assos SS.Uno s7 Jersey - Short-Sleeve - Men's - Men's
Since its inception, Assos has been the leading innovator in cycling apparel. Racking up patent after patent, while continually developing new textiles, Assos has never been content with new designs just for the sake of new graphics. That's why we're excited to introduce the new SS. Uno s7 Jersey...
Assos sV.blitzFeder Vest - Men's
We learned to appreciate the vest many miles ago. Simple, light, small, easily fits in a pocket, provides just enough protection from the wind, and can be pulled on or taken off easily and quickly when riding. As appealing as the Assos SJ. BlitzFeder Long Sleeve Shell is, we're often inclined to...
Assos sV.emergencyVest - Men's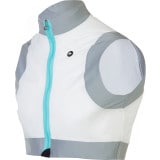 Have you ever stopped to think just how archaic it is for racers to be stuffing their jerseys with newspapers at the summit of a climb? Seriously, though, this has been going on for over a hundred years. Frames have turned to carbon, and our apparel has likewise turned to technology. However, L...
Babici Corsa Jersey - Men's
Retail Price:
$159.95
Our Price: $63.98
buy now
The story of Babici strikes parallels with the story of cycling, with equal parts romanticism, dedication, sacrifice, and fanaticism. As we're sure you've experienced, in the saddle, we all share a common bond. Egos deflate, grimaces erode, and for Babici, borders disappear as the world get's...
Babici Corsa Maglietta T-Shirt - Men's
Retail Price:
$59.95
Our Price: $47.96
buy now
Is it a jersey, or is it a t-shirt? Well, in a way the Corsa Maglietta T-Shirt is both, but we just like to say that it's Babici. Regardless of what its application is meant to be, either way that you use it, the Maglietta assures comfort. Babici did this by making the Maglietta from fabrics...
Bellwether Axxis Jersey - Men's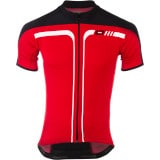 Retail Price:
$79.99
Our Price: $31.99
buy now
Expending less energy on cooling means putting more energy into the pedals. The Bellwether Axxis Jersey was developed to lower skin temperatures so that riders perform at their highest levels. The Axxis was constructed from Cooltemp, which uses innovative cooling crystals that are embedded into...
Bellwether Convertible Jacket - Men's
Retail Price:
$89.99
Our Price: $35.99
buy now
For variable conditions, Bellwether's Convertible Jacket is a do-it-all, must-have addition to your cycling wardrobe. Bellwether constructed the Convertible Jacket from its EXO-Grid fabric. This is a lightweight fabric that is both wind and water repellent. At the same time it's breathable enough...
<< Prev | Back | 1 | 2 | 3 | 4 | 5 | 6 | 7 | 8 | 9 | 10 | More | Next >>