Mens Road Bike Tops - Road Bike Shop
Shop
>
Men's Apparel Clothing
>
Men's Apparel Road Bike Clothing
>
Men's Apparel Road Bike Tops
Assos rS.sturmPrinz EVO Jacket - Men's
When Assos set out to build the ultimate rain jacket, its engineers didn't take the task lightly. They knew that if it was going to wear the revered Assos badge, it would have be light, packable, highly protective, and, most importantly, fit perfectly. The result of their efforts was the...
Assos Rs.sturmprinz Evo Prof Black Jacket - Men's
It takes a certain level of self-awareness to realize that not everyone in the cycling industry likes to be plastered with logos and brand names, which is why Assos took the time to look within and develop their ProfBlack line. Dedicating themselves to the cyclist truly means caring more about...
Assos Rs.sturmprinz Evo Shell - Men's
It was a dark and stormy night, and though your den had a roaring fire, and a glass of scotch was more than enticing, your bike gave you a longing gaze when you pulled into the garage, and you knew in that moment that you couldn't leave it hanging in a gloomy corner among camping gear, and lawn...
Assos sJ.blitzFeder Men's Jacket
Retail Price:
$229.00
Our Price: $160.30
buy now
A primary issue that so many riders have with light, weatherproof riding shells is that they develop a clammy, humid feeling once you start sweating, as many of them are poorly ventilated. Not so with the Assos sJ. blitzFeder Men's Jacket. The world-renowned fabric fanatics at Assos developed the...
Assos Sj.works_teamShelljacket_evo8 - Men's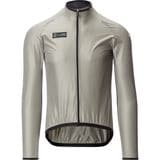 From the window, the skies look clear and the sun is shining, but you know that dressing for your early season ride won't be quite as simple as looking out the window. A bank of dark clouds conspires to drop the air temperature by at least a few degrees at some point, and if you listen carefully,...
Assos SS.campionissimoJersey_evo7 Jersey - Short Sleeve - Men's
Taking the all-new SS. campionissimoJersey_evo7 out for a few dozen miles in the heat of summer tells us that, though Assos is often colloquially referred to as "the shorts company," the Swiss brand knows a few things about jerseys, too. The SS. campionissimoJersey represents a new level of...
Assos SS.centoJersey_evo8 - Men's
There are typically two options for jerseys: Race and Club. While race-fit jerseys typically get lavished with the industry's latest sexy trends--long sleeves, matte fabrics, clean cut and welded cuffs and hems--club fit kit tends to be left out. Assos is defying that business-as-usual model with...
Assos SS.cento_s7 Jersey - Short Sleeve - Men's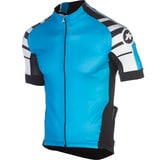 Retail Price:
$228.95
Our Price: $68.68
buy now
Long-distance comfort was the overall goal when Assos' designers joined together for the new SS. cento_s7 Jersey. It features all of the sharp details you've come to expect from the Swiss apparel giant, along with a smooth fit for those day-long rides. The bulk of the SS. cento_s7 was made from...
Assos SS.equipeJersey_evo8 - Men's
The summer of 2016 saw cyclists from all disciplines glued to the television in anticipation of a dirt-filled showdown between the world road champion and a gaggle of the world's best cross-country racers. Sagan provided the fireworks early on, but the star of the day was Switzerland's Schurter,...
Assos Ss.FF_1Jersey_evo7 Jersey - Men's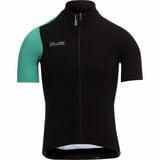 Ss.FF_1Jersey_evo7 Jersey - Men's
<< Prev | Back | 1 | 2 | 3 | 4 | 5 | 6 | 7 | 8 | 9 | 10 | More | Next >>