Mens Road Bike Tops - Road Bike Shop
Shop
>
Men's Apparel Clothing
>
Men's Apparel Road Bike Clothing
>
Men's Apparel Road Bike Tops
Assos sJ.blitzFeder Men's Jacket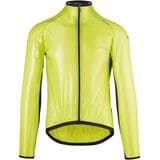 Retail Price:
$229.00
Our Price: $114.50
buy now
A primary issue that so many riders have with light, weatherproof riding shells is that they develop a clammy, humid feeling once you start sweating, as many of them are poorly ventilated. Not so with the Assos sJ. blitzFeder Men's Jacket. The world-renowned fabric fanatics at Assos developed the...
Assos Sj.works_teamShelljacket_evo8 - Men's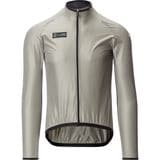 From the window, the skies look clear and the sun is shining, but you know that dressing for your early season ride won't be quite as simple as looking out the window. A bank of dark clouds conspires to drop the air temperature by at least a few degrees at some point, and if you listen carefully,...
Assos Sponsor Yourself Cycling Long-Sleeve T-Shirt - Men's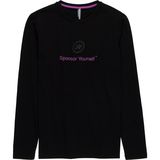 Retail Price:
$69.00
Our Price: $51.00
buy now
Professional privateers know that the importance of classy Italian style doesn't diminish once you're out of Lycra and on your way to the local lunch counter for a post-ride prandial with your casual weekend crew. Stay true to your cycling passion and kit up casually in the Assos Men's Sponsor...
Assos SS.campionissimoJersey_evo7 Jersey - Short Sleeve - Men's
Taking the all-new SS. campionissimoJersey_evo7 out for a few dozen miles in the heat of summer tells us that, though Assos is often colloquially referred to as "the shorts company," the Swiss brand knows a few things about jerseys, too. The SS. campionissimoJersey represents a new level of...
Assos SS.centoJersey_evo8 - Men's
There are typically two options for jerseys: Race and Club. While race-fit jerseys typically get lavished with the industry's latest sexy trends--long sleeves, matte fabrics, clean cut and welded cuffs and hems--club fit kit tends to be left out. Assos is defying that business-as-usual model with...
Assos SS.cento_s7 Jersey - Short Sleeve - Men's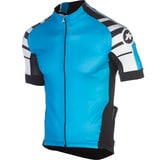 Retail Price:
$228.95
Our Price: $103.03
buy now
Long-distance comfort was the overall goal when Assos' designers joined together for the new SS. cento_s7 Jersey. It features all of the sharp details you've come to expect from the Swiss apparel giant, along with a smooth fit for those day-long rides. The bulk of the SS. cento_s7 was made from...
Assos SS.equipeJersey_evo8 - Men's
The summer of 2016 saw cyclists from all disciplines glued to the television in anticipation of a dirt-filled showdown between the world road champion and a gaggle of the world's best cross-country racers. Sagan provided the fireworks early on, but the star of the day was Switzerland's Schurter,...
Assos Ss.FF_1Jersey_evo7 Jersey - Men's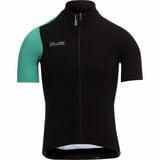 Ss.FF_1Jersey_evo7 Jersey - Men's
Assos SS.grandprixJersey_evo8 - Men's
As the racing heats up in California this May, each day's leaders will be kitted up in a custom version of the Assos Men's SS. grandprixJersey_evo8 on the road and on the podium, which we take as a big stamp of approval that this jersey can handle some serious ride time. The pro teams are...
Assos SS.jersey USA Cycling Jersey - Men's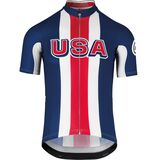 In celebration of the Assos/USA Cycling collaboration this year, the fit-conscious designers at Assos released their entire line of USA pro kit to the public. Even if you can't make it to Rio this summer, you can still show your support for USA Cycling with the SS. jersey USA Cycling Men's Jersey...
<< Prev | Back | 1 | 2 | 3 | 4 | 5 | 6 | 7 | 8 | 9 | 10 | More | Next >>