Mens Road Bike Tops - Road Bike Shop
Shop
>
Men's Apparel Clothing
>
Men's Apparel Road Bike Clothing
>
Men's Apparel Road Bike Tops
Assos nS.superLeggera Sleeveless Jersey - Men's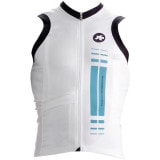 Retail Price:
$188.95
Our Price: $132.26
buy now
The new nS. superLeggera Sleeveless Jersey is the next generation of ultralight Assos sleeveless jerseys. However, the nS. superLeggera wasn't designed to eliminate your farmer's tan -- it's for hot-weather multi-sport racing. A summer rider's best friend, this sleeveless jersey is a unisex...
Assos Polo Corporate Man - Short-Sleeve - Men's
While arguably more comfortable thanks to a lack of cleats, sauntering into the local roastery sans Lycra is also devoid of that immediate social recognition as a cycling coffee dilettante. Preserve your caffeinated prestige in the Assos Men's Polo Corporate Man shirt. Whether you're en route to...
Assos Polo SwissFed Short-Sleeve Cycling T-Shirt - Men's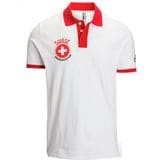 Retail Price:
$75.00
Our Price: $52.50
buy now
Polo SwissFed Short-Sleeve Cycling T-Shirt - Men's
Assos rS.sturmPrinz EVO Jacket - Men's
When Assos set out to build the ultimate rain jacket, its engineers didn't take the task lightly. They knew that if it was going to wear the revered Assos badge, it would have be light, packable, highly protective, and, most importantly, fit perfectly. The result of their efforts was the...
Assos sJ.blitzFeder Jacket - Men's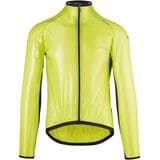 Retail Price:
$229.00
Our Price: $137.40
buy now
A primary issue that so many riders have with light, weatherproof riding shells is that they develop a clammy, humid feeling once you start sweating, as many of them are poorly ventilated. Not so with the Assos sJ. blitzFeder Men's Jacket. The world-renowned fabric fanatics at Assos developed the...
Assos Sponsor Yourself Cycling Long-Sleeve T-Shirt - Men's
Professional privateers know that the importance of classy Italian style doesn't diminish once you're out of Lycra and on your way to the local lunch counter for a post-ride prandial with your casual weekend crew. Stay true to your cycling passion and kit up casually in the Assos Men's Sponsor...
Assos SS.campionissimoJersey_evo7 Jersey - Short Sleeve - Men's
Taking the all-new SS. campionissimoJersey_evo7 out for a few dozen miles in the heat of summer tells us that, though Assos is often colloquially referred to as "the shorts company," the Swiss brand knows a few things about jerseys, too. The SS. campionissimoJersey represents a new level of...
Assos Ss.capeepicxcjersey_evo7 - Men's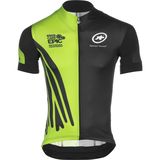 Assos brought all of its road-racing knowledge when it designed the Ss. capeepicxcjersey. This moisture-wicking top layer is specifically designed to keep you cool when partnered with an Assos Skinfoil baselayer, which uses moisture to either insulate or cool, depending on outside temperatures....
Assos SS.cento_s7 Jersey - Short Sleeve - Men's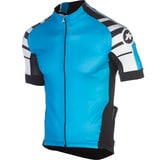 Retail Price:
$228.95
Our Price: $137.37
buy now
Long-distance comfort was the overall goal when Assos' designers joined together for the new SS. cento_s7 Jersey. It features all of the sharp details you've come to expect from the Swiss apparel giant, along with a smooth fit for those day-long rides. The bulk of the SS. cento_s7 was made from...
Assos Ss.FF_1Jersey_evo7 Jersey - Men's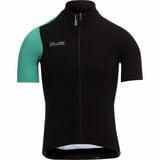 Ss.FF_1Jersey_evo7 Jersey - Men's
<< Prev | Back | 1 | 2 | 3 | 4 | 5 | 6 | 7 | 8 | 9 | 10 | More | Next >>