Mens Road Bike Tops - Road Bike Shop
Shop
>
Men's Apparel Clothing
>
Men's Apparel Road Bike Clothing
>
Men's Apparel Road Bike Tops
Assos Sponsor Yourself T-Shirt - Short-Sleeve - Men's
Retail Price:
$74.95
Our Price: $33.73
buy now
No one obsesses over the details more than Assos, and this is ever-present in its signature collection of accessories. We love the way the Swiss brand takes what many would simply call "the basics" and makes them anything but. Such is the case with the new Sponsor Yourself Men's Short Sleeve...
Assos Ss.capeepicxcjersey_evo7 - Men's
Assos brought all of its road-racing knowledge when it designed the Ss. capeepicxcjersey. This moisture-wicking top layer is specifically designed to keep you cool when partnered with an Assos Skinfoil baselayer, which uses moisture to either insulate or cool, depending on outside temperatures....
Assos SS.cento_s7 Jersey - Short Sleeve - Men's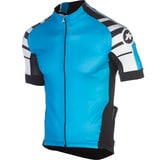 Long-distance comfort was the overall goal when Assos' designers joined together for the new SS. cento_s7 Jersey. It features all of the sharp details you've come to expect from the Swiss apparel giant, along with a smooth fit for those day-long rides. The bulk of the SS. cento_s7 was made from...
Assos SS.corporate_s7 Jersey - Men's
Retail Price:
$208.95
Our Price: $114.92
buy now
With twenty-four components and two different fabrics comprising the new SS. corporate_s7 Jersey, Assos developed this warm-weather top with the precision and attention to detail that you've come to expect from the Swiss innovator. The jersey incorporates an all new design and pattering platform,...
Assos ss.equipeSuisse Jersey - Men's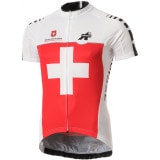 Retail Price:
$208.95
Our Price: $135.82
buy now
By now, the White Cross of Switzerland is most likely burned into your memory. The reasons for this are simple. With riders like Cancellara and Albasini, Switzerland is routinely dominating the Spring Classics and the Worlds podium. And this isn't even mentioning one of Switzerland's greatest...
Assos SS.mangussta_s7 Jersey - Men's
Assos' new SS. mangussta_s7 Jersey was designed with the same attention to the most finite detail that you expect from Assos, only with the added benefits of new fabrics and a more comfortable, streamlined fit. In fact, the Assos SS. mangussta_s7 Jersey is based on the same design platform as the...
Assos SS.Mille Jersey - Short-Sleeve - Men - Men's
Retail Price:
$239.95
Our Price: $155.97
buy now
Assos bib shorts have long abided by a trio of classifications -- . 13, Mille, and Uno. And while Assos long ago introduced their ss. 13 and ss. Uno short sleeve jerseys, it's interesting that they never made an ss. Mille jersey. Interesting for what reason, you might ask? It's because the ss....
Assos Ss.milleJersey_evo7 Jersey - Short Sleeve - Men's
The Assos Ss. mille evo7 jersey provides a more relaxed fit than most standard race jerseys. This fit, combines with raglan sleeves and Assos' new . 116 fabric, provide a loose relaxed fit with no compromise in performance.For its Mille jersey, Assos uses its new type . 116 synthetic stretch...
Assos SS.neoPro Canada Jersey - Short-Sleeve - Men's
Who knew the Maple Leaf could look so good, so stoic, and so bold when standing proudly across the chest of the high-tech, great-fitting, and environmentally-friendly Assos SS. neoPro Canada Short-Sleeve Jersey? Well, probably about 35 million Canadians. Taking a "zero impact" approach with this...
Assos SS.neoPro France Jersey - Short-Sleeve - Men's
French cycling is legendary--so much so, in fact, that it seems completely ridiculous to even point it out. So whether you're a French national, or just a fan, the Assos SS. neoPro France Jersey sends a signal that you know your history. Decorated with the colors of the French flag, and built...
<< Prev | Back | 1 | 2 | 3 | 4 | 5 | 6 | 7 | 8 | 9 | 10 | More | Next >>