Mens Road Bike Tops - Road Bike Shop
Shop
>
Men's Apparel Clothing
>
Men's Apparel Road Bike Clothing
>
Men's Apparel Road Bike Tops
Kitsbow Mixed Shell Jacket - Men's
With several of the most versatile and durable trail riding jerseys already living in their all-mountain collection, Kitsbow designers still knew that dedicated riders would also benefit from an added protective outer layer. Tireless research and testing led to what they are calling the Mixed...
Kitsbow Race Stripe T-Shirt - Short Sleeve - Men's
Designed to complement its Race Stripe Socks, Kitsbow's Race Stripe T-Shirt for men is a classic, trim-fit, 100% cotton T-Shirt stamped with a characteristically understated flash of color in the form of three stripes on the left sleeve. It's also printed Stateside in North Novato, California....
Kitsbow Raven T-Shirt - Short-Sleeve - Men's
Kitsbow is as obsessed with redefining mountain bike clothing as Poe's speaker in "The Raven" is with his lost Lenore. It's appropriate, then, that Kitsbow has chosen to dress this soft, U. S.-made T-Shirt in the livery of the bird at the center of the poem. Rather, we should say that the...
Kitsbow Wind Jacket - Men's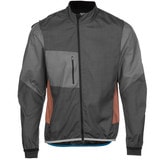 Even if it weren't for its clever features and advanced materials, the original design of the Kitsbow Wind Jacket is enough to earn it some attention. We appreciate its unique lines and color scheme, but as we said, there's plenty more about it to love, as well. The Wind Jacket is made of a...
Kitsbow Wind Vest - Men's
When the wind comes a-blowin', you'll be glad your threw down the dough for the Kitsbow Men's Wind Vest. A premium piece at a premium price, the vest might seem excessive for getting dirty, but that's until you get to know it a bit better. For starters, the vest's durable, textured, stretchable...
Levi's Commuter Field Parka - Men's
Retail Price:
$297.95
Our Price: $134.08
buy now
Ride, live, and work in the same jacket, as the Levi's Commuter Field Parka was designed for those on the move -- be it by foot, bus, or bike. The Commuter was made using a weather-blocking material that retains a soft hand, yet still resists water and wind. This fabric also lets interior...
Levi's Commuter Packable Vest - Men's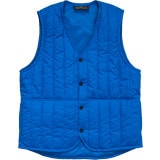 Retail Price:
$87.95
Our Price: $39.58
buy now
Levi's knows that a little cold weather isn't going to stop us from pedaling to and from our urban destinations, which is why its designers created a versatile layer that's perfect for keeping us warm while commuting during the cold months. It's called the Commuter Packable Vest, and its lightly...
Levi's Commuter Trouser Shorts - Men's
Retail Price:
$67.95
Our Price: $13.59
buy now
While it's still hard to believe, we remember a study from the UK which stated that cyclists in full garb were more likely to be involved in auto-on-bicycle accidents. We think that the jury is still out on that one, given that the same study said that drivers approached you closer if you wore a...
Levi's Packable Commuter Shell Jacket - Men's
Retail Price:
$107.95
Our Price: $53.97
buy now
When you left this morning, the sky was clear and blue as can be. Now you're heading home, and the last thing you wanted to see was that deep grey thunderhead parked over your route home, seconds away from opening up and turning your ride home into a swim. That's when you reach the side-pouch of...
Louis Garneau Alpha Vest - Men's
Retail Price:
$159.95
Our Price: $127.96
buy now
It's well understood that sleeves are surplus to pretty much everyone's requirements, so Louis Garneau did you a favor and made the Alpha Men's Cycling Vest. It provides lightweight core insulation on chilly rides with a windproof front, stretchy and breathable back, and highly packable design...
<< Prev | Back | 31 | 32 | 33 | 34 | 35 | 36 | 37 | 38 | 39 | 40 | More | Next >>