Mens Road Bike Tops - Road Bike Shop
Shop
>
Men's Apparel Clothing
>
Men's Apparel Road Bike Clothing
>
Men's Apparel Road Bike Tops
Giordana Vero Pro Astana Team Jersey - Men's
When we're logging long miles at high altitudes, we admit to occasionally pretending we're Scarponi grinding out a long-distance mountain raid or punching up the walls of the Ardennes. We have to stress "pretend" here, though, because we aren't anywhere near that strong and the winter lbs have...
Giordana Vero Pro Jersey - Men's
Every Saturday morning, you roll out of bed at what feels like the crack of dawn to brew a fresh cup of coffee and ponder the day's kit options over a hearty bowl of oatmeal. Most days, your club kit gets the nod as a sign of solidarity with your fellow wheelmates, but every once in a while it's...
Giordana Vero Pro Limited Edition Jersey - Men's
When you're getting ready for a ride during the hectic workweek, you grab whichever kit is closest when you reach into your closet as you suit up for a ride after work. You remain mostly on autopilot when waning daylight and long workdays compromise your ability to get out on the roads at all....
Giordana Vero Pro Orica Team Jersey - Men's
2016's Roubaix is the greatest race we've ever seen. After a final 10km that were more animated than all 21 days of most grand tours, Hayman's Cinderella victory saw him triumph against all odds after rolling into the velodrome with--dare we make another superlative claim?--the greatest...
Giro Chrono Expert Jersey - Short Sleeve - Men's
Reach for the color-drenched appeal of the Giro Men's Chrono Expert Jersey when you're tired of drabby alternatives with muted colors and unappealing aesthetics. The Chrono Expert Jersey pops to passing traffic and fellow cyclists with its bright hues, signature details, and intricate geometry....
Giro Chrono Expert Jersey - Short Sleeve - Men's
Clip in with classy Giro style in the men's Chrono Expert Short Sleeve Jersey. This jersey boasts a streamlined fit and is made from lightweight polyester with impeccable moisture management to keep you cool and dry through hot summer rides. The Chrono Expert Jersey includes three rear pockets...
Giro Chrono Pro Jersey - Short Sleeve - Men's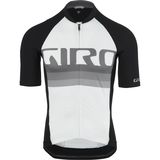 Giro's top-of-the-line, flagship men's road jersey introduces itself this year as the short-sleeve Chrono Pro Jersey, and it's eager to become one of your staple pieces of kit with uncompromising fit and functionality. The Chrono Pro relies on three different types of closely-related fabrics in...
Giro Chrono Pro Thermal Long-Sleeve Jersey - Men's
Chrono Pro Thermal Long-Sleeve Jersey - Men's
Giro Chrono Sport Jersey - Men's
Take a break from flashy logos and team-specific kit and roll up to the Saturday morning ride decked out in the classic clean lines and technical fabrics of Giro's Men's Chrono Sport Short-Sleeve Jersey. Its streamlined fit and complementary colors will keep you effortlessly cool in style whether...
Giro Chrono Wind Jacket - Men's
Windy days always present a challenge while you're out on a ride, and they somehow seem to happen more often on the days you're riding solo, with no one to draft off of as you push through headwinds in slow motion. At the very least, a wind jacket can make those days much less miserable as it...
<< Prev | Back | 31 | 32 | 33 | 34 | 35 | 36 | 37 | 38 | 39 | 40 | More | Next >>