Mens Road Bike Tops - Road Bike Shop
Shop
>
Men's Apparel Clothing
>
Men's Apparel Road Bike Clothing
>
Men's Apparel Road Bike Tops
Louis Garneau Course Race Jacket - Men's
Our list of expectations for a wet-weather race jacket look something like this: It must provide dependable protection from the elements, it needs to be light on the scale and soft-to-the-touch, and it absolutely must breathe exceptionally. However, above all else, it has to conform to the body...
Louis Garneau Course Race Jersey - Short-Sleeve - Men's - Men's
Let's face it, we ride and race in the age of aerodynamics. From wheels, to helmets, to frames, every aspect of drag is being minimized at a levels that would be considered exponential less than five years ago. However, as a maker of aero helmets, Louis Garneau asked itself why the benefits of...
Louis Garneau Course Skin Suit - Men's - Men's
With more cyclists moving into either full-piece or hybrid suits, Garneau created its Course Skin Suit to provide you with both aerodynamic efficiency and pure functionality. The lower portion of the suit was made from Garneau's CB Gladiator fabric. This material features a knit that has a high...
Louis Garneau Course Speedzone Vest - Men's - Men's
Louis Garneau's Course Speedzone Vest is a direct result of its sponsorship of Team Europcar. The pro riders had been requesting a vest with less focus on aerodynamics, and more attention paid to race-day practicalities. So, the result is a vest that's wind- and water-resistant, features an...
Louis Garneau Course Superleggera Jersey - Men's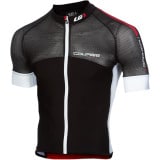 You've been riding at 500 watts seemingly forever, and the sun's power makes you feel like an ant under a magnifying glass. While most jerseys can withstand one of these variables, the combination of exertion and external heat will usually leave you cooked. Hot weather jerseys do exist for those...
Louis Garneau Elite Carbon Jersey - Men's
Retail Price:
$159.95
Our Price: $111.96
buy now
With the recent, and nearly constant, success of Team Europe Car's Voeckler and Rolland, the world's eye has shifted towards the Canadian Louis Garneau. What secrets is it hiding in those jerseys? Not surprisingly, the answer is numerous. With its Elite Carbon Jersey, Garneau has tackled all of...
Louis Garneau Enerblock 2 Men's Jacket - Men's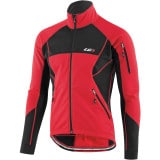 When it's cold and damp out. The idea of jumping on your bike with a rain jacket sends sweaty shivers up your spine. However, don't expect that to happen when you're wearing the Louis Garneau Enerblock 2 Jacket. Louis Garneau constructed this jacket using its EnerBlock fabric. This material is a...
Louis Garneau Equipe Long Sleeve Men's Jersey - Men's
Retail Price:
$129.99
Our Price: $65.00
buy now
You can't be warm if you're drowning in sweat. Let's do an experiment: Moisten the top of your left hand and blow on it. Now, blow on your dry rear hand. The temperature difference is night and day. Louis Garneau combats this cooling effect by incorporating moisture transferring, fast-drying...
Louis Garneau Equipe Pro Replica Jersey - Men's
Retail Price:
$89.95
Our Price: $31.48
buy now
Show your support for your favorite racers on the Europcar team with the Louis Garneau Equipe Pro Replica Jersey. This staple summer-weight jersey gets a boost from team-kit inspired graphics, so you can show your allegiance, without sweltering when you're working hard. The Equipe jersey gets its...
Louis Garneau Equipe Series Jersey - Men's
Retail Price:
$84.95
Our Price: $38.23
buy now
The Louis Garneau Equipe Series Jersey is built specifically to keep you cool during summer's hottest days. Constructed from Garneau's airy Diamond fabric, it keeps cool air flowing, so you can focus on the ride, instead of your body temperature. And with a ProFit cut, you won't have to worry...
<< Prev | Back | 31 | 32 | 33 | 34 | 35 | 36 | 37 | 38 | 39 | 40 | More | Next >>