Mens Road Bike Tops - Road Bike Shop
Shop
>
Men's Apparel Clothing
>
Men's Apparel Road Bike Clothing
>
Men's Apparel Road Bike Tops
Assos Polo Corporate Man - Short-Sleeve - Men's
While arguably more comfortable thanks to a lack of cleats, sauntering into the local roastery sans Lycra is also devoid of that immediate social recognition as a cycling coffee dilettante. Preserve your caffeinated prestige in the Assos Men's Polo Corporate Man shirt. Whether you're en route to...
Assos rS.sturmPrinz EVO Jacket - Men's
When Assos set out to build the ultimate rain jacket, its engineers didn't take the task lightly. They knew that if it was going to wear the revered Assos badge, it would have be light, packable, highly protective, and, most importantly, fit perfectly. The result of their efforts was the...
Assos sJ.blitzFeder Jacket - Men's
A primary issue that so many riders have with light, weatherproof riding shells is that they develop a clammy, humid feeling once you start sweating, as many of them are poorly ventilated. Not so with the Assos sJ. blitzFeder Men's Jacket. The world-renowned fabric fanatics at Assos developed the...
Assos sJ.climaSchutz Jacket - Men's
Retail Price:
$288.95
Our Price: $172.99
buy now
Assos has a healthy skepticism for rain jackets. Simply put, the people in Switzerland believe that if you're riding hard in a light rain, chances are good that you'll overheat and get sweaty in a sealed rain jacket. Their solution is the sJ. climaSchutz Long Sleeve Shell. This is a light, thin,...
Assos Sponsor Yourself T-Shirt - Short-Sleeve - Men's
Retail Price:
$74.95
Our Price: $36.99
buy now
No one obsesses over the details more than Assos, and this is ever-present in its signature collection of accessories. We love the way the Swiss brand takes what many would simply call "the basics" and makes them anything but. Such is the case with the new Sponsor Yourself Men's Short Sleeve...
Assos SS.campionissimoJersey_evo7 Jersey - Short Sleeve - Men's
Taking the all-new SS. campionissimoJersey_evo7 out for a few dozen miles in the heat of summer tells us that, though Assos is often colloquially referred to as "the shorts company," the Swiss brand knows a few things about jerseys, too. The SS. campionissimoJersey represents a new level of...
Assos Ss.capeepicxcjersey_evo7 - Men's
Assos brought all of its road-racing knowledge when it designed the Ss. capeepicxcjersey. This moisture-wicking top layer is specifically designed to keep you cool when partnered with an Assos Skinfoil baselayer, which uses moisture to either insulate or cool, depending on outside temperatures....
Assos SS.cento_s7 Jersey - Short Sleeve - Men's
Long-distance comfort was the overall goal when Assos' designers joined together for the new SS. cento_s7 Jersey. It features all of the sharp details you've come to expect from the Swiss apparel giant, along with a smooth fit for those day-long rides. The bulk of the SS. cento_s7 was made from...
Assos SS.mangussta_s7 Jersey - Men's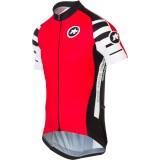 Retail Price:
$199.00
Our Price: $128.99
buy now
Assos' new SS. mangussta_s7 Jersey was designed with the same attention to the most finite detail that you expect from Assos, only with the added benefits of new fabrics and a more comfortable, streamlined fit. In fact, the Assos SS. mangussta_s7 Jersey is based on the same design platform as the...
Assos Ss.milleJersey_evo7 Jersey - Short Sleeve - Men's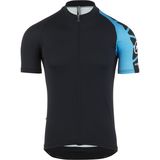 The Assos Ss. mille evo7 jersey provides a more relaxed fit than most standard race jerseys. This fit, combines with raglan sleeves and Assos' new . 116 fabric, provide a loose relaxed fit with no compromise in performance.For its Mille jersey, Assos uses its new type . 116 synthetic stretch...
<< Prev | Back | 1 | 2 | 3 | 4 | 5 | 6 | 7 | 8 | 9 | 10 | More | Next >>