Mens Road Bike Tops - Road Bike Shop
Shop
>
Men's Apparel Clothing
>
Men's Apparel Road Bike Clothing
>
Men's Apparel Road Bike Tops
Assos iJ.haBu.5 Jacket - Men's
There's a breaking point when the weather gets cold enough that thermal jerseys alone don't provide enough warmth. The Assos iJ. Habu. 5 Men's Jacket is designed to take you beyond that barrier. It wears with the weight and feel of a jersey and is ideally used over one of Assos' three different...
Assos iJ.intermediate_s7 Jersey - Long-Sleeve - Men's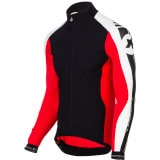 Retail Price:
$299.00
Our Price: $179.40
buy now
When something is first launched at Assos, you know to expect something that shatters molds -- even those set by Assos itself. Such is the case with the iJ. intermediate_s7. Is it a jacket, or is it a jersey? Well, it's kind of both, but Assos simply calls it "intermediate." The list of work that...
Assos iJ.intermediate_s7 profBlack Jersey - Men's
As Assos glibly puts it, "summer is pretty mindless when it comes to apparel choice." That's because the typical temperatures of grand tour season are high enough to impose mandatory minimalism in terms of cycling clothing. But the advent of changing leaves and falling temperatures gives the...
Assos iJ.shaqUno Jacket - Men's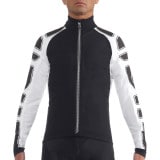 Retail Price:
$339.00
Our Price: $203.40
buy now
For more than 10 years, Assos has been the proud sponsor of the Swiss Cycling Federation. And in this time, it's taken the responsibility of supporting the development of burgeoning young cyclists. As a result, Assos' Uno line of jackets was born. According to Assos, this line creates a "welcome,...
Assos iJ.suisseOlympiakos_s7 Long Sleeve Jersey - Men's
Retail Price:
$269.00
Our Price: $161.40
buy now
If you've been riding with Assos for a little while, you know two things to be true: 1) Assos is the proud supporter of the national Swiss cycling team and 2) The "iJ" in a title stands for intermediate jacket. However, in true Assos fashion, it set to shatter the jacket paradigm with its new iJ....
Assos iJ.tiBuru. Jacket - Men's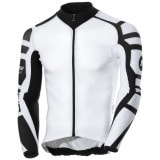 Retail Price:
$239.00
Our Price: $143.40
buy now
Our first full-zip long sleeve jersey was made by Assos. It was a closeout, and we felt pretty savvy for the purchase. But, expectantly, the top lasted and lasted. It was our go-to long sleeve jersey for a decade, and a few years in, we realized that the jersey would've been a bargain at any...
Assos Made In Cycling T-Shirt - Short-Sleeve - Men's
As much as we love the unrivaled fit of Assos' cycling kit, wearing it around the office or while navigating the non-cycling world would just look damn silly. When life demands we exist on two feet instead of two wheels, the Made in Cycling T-Shirt for men is the short-sleeved equivalent of an "I...
Assos MilleintermediateJacket_evo7 Jersey - Men's
MilleintermediateJacket_evo7 Jersey - Men's
Assos MilleJacket_evo7 Jacket - Men's
As cyclists, we're obligated to love our morning coffee. It can take a lot to get us away from it, especially when getting away from it involves heading out into an unforgiving winter landscape to log those all-important base miles. Assos makes it easier to put the cup down and pick the helmet...
Assos Ns.neopro_evo7 Australia Jersey - Men's
Retail Price:
$148.95
Our Price: $89.37
buy now
Show your love for the land down under with the Assos Ns. neopro_evo7 Australia Jersey. With a fresh design that blends new fabrics and colorways into a clean silhouette, the neoPro is sure to become a staple in your apparel rotation this season.Taking a "zero impact" approach with this jersey,...
<< Prev | Back | 1 | 2 | 3 | 4 | 5 | 6 | 7 | 8 | 9 | 10 | More | Next >>