Mens Road Bike Tops - Road Bike Shop
Shop
>
Men's Apparel Clothing
>
Men's Apparel Road Bike Clothing
>
Men's Apparel Road Bike Tops
Giordana Sport Elite Jersey - Short-Sleeve - Men's
Giordana has been at the forefront of cycling apparel design for over three decades. Its synergy of classic style with technical know-how has created a brand that blends function and style. The Sport Collection harkens back to the beginnings of the brand and revisits the iconic pieces that...
Giordana Sport Elite Jersey - Short-Sleeve - Men's
Reminiscent of classic cycling jerseys sewn of wool, the Giordana Men's Sport Elite Jersey draws from Giordana's three decades-plus of design expertise while invoking a retro-inspired aesthetic. Blending the best of technical expertise with vintage stylistic details, the Sport Elite Jersey...
Giordana Sport Knited WOOL Jersey - Short-Sleeve - Men's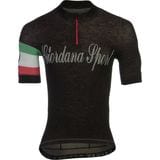 Retail Price:
$99.95
Our Price: $59.97
buy now
The Giordana Sport Wool Jersey provides the benefits of wool while remaining practical for frequent use on your most strenuous rides. Rather than use wool exclusively, Giordana added polyester and polypropylene to create a blended fabric for this jersey. Your favorite cycling kits get a lot of...
Giordana Sport Merino Wool Blend Jersey - Men's
Retail Price:
$194.95
Our Price: $116.97
buy now
On a relaxed Sunday ride with no pace, time, or distance goals to speak of, have a little fun with your kit and give a nod to a bygone era. The wool jersey never really went out of style, of course, but it's certainly no match for the hyper-breathable synthetic knits that we now reach for before...
Giordana Sport Short Sleeve Men's Jersey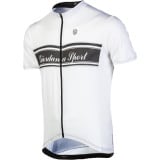 Retail Price:
$149.95
Our Price: $59.98
buy now
Racing is what you do when there's a number pinned to your jersey. Sport is what you're experiencing the rest of the time. It's good to have a jersey that reflects that mentality. The Giordana Sport Short Sleeve Jersey can be raced in, but it's really designed for what you do on the bike the rest...
Giordana Team Jersey - Men's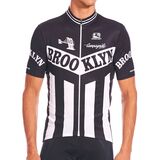 With its Team Jersey, Giordana revamps the cherished design of the Brooklyn Chewing Gum squad with today's technologies. The Team Jersey is made with Michron Ceramica fabric, which is a dual-textured, ceramic-treated microfiber that is designed to block harmful UV rays and manages moisture to...
Giordana Team Thermosquare Brooklyn Jersey - Long Sleeve - Men's
Retail Price:
$149.95
Our Price: $82.47
buy now
Made famous by four-time Paris-Roubaix champion Roger De Vlaeminck, or monsieur Paris-Roubaix as he's affectionately known, Brooklyn Chewing Gum was a prolific Italian cycling team in the '70s and early '80s. Celebrating this historic Italian team, the Giordana Men's Team Thermosquare Brooklyn...
Giordana Tempo Vero Trade Jacket - Men's
Retail Price:
$279.95
Our Price: $111.98
buy now
When the temperatures start to drop on your daily commute, adding layers to your ensemble can be tricky. If you're already carrying your work gear in a backpack and navigating bike lanes and morning traffic, you don't want to be any more weighed down than you have to be. Giordana's Tempo Vero...
Giordana Tenax Pro Jersey - Men's
You've finally signed up for the high Sierra double century that's been on your bucket list for the past few years, and realize your super aero, skin tight race kit just isn't the right option for a full day of elevation changes and snack stops at altitude. Luckily, the search for the perfect...
Giordana Trade FormaRed Carbon Jersey - Men's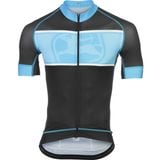 Retail Price:
$199.95
Our Price: $94.95
buy now
Zip into the Giordana Men's Trade FormaRed Carbon Jersey when you're serious about high-performance fit and function. Its tight, race-specific fit enhances aero efficiency on high-cadence rides. Revamped for its third iteration, the jersey's Asteria fabric is made of highly breathable polyester...
<< Prev | Back | 21 | 22 | 23 | 24 | 25 | 26 | 27 | 28 | 29 | 30 | More | Next >>