Mens Road Bike Tops - Road Bike Shop
Shop
>
Men's Apparel Clothing
>
Men's Apparel Road Bike Clothing
>
Men's Apparel Road Bike Tops
Giordana Triseason Wind Vest - Men's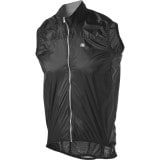 Retail Price:
$169.95
Our Price: $135.96
buy now
We use a vest year round. It packs smaller than a jacket and it takes care of the most essential wind blocking; protecting the chest from cold air. The one thing that bugs us about vests is that, despite all the paneling that we can find in cycling clothing, vests are usually pretty simple, and,...
Giordana Vero Bush League Jersey - Men's - Men's
Just in case the comfortable cut and excellent mobility of the Giordana Vero Jersey doesn't quite feel relaxed enough, rest easy knowing that you won't be held to high standards with the words "Bush League" across your chest. Designed by the crew over at Endurance Conspiracy, the Giordana Bush...
Giordana Vero Kong Jersey - Men's - Men's
A screaming monkey on a cycling jersey really speaks -- or, rather, screams -- for itself, but thankfully, the Giordana Vero Kong Men's Jersey isn't just a rad design, it's also a great piece of cycling apparel. The Vero Jersey is made of Giordana's Micro Ceramica fabric, a dual-texture,...
Giro 3-1 Wind Jacket - Men's - Men's
When it comes to wind and water-resistance, cyclists' choices tend to be limited to graphically overwrought bike-specific jackets or casual, everyday jackets that are ill-equipped for riding. Giro's 3-1 Wind Jacket combines the function of the former with the simple aesthetics of the latter to...
Giro CA Ride Crew - Short Sleeve - Men's - Men's
Sometimes we think that Lycra should be behind glass, with a little hammer on a chain and a sign that reads "In case of epic bike ride, break glass." If this were the case, it would keep us from wearing Lycra when we ride to, say, the store to pick up the loaf of bread that we forgot while we...
Giro CA Ride Jersey - Long Sleeve - Men's - Men's
Retail Price:
$179.95
Our Price: $125.96
buy now
As part of the latest in Giro's California collection, the CA Ride Long-Sleeve Jersey was designed to complement your cool-weather rides this fall. A smooth fabric blend, streamlined cut, and smart details are sure to make this your new go-to autumn top. Giro used a blend of 80% merino and 20%...
Giro CA Ride Jersey - Short Sleeve - Men's - Men's
Retail Price:
$149.95
Our Price: $82.47
buy now
Giro's Short-Sleeve CA Ride Jersey was designed and sewn in California, and it was treated with a buttery merino fabric and host of smart details -- effectively setting it apart from your run-of-the-mill riding tops. To start, Giro used its Nycore merino blend, which adds the durability of nylon...
Giro Frisco Coat - Men's - Men's
Retail Price:
$399.95
Our Price: $239.97
buy now
Spend a few days riding around San Francisco, for which the Giro Frisco Coat is made, and you'll come to understand the many details that make it the right coat for the job. Of course, you immediately notice that the jacket is stylish, which will keep you cool in the eyes of your fellow city...
Giro High Neck Zip-Up Jersey - Long Sleeve - Men's - Men's
In the ages of cycling gone by, wool was the only option for top-end gear. Its wicking, breathable properties made it ideal for almost all cycling conditions. The Giro High Neck Zip-Up Jersey pays homage to this history while demonstrating how those same properties still recommend Merino wool...
Giro Insulated Vest - Men's - Men's
Since there isn't a lot of overlap between cycling and pedestrian clothing, we can only assume that most manufacturers want to maintain a distinction. By combining the aesthetics of pedestrian clothing with the function of cycling clothing, The Giro Insulated Vest refuses to abide by this binary...
<< Prev | Back | 21 | 22 | 23 | 24 | 25 | 26 | 27 | 28 | 29 | 30 | More | Next >>