Mens Road Bike Tops - Road Bike Shop
Shop
>
Men's Apparel Clothing
>
Men's Apparel Road Bike Clothing
>
Men's Apparel Road Bike Tops
Fox Racing Dawn Patrol Jacket - Men's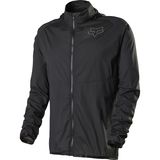 Retail Price:
$109.95
Our Price: $87.96
buy now
We all love autumn's "hero dirt" trails -- that moist-but-not-loose earth that both enhances grip and speed while reducing your chances of washing out -- but with it sometimes comes some gross weather that you can't avoid. The packable Fox Dawn Patrol Jacket is designed for those rides that may...
Fox Racing Dawn Patrol Vest - Men's
Retail Price:
$79.95
Our Price: $43.97
buy now
We all know that the shoulder seasons are prime time for putting your knobbies on some pristine dirt. However, with the shoulder seasons comes variable weather -- the kind that quickly puts a damper on your ride if you're not prepared. But if you're covered in the Fox Racing Dawn Patrol vest,...
Fox Racing Dawn Patrol Vest - Men's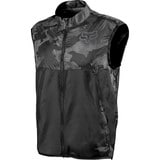 Retail Price:
$89.95
Our Price: $71.96
buy now
Fox Racing's packable Dawn Patrol Vest provides quality protection when you need it, which makes it the perfect piece for the variable conditions of early spring and fall. The Dawn Patrol features a breathable nylon shell that is designed to shield you from light rain and heavy wind without...
Fox Racing Diffuse Jacket - Men's
Retail Price:
$129.95
Our Price: $103.96
buy now
When the trails are calling but the weather might disagree, grab the Fox Diffuse Jacket. It's designed to keep you comfortable when Mother Nature's plans don't align with yours. The Diffuse jacket is part of Fox's Tech Outwear line, designed to help you reach your potential, and in style,...
Fox Racing Downpour Jacket - Men's
Retail Price:
$249.95
Our Price: $199.96
buy now
While we can't condone setting out to ride when the trails are wet, since it contributes to their damage and erosion, we certainly understand that sometimes you get caught out there, or sometimes you simply have no choice from A to B. For those wet rides, we heartily recommend the Fox Downpour...
Fox Racing Gradient Jacket - Men's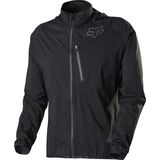 Retail Price:
$179.95
Our Price: $116.97
buy now
Lightweight, waterproof, and breathable, the Fox Racing Men's Gradient Jacket blends inclement weather protection with stylish aesthetics for the trail. The jacket's mechanical stretch fabric sheds passing showers and puddle splashes without restricting movement when you're dodging trail...
G-Form Pro-X Compression Shirt - Kids' - Men's
When Junior steps out the door to rally over a few berms and seek out some destructive lines, you want to make sure they're protected without suiting them up in so much padding that they ditch it as soon as they're out of your sight. G-Form understands the delicate balance that youth body armor...
G-Form Pro-X Compression Shirt - Men's
The Pro-X Compression Shirt provides flexible and comfortable impact protection when you're on your bike. The proprietary RPT Impact Protection on the shoulders, ribs, clavicles, and sternum keep important areas from taking too big of a beating, the moisture-wicking and breathable fabric helps...
G-Form Pro-X Compression Shirt - Short-Sleeve - Women's
Arm yourself appropriately before plunging into technical terrain with the G-Form Women's Pro-X Compression Shirt. RPT Impact Protection softens the blow of nasty falls, shielding your rib cage, clavicle, sternum, and shoulders from abrasive trails and rocky terrain. Its anatomical design flexes...
Giordana Endurance Conspiracy Bomber Vero Jersey - Short Sleeve - Men's
Like the much-beloved hairstyle whose mainstream heyday ended a few decades ago, Giordana's Endurance Conspiracy Bomber Vero Men's Jersey appears to be all business in the front and decidedly the opposite from the back. If you're looking for a way to mix up a kit drawer full of solids and stripes...
<< Prev | Back | 21 | 22 | 23 | 24 | 25 | 26 | 27 | 28 | 29 | 30 | More | Next >>