Mens Road Bike Tops - Road Bike Shop
Shop
>
Men's Apparel Clothing
>
Men's Apparel Road Bike Clothing
>
Men's Apparel Road Bike Tops
Fox Racing Attack Water Jacket - Men's
Changing seasons means unpredictable weather on the trails, so you'll want to make sure you bring along your Fox Racing Attack Water jacket for men to keep you covered when weather turns and storms are brewing. Built with Fox's TruSeal fabric, this lightweight water jacket will keep the rain from...
Fox Racing Attack Wind Jacket - Men's
Not all riding is sunshine and daisies, and unfortunately even the warmest of blue sky days can hide pocket storms that surprise you with sudden downpours and dipping temperatures. That's why it's important to always ride with a packable just-in-case layer like the Fox Racing Attack Wind jacket....
Fox Racing Bionic Pro Softshell Jacket - Men's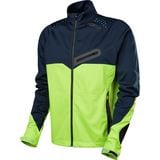 Retail Price:
$189.95
Our Price: $123.47
buy now
The rest of your ride buddies have given up on the season for the year, but you aren't ready to tuck your bump-gobbling trail companion away in the garage just yet. Rather than sitting around and twiddling your thumbs until the snow flies and it's time to strap a board or two to your feet, you'll...
Fox Racing Dawn Patrol Jacket - Men's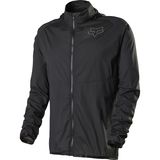 Retail Price:
$109.95
Our Price: $71.47
buy now
We all love autumn's "hero dirt" trails -- that moist-but-not-loose earth that both enhances grip and speed while reducing your chances of washing out -- but with it sometimes comes some gross weather that you can't avoid. The packable Fox Dawn Patrol Jacket is designed for those rides that may...
Fox Racing Dawn Patrol Vest - Men's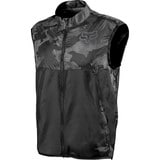 Retail Price:
$89.95
Our Price: $53.97
buy now
Fox Racing's packable Dawn Patrol Vest provides quality protection when you need it, which makes it the perfect piece for the variable conditions of early spring and fall. The Dawn Patrol features a breathable nylon shell that is designed to shield you from light rain and heavy wind without...
Fox Racing Diffuse Jacket - Men's
Retail Price:
$129.95
Our Price: $58.48
buy now
When the trails are calling but the weather might disagree, grab the Fox Diffuse Jacket. It's designed to keep you comfortable when Mother Nature's plans don't align with yours. The Diffuse jacket is part of Fox's Tech Outwear line, designed to help you reach your potential, and in style,...
Fox Racing Downpour Jacket - Men's
Retail Price:
$249.95
Our Price: $124.97
buy now
While we can't condone setting out to ride when the trails are wet, since it contributes to their damage and erosion, we certainly understand that sometimes you get caught out there, or sometimes you simply have no choice from A to B. For those wet rides, we heartily recommend the Fox Downpour...
Fox Racing Downpour LT Jacket - Men's
Retail Price:
$169.95
Our Price: $135.96
buy now
A mid-ride drizzle during a fall ride in the mountains is almost a standard expectation, even if the few clouds you see when you get to the trailhead look pretty harmless. It's a lot easier to stash the Fox Racing Men's Downpour LT Jacket in your pack before a ride than try to predict what Mother...
Fox Racing Downpour Pro Jacket - Men's
Retail Price:
$249.95
Our Price: $162.47
buy now
Staring up at the sky and wondering if the rain will hold off for a ride doesn't usually get you very far. If anything, it costs you more valuable time on the trails. Instead, we recommend investing in Fox Racing's Downpour Pro Men's Jacket. It'll keep you outside, rain be damned, enjoying rowdy...
Fox Racing Ranger Jacket - Men's
Retail Price:
$74.95
Our Price: $48.72
buy now
That climb you just finished had about five more switchbacks than you remembered when you rode it a few years back, but no matter. You've reached the top now, and just in time to see the sky glowing pink, purple, and orange as it approaches sunset over fall's changing leaves. While you're pausing...
<< Prev | Back | 21 | 22 | 23 | 24 | 25 | 26 | 27 | 28 | 29 | 30 | More | Next >>