Mens Road Bike Tops - Road Bike Shop
Shop
>
Men's Apparel Clothing
>
Men's Apparel Road Bike Clothing
>
Men's Apparel Road Bike Tops
G-Form Pro-X Compression Shirt - Short-Sleeve - Women's
Arm yourself appropriately before plunging into technical terrain with the G-Form Women's Pro-X Compression Shirt. RPT Impact Protection softens the blow of nasty falls, shielding your rib cage, clavicle, sternum, and shoulders from abrasive trails and rocky terrain. Its anatomical design flexes...
Giordana AV 100 Winter Jacket - Men's
Retail Price:
$299.95
Our Price: $224.96
buy now
Giordana's new Acqua+Vento (AV) line runs the protective gamut from dark-side-of-the-moon extreme to lightweight, water-resistant insulation for temperate spring showers. The AV 100 Men's Winter Jacket falls neatly between those two poles by covering your body's leading edges in a three-layer...
Giordana AV 200 Winter Jacket - Men's
Retail Price:
$374.95
Our Price: $281.21
buy now
When it comes to winter training, some of us hang it up when temperatures drop below 35 degrees Fahrenheit, retreating to the trainer or the couch until the spring thaw makes the roads safe for thermal jerseys again. Others cling desperately to the ability to ride outside through necessity (the...
Giordana AV 300 Winter Jacket - Men's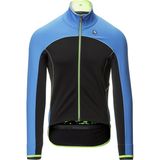 Retail Price:
$449.95
Our Price: $337.46
buy now
Whether this is the first year you've committed to logging winter base miles outside or you're used to riding through the cold, we have good news for you: winter kit seems to just keep getting better. Not only lighter than the billowing, ill-fitting jackets of old, this new crop of winter kit...
Giordana AV Extreme Winter Jacket - Men's
Layering is the skeleton key to Giordana's latest winter clothing line, with each entry in the extensive weather-protection hierarchy designed to span a large range of conditions depending on what you wear underneath it. The Men's AV Extreme Winter Jacket follows the same ethos, but its starting...
Giordana Endurance Conspiracy Bomber Vero Jersey - Short Sleeve - Men's
Retail Price:
$109.95
Our Price: $60.47
buy now
Like the much-beloved hairstyle whose mainstream heyday ended a few decades ago, Giordana's Endurance Conspiracy Bomber Vero Men's Jersey appears to be all business in the front and decidedly the opposite from the back. If you're looking for a way to mix up a kit drawer full of solids and stripes...
Giordana EXO System Jersey - Long-Sleeve - Men's
Taking advanced fabrication to an entirely new realm, the Giordana Men's EXO System Long-Sleeve Jersey provides an ideal blend of compression, aerodynamic profiling, and lightweight, moisture-wicking comfort. Spanning from the shoulders to the arm's leading edges, textured air-breaking fabric...
Giordana EXO System Jersey - Short Sleeve - Men's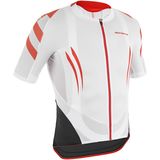 As the dedicated aerodynamic, race-specific jersey in Giordana's line, the EXO System Men's Jersey employs the brand's most contoured fit and a blend of fabrics to allow you to cheat the wind as much as possible while you ride. Ideal for the unaffiliated racer who hasn't been graced with team kit...
Giordana Fasce Vero Jacket - Men's
For some of us, winter means buckling up and hitting the spin intervals to avoid the cold. Other, more adventurous types see winter is a time for epic base miles to take in the scenery and enjoy a break from high-intensity intervalling. For the latter, Giordana offers up its Men's Fasce Vero...
Giordana FormaRed Carbon Jersey - Men's
Retail Price:
$199.95
Our Price: $150.00
buy now
Giordana's press materials call out the men's FormaRed Carbon Jersey with the usual array of marketing hyperbole: "elite," "performance," "innovative," etc. If you're like us, you typically ignore that kind of language and focus on two things in order to determine a jersey's merits -- fit and...
<< Prev | Back | 21 | 22 | 23 | 24 | 25 | 26 | 27 | 28 | 29 | 30 | More | Next >>