Mens Road Bike Tops - Road Bike Shop
Shop
>
Men's Apparel Clothing
>
Men's Apparel Road Bike Clothing
>
Men's Apparel Road Bike Tops
Giordana Fusion Winter Jacket - Men's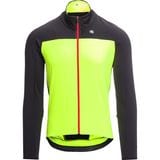 Layering for early winter rides can be tricky, because it takes a balance of breathability and protection to get the ride just right. Layering for deep winter cycling is a no-brainer, though: protection is key, and everything else is secondary. The Giordana Men's Fusion Winter Jacket is among our...
Giordana G Shield Jersey - Men's
Late fall and early spring weather can be fickle. Days and weeks of bluebird skies and moderate temperatures put some much needed vitamin D back in your skin. Then, out of nowhere, a cold front moves in, and the weather becomes a fight between cold rains and clear skies. We say, let Mother Nature...
Giordana Lungo Jersey - Men's
As Giordana revisited its line of cycling kit for 2016, sourcing new fabrics and making careful improvements to fit, it chose to reorganize the tiers around types of cyclists rather than along a vertical scale based on price, quality, and experience. This translated into a range of well-crafted...
Giordana Monsoon Shell Jacket - Men's
Our criteria for a rain jacket aren't numerous, but they we refuse to use any rain jacket that doesn't meet them. They are that a jacket must be waterproof, windproof, fit well, and be stowable. Giordana meets those demands and more with its Men's Monsoon Shell Jacket, which ticks off each item...
Giordana Movember Short-Sleeve Jersey - Men's
Retail Price:
$110.00
Our Price: $82.50
buy now
Every November, men across the globe shave themselves clean in anticipation of the sweet 'staches to come, helping to raise awareness and funds for men's health issues, most specifically cancers. The Giordana Movember Jersey adds to this awareness with its special-edition Movember graphic set...
Giordana NS Storm Rain Jacket - Men's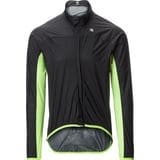 The Men's NS-Storm Rain Jacket is Giordana's answer to shoulder-season clothing conundrums. On those will it/won't it days when the chance of rain is in the 40-70% range, the NS-Storm is an eminently packable barrier against the rain that is happy riding unused in a pocket for a few hours if the...
Giordana NS-Air 20 Wind Jacket - Men's
We'll admit, it took actually putting our hands on Giordana's NS-Air 20 Men's Wind Jacket for us to truly understand exactly what set it apart enough from other wind jackets; but once we did, the difference was almost instantly apparent. Insisting that the NS-Air 20 manages to feel light,...
Giordana NX-G Jersey - Men's
2016 rings in a changing of the guard at the top of Giordana's venerable cache of cycling kit offerings. The much-loved and highly capable FR-C line continues, but cedes its crown to the all-new NX-G. Building on the FR-C tradition, the Giordana NX-G Men's Jersey continues to push forward with...
Giordana Sahara Jersey - Men's
As the lightest, coolest-wearing jersey in Giordana's collection, the Giordana Men's Sahara Jersey excels on sweltering summer days and grueling climbs up steep, sustained grades. Tipping the scales at only 90-grams, the Sahara Jersey is approximately 40% lighter than standard cycling jerseys....
Giordana Scatto Pro Jersey - Men's
Partnering with the often-ironic and always irreverent crew at Colorado-based Endurance Conspiracy, Giordana created the Scatto Pro Jersey as a nod to the brand's less serious take on getting outside. The collaboration celebrates going for a ride just because you can, with the loud graphics and...
<< Prev | Back | 21 | 22 | 23 | 24 | 25 | 26 | 27 | 28 | 29 | 30 | More | Next >>