Mens Road Bike Tops - Road Bike Shop
Shop
>
Men's Apparel Clothing
>
Men's Apparel Road Bike Clothing
>
Men's Apparel Road Bike Tops
Giordana Fusion Jacket - Men's - Men's
Contrary to common ideologies, the strong don't always survive -- sometimes fortune favors the well-prepared. And if you're donning the Giordana Fusion Men's Jacket this winter, this will be you. Combining a legendary, anatomic cut with a well-planned, deliberate fabric selection, the Fusion...
Giordana Fusion Lightweight Men's Jacket - Men's
Retail Price:
$179.95
Our Price: $89.98
buy now
We love watching pro cyclists ride, but we also recognize that almost no one in the world actually has a body like that. With summer gear, this is no problem. The materials are so stretchy that we can squeeze into pro-fit gear -- even if maybe we shouldn't. But winter kit tends to be less...
Giordana Fusion Men's Jersey - Men's
In cuisine, Fusion is roughly defined as two or more different kinds of food mixed together to make something new and tasty -- it's something that we can't get enough of. Bacon-wrapped sushi, hot dog bolognese over rice noodles, whatever. But then, there are some combinations that make far more...
Giordana G Shield Jersey - Short-Sleeve - Men's - Men's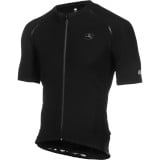 Retail Price:
$199.95
Our Price: $139.97
buy now
Winter weather can be fickle. Days and weeks of bluebird skies and moderate temperatures put some much needed vitamin D back in your skin. Then, out of nowhere, a cold front moves in, and the weather becomes a fight between cold rains and clear skies. We say, let Mother Nature duke it out on her...
Giordana Hydroshield Taped Rain Jacket - Men's
Many cyclists we know whine about the rain. It's wet! Whatever. Get used to it. If you ride, you're going to have to ride in the rain someday. Some days, you're starting in the wet and riding into dry or starting in the dry and riding into rain. Rain happens. Sometimes all day for days on end....
Giordana Hydroshield Taped Rain Vest - Men's - Men's
For the most immortal of cycling greats, rain clouds can easily be outrun. For the rest of us, there is the Giordana Hydroshield Taped Rain Vest. Super lightweight Sentry fabric packs down easily, taking up only a small fraction of a jersey pocket. And when those damned rain clouds finally catch...
Giordana Laser Jersey - Men's
We've always found it amusing that Giordana's second-tier group of jerseys have managed to outperform most of the best jerseys in the world. And for 2013, the Laser Jersey has raised the bar yet again. With new fabrics and a new direction, the line between FormaRed Carbon and Laser has become...
Giordana Scatto Alpe D'Huez Jersey - Men's - Men's
The folks over at Endurance Conspiracy designed an appropriate homage to the famous Alp D'Huez climb in France, a climb that separates the legends from mere mortals, for the Giordana Alp D'Huez Scatto Men's Jersey. The jersey's made of top-shelf materials, too, so it's not just an attractive...
Giordana Silverline Classic Jersey - Short-Sleeve - Men's - Men's
Giordana places emphasis on creating jerseys that are nearly indistinguishable from one tier to the next. The Classic Silverline Jersey is no exception. Aesthetic designs aside, the only real differentiator between it and the Lazer, the next tier up, is the absence of one material at the...
Giordana Silverline GIRO Jersey - Men's - Men's
Just five years ago, the Giordana Silverline GIRO Jersey would have been considered gold-caliber kit. As it is, the Silverline's light compression and slim yet unrestrictive fit means it still manages to continually find its way to the front of our jersey queue after laundry day. While its most...
<< Prev | Back | 21 | 22 | 23 | 24 | 25 | 26 | 27 | 28 | 29 | 30 | More | Next >>