Mens Road Bike Tops - Road Bike Shop
Shop
>
Men's Apparel Clothing
>
Men's Apparel Road Bike Clothing
>
Men's Apparel Road Bike Tops
Endurance Conspiracy Flying Tiger T-Shirt - Short-Sleeve - Men's
The WWII fighter squadrons constituting the namesake of Endurance Conspiracy's Flying Tiger Men's Shirt only lost 14 pilots while claiming 296 enemy aircraft. We like that ratio of wins to crashes. We also like that the consequences of crashing a bike are (usually) far less severe than a those of...
Endurance Conspiracy Hyperspace T-Shirt - Short-Sleeve - Men's
No matter how heated the race, it's almost never a good idea to pass a guy with a cape, or a guy with a blue and red lightbar on his car. In the case of the race depicted on the Endurance Conspiracy Hyperspace T-Shirt, the guys in white are avoiding an unpleasant choking sensation by using a...
Endurance Conspiracy Mammoth T-Shirt - Men's
The art on Endurance Conspiracy's Mammoth T-Shirt for Men is based on work originally produced for the 2015 mountain nationals. The depicted bike's cantilever styling and obvious use of an alloy cockpit are rare sights on the competitive circuit these days, but--if you do happen to race with...
Endurance Conspiracy Mud Is Murder T-Shirt - Men's
If shouldering your bike to schlep through a patch of peanut butter in the middle of a race gets you all fired up, then Endurance Conspiracy's Mud is Murder T-Shirt might be for you. Mother Nature brings out all of her challenging weather just in time for 'cross season, so the best consolation...
Endurance Conspiracy Sprinter T-Shirt - Men's
Growing wings to become the "angel of the mountains" is one of the most over-used metaphors in cycling. The Endurance Conspiracy Sprinter Men's T-Shirt flips the script, replacing the feathery angel's appendages with a set of jet engine-equipped NACA airfoils. The Competitive office is evenly...
Etxeondo Arin WS Team Edition Jersey - Short-Sleeve - Men's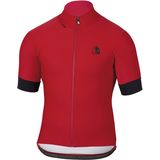 Those winds will suck the body heat right out of you, which might sound sort of odd considering it's pretty warm out whenever the winds die down, but your bicycle isn't just going to sit around and wait for that to happen, so zip into the Etxeondo Men's Arin WS Team Edition Jersey and slice...
Etxeondo Entzun Sport Jersey - Short-Sleeve - Men's
Evoking the rich colors of the lush hills and striking seaside vistas around the Basque region of Spain, Etxeondo's Entzun Sport Men's Jersey makes a sound investment in training kit for the upcoming season, and one that won't leave you looking like every other Lycra-clad rider you wave to on the...
Etxeondo Izan Jersey - Short-Sleeve - Men's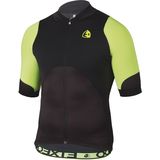 It certainly helps to dress the part on race day, but style doesn't mean diddly squat between start and finish, especially when compared to an aerodynamic, performance-driven design. Etxeondo, proprietors of both European fashion and the Euskaltel-Euskadi Basque team, proudly present a jersey...
Etxeondo Mendi Jersey - Short-Sleeve - Men's
When it comes to summer cycling, the fewer fabrics and features you have on your body the better, and the Etxeondo Men's Mendi Jerseyy has a similar, minimalist mindset. Given Etxeondo's Basque roots in northern Spain's hot, humid climate, it's safe to assume that this ultralight jersey has been...
Etxeondo Neo Jersey - Men's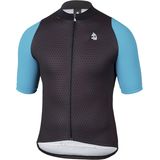 European cyclists undoubtedly look good while they do what they love, and while it's more important to worry over aerodynamic performance rather than the way you look, nobody will blame you if you opt for the classic Men's Neo Jersey by Etxeondo. In no way shape or form would we say that the Neo...
<< Prev | Back | 21 | 22 | 23 | 24 | 25 | 26 | 27 | 28 | 29 | 30 | More | Next >>