Mens Road Bike Tops - Road Bike Shop
Shop
>
Men's Apparel Clothing
>
Men's Apparel Road Bike Clothing
>
Men's Apparel Road Bike Tops
De Marchi Thermal Racing Jacket - Men's - Men's
Retail Price:
$249.95
Our Price: $137.47
buy now
We dislike having to choose between fit and protection from the elements. Traditionally, wind- and water-resistant jackets force us into that binary, so we're left with the choice of an unwieldy, flapping saddle tent or staying indoors during bad weather. Featuring upgrades to De Marchi's thermal...
De Marchi Thermal Racing Jersey - Long Sleeve - Men's - Men's
When your local climate brings the weather, you can respond by bringing the De Marchi Thermal Racing Jersey. It was designed to do four things: provide gimmick-free protection from external moisture, insulate and regulate your microclimate, fit like a summer-weight racing jersey, and show off...
De Marchi Urban Jungle Gilet - Men's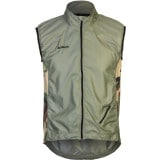 Retail Price:
$99.00
Our Price: $49.50
buy now
De Marchi's Urban Jungle Gilet was made to be a lightweight packable outer layer for those days when the weather flexes a bit of muscle. With a blend of technical materials and camo patterning that pays homage to NYC's concrete jungles, it'll keep you shielded and let others know you're ready for...
De Marchi USA Sweater - Men's - Men's
With an emphasis on classic designs from a bygone era of the sport, De Marchi's Tradition collection of apparel blends technical materials with timeless styling and heritage-driven details. Such is the case with the new USA Sweater, which is equally suitable for spins on that steel frame and...
De Marchi Windshirt - Men's - Men's
On those days when you wish to commute, but Mother Nature is up to her sneaky ways, you want a riding top that functions to keep you from a chilly breeze. But, because you also don't necessarily want to ride to work in your techno-geek riding jacket, De Marchi created the Windshirt. This dress...
De Marchi Worlds Pack Euro National Long Sleeve Jersey - Men's
Retail Price:
$109.95
Our Price: $76.96
buy now
To pay homage to the various riders who compete annually in the European cyclocross nationals races, De Marchi has released the De Marchi Worlds Pack Euro Edition Long-Sleeve Jersey. The feature-laden piece not only functions as its own flag, it's loaded with features to make it easy to justify...
De Marchi Zoncolan Jersey - Men's
Retail Price:
$99.99
Our Price: $40.00
buy now
If the topography of European cycling were imagined as a chess board, then the rooks would be Spain's Angliru to the west and Italy's Zoncolan to the east. Though this beast has only been featured in six professional races, few climbs enjoy the legendary status of the western ascent of Zoncolan....
Etxeondo Feather Jersey - Short-Sleeve - Men's - Men's
On hot, sticky summer days, the Etxeondo Feather Jersey pairs perfectly with the Feather Bib shorts so that you stay cool and dry from head to toe. The jersey was constructed from Etxeondo's Microsystem 1. 1 fabric. This fabric is available in variable thicknesses depending upon the thickness of...
Etxeondo Jaka Vest - Men's - Men's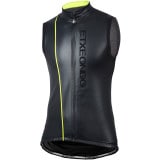 Retail Price:
$224.95
Our Price: $134.97
buy now
Cool weather isn't really an excuse to not ride. The Etxeondo Jaka Vest is a lightweight layer that keeps cool wind from penetrating to your core, and it's small enough to pack in a pocket if the weather warms a bit. The Jaka Vest features an elegant style and sleek finish thanks in part to the...
Etxeondo Konbi Jersey - Short-Sleeve - Men's - Men's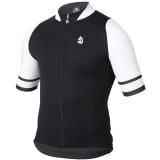 Retail Price:
$129.95
Our Price: $58.48
buy now
Bike jerseys are ideally designed for riding your bike, not just sitting around waiting for the team to show up. The Etxeondo Konbi jersey features a unique shoulder cut and wicking fabrics to ensure on-the-bike-comfort. Etxeondo is the brainchild of Francisco Rodrigo, a cycling enthusiast, who...
<< Prev | Back | 21 | 22 | 23 | 24 | 25 | 26 | 27 | 28 | 29 | 30 | More | Next >>