Mens Road Bike Tops - Road Bike Shop
Shop
>
Men's Apparel Clothing
>
Men's Apparel Road Bike Clothing
>
Men's Apparel Road Bike Tops
Endurance Conspiracy Ex-Presidents T-Shirt - Short-Sleeve - Men's
At a time when the U. S. political climate is more tense than the atmosphere in this year's Roubaix velodrome, Endurance Conspiracy's Ex-Presidents Men's T-Shirt allows you to step back and give a nod to our current situation without making any kind of inflammatory commentary. Portraying a...
Endurance Conspiracy Go Ape T-Shirt - Men's
For as long as we've been old enough to toddle over barriers, we've been aware that cyclocross and gorilla suits go hand-in-hand. We're not sure why that is. Perhaps the Dutch were involved. Regardless of the tradition's mysterious origins, Endurance Conspiracy celebrates the storied ape/'cross...
Endurance Conspiracy Mud Is Murder T-Shirt - Men's
If shouldering your bike to schlep through a patch of peanut butter in the middle of a race gets you all fired up, then Endurance Conspiracy's Mud is Murder T-Shirt might be for you. Mother Nature brings out all of her challenging weather just in time for 'cross season, so the best consolation...
Endurance Conspiracy R2FIXU T-Shirt - Men's
Though we don't doubt that one of the most beloved robots of all time could fix a failing rear derailleur or make minute brake cable adjustments easily with a few quick computations, we have to admit that we imagined a more exciting retirement for him than being a bike mechanic. Perhaps the...
Endurance Conspiracy Running Shoe T-Shirt - Men's
Though some of us question their sanity, we have nothing against runners, and neither does Endurance Conspiracy. The brand shows its support for those who choose to exercise on their feet rather than wheels with the Running Shoe T-Shirt. Spread the love for your sport on your off days without...
Endurance Conspiracy Samurai T-Shirt - Men's
Embrace your inner warrior with Endurance Conspiracy's Samurai T-Shirt. Made for weekend warriors and after-work athletes fighting the good fight, this tee is simple and soft with a crew neck and original Endurance Conspiracy design. Wear it to get you through your day until you can get outside...
Endurance Conspiracy Singletrack Vibes T-Shirt- Men's
Change out of that damp, dusty jersey and hit the post-ride tacqueria in comfortable style with the Endurance Conspiracy Singletrack Vibes Men's T-Shirt. Made from 100% cotton, this shirt sits softly against your skin like a well-worn favorite, with an old-school mountain bike graphic providing...
Endurance Conspiracy World Cycling I T-Shirt - Men's
The designers over at Boulder-based Endurance Conspiracy got pretty excited about the World Championships coming to the US for the first time in almost thirty years -- so excited, in fact, that they created not one, but two tees in honor of the event. Show your support for Richmond and those...
Endurance Conspiracy World Cycling II T-Shirt - Men's
Colorado-based Endurance Conspiracy was so excited about Richmond hosting the World Championships that it created not one, but two tees to celebrate the occasion. We can understand the excitement. The World Cycling II T-Shirt is, as its name suggests, the second of the two designs. Wear it and...
Etxeondo 1976 Sport Jersey - Short-Sleeve - Men's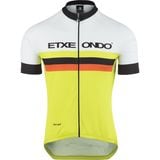 Retail Price:
$102.35
Our Price: $71.64
buy now
Heritage kit like the Etxeondo 1976 Sport Men's Jersey will always have the power to evoke nostalgia for us -- think the 100% wool jerseys of old with their non-ironic stripes and now-outdated logos and faded colors. If you've ever tried to ride in dad's vintage jersey from the 70's, however, a...
<< Prev | Back | 21 | 22 | 23 | 24 | 25 | 26 | 27 | 28 | 29 | 30 | More | Next >>