Mens Road Bike Tops - Road Bike Shop
Shop
>
Men's Apparel Clothing
>
Men's Apparel Road Bike Clothing
>
Men's Apparel Road Bike Tops
De Marchi Vigorelli Jacket - Men's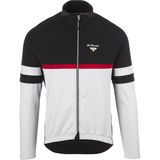 Retail Price:
$348.95
Our Price: $139.58
buy now
When temperatures finally drop into the low 40s, it's time to put away the arm warmers and thermal jerseys and take out a layer designed to fight off the worst of winter's chill. With a proprietary three-layer construction bonding a protective shell, a wind-blocking membrane, and insulating layer...
De Marchi Wind Jersey - Men's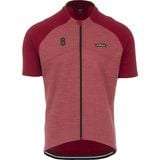 Retail Price:
$189.95
Our Price: $94.97
buy now
Through the early, uncertain skies and long, misty descents of spring, you'll be happy you remembered to wear your De Marchi Men's Wind Jersey. Stealthily disguised as a stylish, Italian piece of kit made from a soft blend of Merino wool and microfiber fabric, this jersey boasts a windproof front...
Endurance Conspiracy Campy Corkscrew T-Shirt - Men's
Campy-philes are a peculiar breed of cycling enthusiasts who can often be identified by their frame pumps, vintage wool Coppi jerseys, and unquenchable thirst for everything Italian. Not all of them can afford Campagnolo's signature corkscrew, though, and many would just as soon drink a budget...
Endurance Conspiracy Circuit Of The Deadmen T-Shirt - Men's
In 1910 the Tour premiered several Pyrenean climbs, including the legendary Col du Tourmalet. Reactions were as colorful as the route was difficult, with the press calling it "dangerous" and "bizarre," among other things. The race leader himself was famously quoted as referring to route...
Endurance Conspiracy Clyde T-Shirt - Short-Sleeve - Men's
Setting yourself apart from the rest of the post-race crowd at your favorite in-town vegan, gluten-free lunch spot is a lot easier with Endurance Conspiracy's off-beat designs. The Boulder-based company strives to out-hipster the yuppie crowd with its sometimes puzzling creations, and we can...
Endurance Conspiracy Dreamcatcher T-Shirt - Short-Sleeve - Men's
If you're the type to welcome any kind of superstitious help before a race, be it "lucky" socks or extensive pre-race rituals, you can add another piece to your good luck collection with Endurance Conspiracy's Dreamcatcher Men's T-Shirt. You have the Ojibwe people to thank for the ancient symbol...
Endurance Conspiracy Eddy Rode Steel T-Shirt - Men's
Endurance Conspiracy's short-sleeve Eddy Rode Steel T-Shirt for men depicts the inimitable Merckx in the act of affirming his greatest-of-all-time status by performing the traditional, corresponding Belgian finger gesture for "I'm number one." We aren't prepared to argue.
Endurance Conspiracy El Patron T-Shirt - Short-Sleeve - Men's
If you've often wished there were a camera crew or serenading group of musicians following you around as you crest a tough climb or ace a tempo stretch on the flats, you can get a little bit closer to that unlikely dream with Endurance Conspiracy's El Patron Men's T-Shirt. The off-beat graphics...
Endurance Conspiracy Everybody Wants Some T-Shirt - Men's
If you often spend the last several miles of a workout planning your next meal, you're not alone. Just looking at Endurance Conspiracy's Everybody Wants Some T-Shirt makes us want a cheeseburger, so we can only imagine how many we'd want to eat if we were wearing it. Put this soft cotton tee on...
Endurance Conspiracy Ex-Presidents T-Shirt - Short-Sleeve - Men's
At a time when the U. S. political climate is more tense than the atmosphere in this year's Roubaix velodrome, Endurance Conspiracy's Ex-Presidents Men's T-Shirt allows you to step back and give a nod to our current situation without making any kind of inflammatory commentary. Portraying a...
<< Prev | Back | 21 | 22 | 23 | 24 | 25 | 26 | 27 | 28 | 29 | 30 | More | Next >>