Mens Road Bike Tops - Road Bike Shop
Shop
>
Men's Apparel Clothing
>
Men's Apparel Road Bike Clothing
>
Men's Apparel Road Bike Tops
De Marchi Copenhagen 77 Cotton Polo Shirt - Men's
Retail Price:
$219.95
Our Price: $109.97
buy now
As a tribute to Eddy Merckx and Patrick Sercu, the designers at De Marchi figured it would only be appropriate to bring the Men's Copenhagen 77 Cotton Polo Shirt back to life. After all, the duo dominated the 1977 race from beginning to end. So, in honor of the Merckx and Sercu, we bring you this...
De Marchi Cortina Jersey - Men's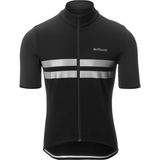 Mother Nature and her apparent lack of sunshine is undoubtedly theatrical in all her glory. We might even venture to say that the manner in which a day pans out is akin to a romantic comedy. Granted, it's not all that laughable when your cycling attire can't keep up with the change in weather....
De Marchi Cotton Cycling Polo - Worlds Pack - Men's
Retail Price:
$148.95
Our Price: $59.58
buy now
De Marchi's Cotton Cycling Polo falls under its new Tradition line, which places an emphasis on blending technical materials with timeless styling and heritage-driven details. The polo was made with soft Pima cotton for a soft, natural feel against the skin. The fit is slim, but by no means...
De Marchi France 1954 Jersey - Men's
Retail Price:
$189.95
Our Price: $123.47
buy now
De Marchi's line of throwback jerseys pays homage to cycling's heroes and bygone days, when training plans were simpler and diets far more relaxed. Evoking pastoral scenes from the middle of last century, its France 1954 Jersey takes its inspiration from Anquetil, the first cyclist to win the...
De Marchi Granturismo Jersey - Men's
Retail Price:
$139.95
Our Price: $97.96
buy now
As lovely and everlasting in their romance as the winding roads of Italy can be, the summer sun can really put a damper on the whole mood. And as the fates would have it, De Marchi designed the Men's Granturismo to serve you as a proper luxury sports car would in times of speed and elemental need...
De Marchi Leggera Jersey - Men's
Retail Price:
$154.95
Our Price: $100.72
buy now
Equipped with a name that's as simple, clean, and somehow absolutely beautiful as De Marchi's kit designs, the Leggera radiates sheer simplicity and subtle technical performance. Modeled after De Marchi's warm-weather Pro Jersey, the Leggera uses Italian-made materials, along with a fit and...
De Marchi Leggero Gilet - Men's
Retail Price:
$168.95
Our Price: $126.71
buy now
Pros know you have to keep the core warm if you to perform well. That's why you'll see them grab newspaper from fans at the summit, stuffing it between themselves and the front of their jerseys before plunging down the precipitous drop to the valley floor. The De Marchi Leggero Gilet is slightly...
De Marchi Mens Euro Nationals Light Weight Jerseys - Limited Edition - Men's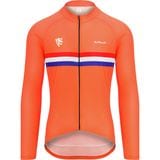 Retail Price:
$128.95
Our Price: $96.71
buy now
The Euro Nationals Limited Edition Lightweight Men's Jersey is roughly equivalent to a summer-weight jersey combined with lightweight arm sleeves, so its preferred temperatures are days when the sun is shining, the temperature is around 60 degrees Fahrenheit, and shade from tree canopies inspires...
De Marchi Polo Storica - Men's
Retail Price:
$160.00
Our Price: $96.00
buy now
Looking the part of a cyclist off-the-bike doesn't have to mean logo tees and cycling caps 24/7. If you actually want to carry your cycling self with a bit of class, you'll find De Marchi's Polo Storica to be more your speed. Crafted entirely in Italy out of an Italian merino wool blend, the Polo...
De Marchi Polo Unica Shirt - Men's
Grab this luxuriously soft men's De Marchi Polo Unica Shirt and hit the road. Made of Pima cotton and styled with a vibe hinting of classic wool jerseys that once defined cycling, the polo will have you feeling perfectly at home on the casual urban ride, a quick rip on the single track, or a day...
<< Prev | Back | 21 | 22 | 23 | 24 | 25 | 26 | 27 | 28 | 29 | 30 | More | Next >>