Mens Road Bike Tops - Road Bike Shop
Shop
>
Men's Apparel Clothing
>
Men's Apparel Road Bike Clothing
>
Men's Apparel Road Bike Tops
De Marchi Polo Storica - Men's
Retail Price:
$160.00
Our Price: $56.00
buy now
Looking the part of a cyclist off-the-bike doesn't have to mean logo tees and cycling caps 24/7. If you actually want to carry your cycling self with a bit of class, you'll find De Marchi's Polo Storica to be more your speed. Crafted entirely in Italy out of an Italian merino wool blend, the Polo...
De Marchi Polo Unica Shirt - Men's
Retail Price:
$189.95
Our Price: $100.67
buy now
Spectating at the finish line of a local road race or criterium series in full cycling kit on a day you're not racing is a bit much, even for you. But showing up in a baggy hoodie and jeans would violate a lifetime of ingrained rules on appropriate style, and you're not prepared to do that. If...
De Marchi Salvarani 1972 Authorized Replica - Men's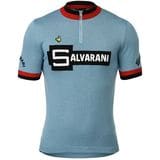 Retail Price:
$220.00
Our Price: $147.40
buy now
If you're unfamiliar with Felice Gimondi let us introduce you. Though, forgive us for our broad, showboating statement, but Gimondi was a rider that could win any race and at any time of the year. Just look at his competition timeline: he won La Primavera in March, Roubaix in April, the Giro (3...
De Marchi Short Parka Jacket - Men's
Retail Price:
$248.95
Our Price: $49.79
buy now
The original designs of the parka as we know it today were based on Inuit jackets made from caribou or seal skin, hence the name parka, or "animal skin." De Marchi's Short Parka Jacket for men is a faithful recreation of the item as introduced to consumers when the design was adopted for mass...
De Marchi Superleggera Jersey - Short Sleeve - Men's
Retail Price:
$169.95
Our Price: $110.47
buy now
As with all of De Marchi's apparel, the Superleggera Men's Short-Sleeve Jersey uses 100% Italian materials, along with a fit and graphic treatment inspired by classic team kits. The result is one of the most structured, body-supporting jerseys out there. For the construction, De Marchi used a...
De Marchi Tricolore Jersey - Men's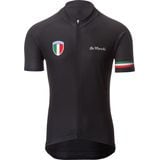 Retail Price:
$130.00
Our Price: $52.00
buy now
Over the past 20 years, a lot of cycling clothing brands have popped up that pitch attention to detail and lux design elements as their key selling points. And while 20 years is an impressive tenure, it certainly doesn't hold a candle to the 70 that De Marchi has spent defining the "attention to...
Endurance Conspiracy Campy Van T-Shirt - Short-Sleeve - Men's
It's not enough for you to just wear a Campy logo tee like everyone else -- after all, you've already got a few of them kicking around in your drawers at home. If you're looking for a way to stand out even more at the post-race awards while still making sure everyone knows where your derailleur...
Endurance Conspiracy Chewie T-Shirt - Short-Sleeve - Men's
We're not sure a bike would've even made the shortlist of our favorite sci-fi sidekick's ideal means of transportation, but the Boulder-based designers over at Endurance Conspiracy seem to see things a little more optimistically. The Chewie Men's T-Shirt portrays one of the most beloved film...
Endurance Conspiracy Clyde T-Shirt - Short-Sleeve - Men's
Setting yourself apart from the rest of the post-race crowd at your favorite in-town vegan, gluten-free lunch spot is a lot easier with Endurance Conspiracy's off-beat designs. The Boulder-based company strives to out-hipster the yuppie crowd with its sometimes puzzling creations, and we can...
Endurance Conspiracy Dreamcatcher T-Shirt - Short-Sleeve - Men's
Retail Price:
$35.95
Our Price: $17.97
buy now
If you're the type to welcome any kind of superstitious help before a race, be it "lucky" socks or extensive pre-race rituals, you can add another piece to your good luck collection with Endurance Conspiracy's Dreamcatcher Men's T-Shirt. You have the Ojibwe people to thank for the ancient symbol...
<< Prev | Back | 21 | 22 | 23 | 24 | 25 | 26 | 27 | 28 | 29 | 30 | More | Next >>