Mens Road Bike Tops - Road Bike Shop
Shop
>
Men's Apparel Clothing
>
Men's Apparel Road Bike Clothing
>
Men's Apparel Road Bike Tops
Alpinestars Blaze 2 T-Shirt - Short-Sleeve - Men's
With all your talk about epic rides, gnarly drops, and endless air time, the fact is that you spend most of your time firmly planted on the ground at work, at home, or at the pub. Now that the truth is out there, we can honestly say that what you actually need most of the time is a good ol'...
Arc'teryx A2B Commuter Hardshell Jacket - Men's
Retail Price:
$399.00
Our Price: $279.30
buy now
City dwellers have to deal with nasty weather too, so Arc'teryx made the A2B Commuter Men's Hardshell Jacket to keep you dry when you're walking to the subway, hailing a cab, or pedaling to work through some persistent showers. The 3L Gore-Tex waterproof and breathable membrane and fully taped...
Assos cS.Uno Skinsuit - Men's
Thanks to the march of technology, skinsuits are not fast enough; you now need a swiftsuit in order to keep up. Assos has taken up the challenge and offers a one-piece suit that is faster than your skinsuit, the cS. Uno. cS is short for Chronosuit, which is an outfit for shaving time. The Assos...
Assos iG.falkenZahn Vest - Men's
Retail Price:
$279.00
Our Price: $152.99
buy now
How do you improve upon perfection? We imagine that Assos wrestles with this question every time it starts to design a new product. However, where Assos differs from others is that it's able to fall back on its Werksmannschaft (factory team) and dedicated equipe campionissimo riders (you're...
Assos iJ.bonkaCENTO.6 Jacket - Men's
The Assos iJ. bonkaCENTO Jacket highlights the commitment the Swiss apparel maker has to providing top notch racing apparel, even when the temperatures drop. It's similar to the bonkaMILLE in the evolution of the airJack, except the CENTO leaves room for much more than a tight base layer...
Assos iJ.bonkaMille Jacket - Men's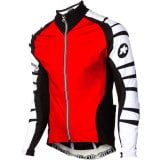 Retail Price:
$519.00
Our Price: $363.30
buy now
The Assos airJack was the jacket that changed the rule book for cycling apparel. Combining a windproof front panel with an exact fit, the airJack was a weatherproof masterpiece that skewed the line between jersey and jacket. Well, times have changed, the competition has gotten smarter, and Assos...
Assos iJ.haBu.5 Jacket - Men's
There's a breaking point when the weather gets cold enough that thermal jerseys alone don't provide enough warmth. The Assos IJ Habu Jacket is designed to take you beyond that barrier. It wears with the weight and feel of a jersey and is ideally used over one of Assos' three different Interactive...
Assos iJ.intermediate_s7 Jersey - Long-Sleeve - Men's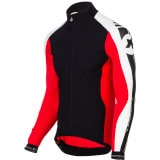 Retail Price:
$299.00
Our Price: $209.30
buy now
When something is first launched at Assos, you know to expect something that shatters molds -- even those set by Assos itself. Such is the case with the iJ. intermediate_s7. Is it a jacket, or is it a jersey? Well, it's kind of both, but Assos simply calls it "intermediate." The list of work that...
Assos iJ.shaqUno Jacket - Men's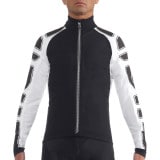 Retail Price:
$339.00
Our Price: $237.30
buy now
For more than 10 years, Assos has been the proud sponsor of the Swiss Cycling Federation. And in this time, it's taken the responsibility of supporting the development of burgeoning young cyclists. As a result, Assos' Uno line of jackets was born. According to Assos, this line creates a "welcome,...
Assos iJ.suisseOlympiakos_s7 Long Sleeve Jersey - Men's
Retail Price:
$269.00
Our Price: $188.30
buy now
If you've been riding with Assos for a little while, you know two things to be true: 1) Assos is the proud supporter of the national Swiss cycling team and 2) The "iJ" in a title stands for intermediate jacket. However, in true Assos fashion, it set to shatter the jacket paradigm with its new iJ....
<< Prev | Back | 1 | 2 | 3 | 4 | 5 | 6 | 7 | 8 | 9 | 10 | More | Next >>