Mens Road Bike Tops - Road Bike Shop
Shop
>
Men's Apparel Clothing
>
Men's Apparel Road Bike Clothing
>
Men's Apparel Road Bike Tops
Assos iJ.intermediate_s7 Jersey - Long-Sleeve - Men's - Men's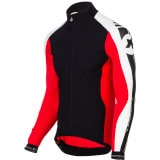 Retail Price:
$328.95
Our Price: $230.27
buy now
When something is first launched at Assos, you know to expect something that shatters molds -- even those set by Assos itself. Such is the case with the iJ. intermediate_s7. Is it a jacket, or is it a jersey? Well, it's kind of both, but Assos simply calls it "intermediate." The list of work that...
Assos iJ.shaqUno Jacket - Men's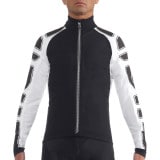 For more than 10 years, Assos has been the proud sponsor of the Swiss Cycling Federation. And in this time, it's taken the responsibility of supporting the development of burgeoning young cyclists. As a result, Assos' Uno line of jackets was born. According to Assos, this line creates a "welcome,...
Assos iJ.suisseOlympiakos_s7 Long Sleeve Jersey - Men's
If you've been riding with Assos for a little while, you know two things to be true: 1) Assos is the proud supporter of the national Swiss cycling team and 2) The "iJ" in a title stands for intermediate jacket. However, in true Assos fashion, it set to shatter the jacket paradigm with its new iJ....
Assos iJ.tiBuru.4 Jacket - Men's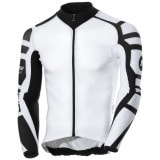 Our first full-zip long sleeve jersey was made by Assos. It was a closeout, and we felt pretty savvy for the purchase. But, expectantly, the top lasted and lasted. It was our go-to long sleeve jersey for a decade, and a few years in, we realized that the jersey would've been a bargain at any...
Assos Made In Cycling Long Sleeve T-Shirt - Men's
You can never have too many T-Shirts, and, for the truly obsessive, you can never have enough Assos. For the rider who has it all (all of the Assos line, that is), Assos has been creating a casual line of after-bike products in recent years, just for you. And in the case of the Made In Cycling...
Assos nS.superLeggera Sleeveless Jersey - Men's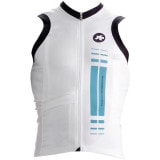 Retail Price:
$208.95
Our Price: $146.26
buy now
The new nS. superLeggera Sleeveless Jersey is the next generation of ultralight Assos sleeveless jerseys. However, the nS. superLeggera wasn't designed to eliminate your farmer's tan -- it's for hot-weather multi-sport racing. A summer rider's best friend, this sleeveless jersey is a unisex...
Assos R&D+r T-Shirt - Short-Sleeve - Men's - Men's
Retail Price:
$74.95
Our Price: $52.46
buy now
Give a nod to the extensive research and design of Assos cycling gear with the Assos Men's R&D+r T-Shirt.
Assos rS.sturmPrinz EVO Jacket - Men's - Men's
When Assos set out to build the ultimate rain jacket, its engineers didn't take the task lightly. They knew that if it was going to wear the revered Assos badge, it would have be light, packable, highly protective, and, most importantly, fit perfectly. The result of their efforts was the...
Assos sJ.blitzFeder Jacket - Men's
A primary issue that so many riders have with light, weatherproof riding shells is that they develop a clammy, humid feeling once you start sweating, as many of them are poorly ventilated. Not so with the Assos sJ. blitzFeder Men's Jacket. The world-renowned fabric fanatics at Assos developed the...
Assos sJ.climaSchutz Jacket - Men's
Assos has a healthy skepticism for rain jackets. Simply put, the people in Switzerland believe that if you're riding hard in a light rain, chances are good that you'll overheat and get sweaty in a sealed rain jacket. Their solution is the sJ. climaSchutz Long Sleeve Shell. This is a light, thin,...
<< Prev | Back | 1 | 2 | 3 | 4 | 5 | 6 | 7 | 8 | 9 | 10 | More | Next >>