Mens Road Bike Tops - Road Bike Shop
Shop
>
Men's Apparel Clothing
>
Men's Apparel Road Bike Clothing
>
Men's Apparel Road Bike Tops
Assos CS.speedfireChronosuit_s7 - Men's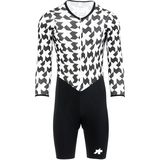 Retail Price:
$399.00
Our Price: $239.40
buy now
40 years ago, Assos set a new standard for on-track speed with the introduction of the world's first aero skinsuit, and the Swiss brand continues to lead the way in wind-cheating clothing development with its Men's CS. speedfireChronosuit_s7. Most notably seen slicing to time trial gold with...
Assos CS.works_teamChronosuit_s7 - Men's
Whether you're a self-sponsored time trialist looking for the next step in time gains or a seasoned pro in need of non-team kit for Wednesday night practice runs, the Assos Men's CS. works_teamChronosuit_s7 brings together motorsport aesthetics and Assos' extended heritage of high performing...
Assos FF_1emergencyWindvest_evo7 Vest - Men's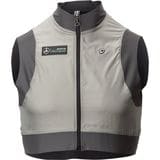 Retail Price:
$169.00
Our Price: $101.40
buy now
If the day's ride calls for winding roads and dappled shade, it may be a good idea to tuck an Assos Men's FF_1emergencyWindvest_evo7 Vest in your pocket to fend off the occasional chill. A unique piece that Assos dubs "micro-volume chest protection", this half-length vest provides protection...
Assos iG.falkenZahn Vest - Men's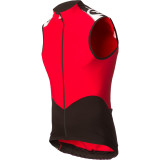 Retail Price:
$249.00
Our Price: $149.40
buy now
How do you improve upon perfection? We imagine that Assos wrestles with this question every time it starts to design a new product. However, where Assos differs from others is that it's able to fall back on its Werksmannschaft (factory team) and dedicated equipe campionissimo riders (you're...
Assos IG.works_teamVest_evo8 - Men's
Here's a cycling science project brought to you by Assos. Go ahead and browse through our inventory of vests and pay careful attention to the armholes. You'll notice that most look like jackets with the sleeves lopped off, a vertically oriented cuff. But on the thermal IG. works_teamVest_evo8 Men...
Assos iJ.bonkaCENTO.6 Prof Black Jacket - Men's
If we were to grossly generalize, we might divide the Competitive office into two broad groups. The first group consists of discerning cyclists who self-identify as "roadies" and exhibit an occasional penchant for sartorial excess; the second, cyclists who insist on function over form,...
Assos iJ.haBu.5 Jacket - Men's
There's a breaking point when the weather gets cold enough that thermal jerseys alone don't provide enough warmth. The Assos iJ. Habu. 5 Men's Jacket is designed to take you beyond that barrier. It wears with the weight and feel of a jersey and is ideally used over one of Assos' three different...
Assos iJ.intermediate_s7 profBlack Jersey - Men's
As Assos glibly puts it, "summer is pretty mindless when it comes to apparel choice." That's because the typical temperatures of grand tour season are high enough to impose mandatory minimalism in terms of cycling clothing. But the advent of changing leaves and falling temperatures gives the...
Assos iJ.shaqUno Jacket - Men's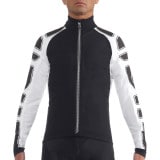 Retail Price:
$339.00
Our Price: $101.70
buy now
For more than 10 years, Assos has been the proud sponsor of the Swiss Cycling Federation. And in this time, it's taken the responsibility of supporting the development of burgeoning young cyclists. As a result, Assos' Uno line of jackets was born. According to Assos, this line creates a "welcome,...
Assos iJ.tiBuruJacket_evo7 - Men's
Retail Price:
$239.00
Our Price: $167.30
buy now
When summer fades to autumn, and your riding days get shorter and cooler, let the Assos iJ. tiBuruJacket_evo7 transport you back to the warmth of early summer rides. The tiBuru is one of our go-to staples for fall and spring warmth, but depending on where you live, it can transcend those two...
<< Prev | Back | 1 | 2 | 3 | 4 | 5 | 6 | 7 | 8 | 9 | 10 | More | Next >>