Mens Road Bike Tops - Road Bike Shop
Shop
>
Men's Apparel Clothing
>
Men's Apparel Road Bike Clothing
>
Men's Apparel Road Bike Tops
Assos DB.4 kickTop - Men's
Retail Price:
$309.95
Our Price: $139.48
buy now
As part of Assos' Dopo Bici, or 'after bike,' collection, the new DB. 4 kickTop pullover was built to represent the perfect balance of style, comfort, and functionality that we've come to expect from Assos. This casual jacket delivers the best fabrics and fit from the Swiss apparel designer,...
Assos DB.7 loungeTop - Men's
Retail Price:
$369.95
Our Price: $166.48
buy now
While lounging might be an ideal activity in Assos' new casual DB. 7 loungeTop, it was engineered to handle much more. The loungeTop falls into Assos' 'Dopo Bici,' or 'after bike,' collection, and it features the same technical fabrics, advanced fit, and detailed features associated with the...
Assos equipeCampionissimo T-Shirt - Short-Sleeve - Men's
With its unrivaled fit and obsessive attention to even the most impossibly minute details, it's safe to say that Assos is among the most serious and ambitious cycling companies in the world. But the equipeCampionissimo T-Shirt is proof that, like the Swiss manufacturer's distinctive model, Assos...
Assos equipeSuisse T-Shirt - Shortsleeve - Men's
Slip into the Assos Men's equipeSuisse T-Shirt after your ride when you're lounging about the coffeeshop. The shirt's Swiss Cycling Federation logo gives you cycling cred among pedal-pushers everywhere, and the "Have a Good Ride!" on the tee's back adds a cheerful vibe.The Assos equipeSuisse...
Assos iG.falkenZahn Vest - Men's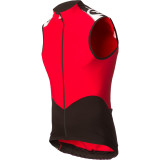 How do you improve upon perfection? We imagine that Assos wrestles with this question every time it starts to design a new product. However, where Assos differs from others is that it's able to fall back on its Werksmannschaft (factory team) and dedicated equipe campionissimo riders (you're...
Assos iJ.bonkaCENTO.6 Jacket - Men's
The Assos iJ. bonkaCENTO Jacket highlights the commitment the Swiss apparel maker has to providing top notch racing apparel, even when the temperatures drop. It's similar to the bonkaMILLE in the evolution of the airJack, except the CENTO leaves room for much more than a tight base layer...
Assos iJ.bonkaMille Jacket - Men's
The Assos airJack was the jacket that changed the rule book for cycling apparel. Combining a windproof front panel with an exact fit, the airJack was a weatherproof masterpiece that skewed the line between jersey and jacket. Well, times have changed, the competition has gotten smarter, and Assos...
Assos iJ.haBu.5 Jacket - Men's
There's a breaking point when the weather gets cold enough that thermal jerseys alone don't provide enough warmth. The Assos IJ Habu Jacket is designed to take you beyond that barrier. It wears with the weight and feel of a jersey and is ideally used over one of Assos' three different Interactive...
Assos iJ.intermediate_s7 Jersey - Long-Sleeve - Men's
When something is first launched at Assos, you know to expect something that shatters molds -- even those set by Assos itself. Such is the case with the iJ. intermediate_s7. Is it a jacket, or is it a jersey? Well, it's kind of both, but Assos simply calls it "intermediate." The list of work that...
Assos iJ.shaqUno Jacket - Men's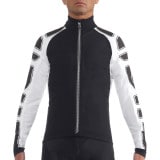 For more than 10 years, Assos has been the proud sponsor of the Swiss Cycling Federation. And in this time, it's taken the responsibility of supporting the development of burgeoning young cyclists. As a result, Assos' Uno line of jackets was born. According to Assos, this line creates a "welcome,...
<< Prev | Back | 1 | 2 | 3 | 4 | 5 | 6 | 7 | 8 | 9 | 10 | More | Next >>