Mens Road Bike Tops - Road Bike Shop
Shop
>
Men's Apparel Clothing
>
Men's Apparel Road Bike Clothing
>
Men's Apparel Road Bike Tops
Assos iG.falkenZahn Vest - Men's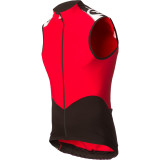 Retail Price:
$278.95
Our Price: $195.27
buy now
How do you improve upon perfection? We imagine that Assos wrestles with this question every time it starts to design a new product. However, where Assos differs from others is that it's able to fall back on its Werksmannschaft (factory team) and dedicated equipe campionissimo riders (you're...
Assos iJ.bonkaCENTO.6 Jacket - Men's
The Assos iJ. bonkaCENTO Jacket highlights the commitment the Swiss apparel maker has to providing top notch racing apparel, even when the temperatures drop. It's similar to the bonkaMILLE in the evolution of the airJack, except the CENTO leaves room for much more than a tight base layer...
Assos iJ.bonkaMille Jacket - Men's
The Assos airJack was the jacket that changed the rule book for cycling apparel. Combining a windproof front panel with an exact fit, the airJack was a weatherproof masterpiece that skewed the line between jersey and jacket. Well, times have changed, the competition has gotten smarter, and Assos...
Assos iJ.haBu.5 Jacket - Men's - Men's
There's a breaking point when the weather gets cold enough that thermal jerseys alone don't provide enough warmth. The Assos IJ Habu Jacket is designed to take you beyond that barrier. It wears with the weight and feel of a jersey and is ideally used over one of Assos' three different Interactive...
Assos iJ.intermediate_s7 Jersey - Long-Sleeve - Men's - Men's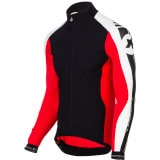 Retail Price:
$288.95
Our Price: $187.82
buy now
When something is first launched at Assos, you know to expect something that shatters molds -- even those set by Assos itself. Such is the case with the iJ. intermediate_s7. Is it a jacket, or is it a jersey? Well, it's kind of both, but Assos simply calls it "intermediate." The list of work that...
Assos iJ.shaqUno Jacket - Men's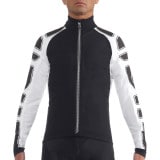 For more than 10 years, Assos has been the proud sponsor of the Swiss Cycling Federation. And in this time, it's taken the responsibility of supporting the development of burgeoning young cyclists. As a result, Assos' Uno line of jackets was born. According to Assos, this line creates a "welcome,...
Assos iJ.suisseOlympiakos_s7 Long Sleeve Jersey - Men's
If you've been riding with Assos for a little while, you know two things to be true: 1) Assos is the proud supporter of the national Swiss cycling team and 2) The "iJ" in a title stands for intermediate jacket. However, in true Assos fashion, it set to shatter the jacket paradigm with its new iJ....
Assos iJ.tiBuru.4 Jacket - Men's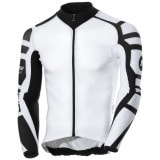 Our first full-zip long sleeve jersey was made by Assos. It was a closeout, and we felt pretty savvy for the purchase. But, expectantly, the top lasted and lasted. It was our go-to long sleeve jersey for a decade, and a few years in, we realized that the jersey would've been a bargain at any...
Assos Made In Cycling Long Sleeve T-Shirt - Men's
You can never have too many T-Shirts, and, for the truly obsessive, you can never have enough Assos. For the rider who has it all (all of the Assos line, that is), Assos has been creating a casual line of after-bike products in recent years, just for you. And in the case of the Made In Cycling...
Assos Ns.neopro_evo7 Australia Jersey - Men's
Show your love for the land down under with the Assos Ns. neopro_evo7 Australia Jersey. With a fresh design that blends new fabrics and colorways into a clean silhouette, the neoPro is sure to become a staple in your apparel rotation this season.Taking a "zero impact" approach with this jersey,...
<< Prev | Back | 1 | 2 | 3 | 4 | 5 | 6 | 7 | 8 | 9 | 10 | More | Next >>