Mens Road Bike Tops - Road Bike Shop
Shop
>
Men's Apparel Clothing
>
Men's Apparel Road Bike Clothing
>
Men's Apparel Road Bike Tops
Alpinestars Blaze 2 T-Shirt - Short-Sleeve - Men's
Retail Price:
$34.95
Our Price: $17.47
buy now
With all your talk about epic rides, gnarly drops, and endless air time, the fact is that you spend most of your time firmly planted on the ground at work, at home, or at the pub. Now that the truth is out there, we can honestly say that what you actually need most of the time is a good ol'...
Alpinestars Descender Windproof Vest - Men's
Retail Price:
$69.95
Our Price: $48.96
buy now
Descender Windproof Vest - Men's
Assos cS.Uno Skinsuit - Men's
Retail Price:
$318.95
Our Price: $191.37
buy now
Thanks to the march of technology, skinsuits are not fast enough; you now need a swiftsuit in order to keep up. Assos has taken up the challenge and offers a one-piece suit that is faster than your skinsuit, the cS. Uno. cS is short for Chronosuit, which is an outfit for shaving time. The Assos...
Assos FF_1emergencyWindvest_evo7 Vest - Men's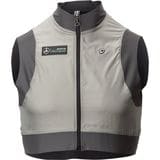 If the day's ride calls for winding roads and dappled shade, it may be a good idea to tuck an Assos Men's FF_1emergencyWindvest_evo7 Vest in your pocket to fend off the occasional chill. A unique piece that Assos dubs "micro-volume chest protection", this half-length vest provides protection...
Assos iG.falkenZahn Vest - Men's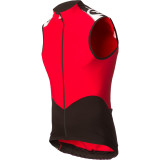 How do you improve upon perfection? We imagine that Assos wrestles with this question every time it starts to design a new product. However, where Assos differs from others is that it's able to fall back on its Werksmannschaft (factory team) and dedicated equipe campionissimo riders (you're...
Assos iJ.bonkaCENTO.6 Jacket - Men's
The Assos iJ. bonkaCENTO Jacket highlights the commitment the Swiss apparel maker has to providing top notch racing apparel, even when the temperatures drop. It's similar to the bonkaMILLE in the evolution of the airJack, except the CENTO leaves room for much more than a tight base layer...
Assos iJ.bonkaCENTO.6 Prof Black Jacket - Men's
If we were to grossly generalize, we might divide the Competitive office into two broad groups. The first group consists of discerning cyclists who self-identify as "roadies" and exhibit an occasional penchant for sartorial excess; the second, cyclists who insist on function over form,...
Assos iJ.haBu.5 Jacket - Men's
There's a breaking point when the weather gets cold enough that thermal jerseys alone don't provide enough warmth. The Assos iJ. Habu. 5 Men's Jacket is designed to take you beyond that barrier. It wears with the weight and feel of a jersey and is ideally used over one of Assos' three different...
Assos iJ.intermediate_s7 Jersey - Long-Sleeve - Men's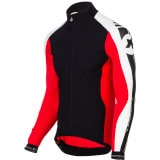 Retail Price:
$299.00
Our Price: $149.50
buy now
When something is first launched at Assos, you know to expect something that shatters molds -- even those set by Assos itself. Such is the case with the iJ. intermediate_s7. Is it a jacket, or is it a jersey? Well, it's kind of both, but Assos simply calls it "intermediate." The list of work that...
Assos iJ.intermediate_s7 profBlack Jersey - Men's
As Assos glibly puts it, "summer is pretty mindless when it comes to apparel choice." That's because the typical temperatures of grand tour season are high enough to impose mandatory minimalism in terms of cycling clothing. But the advent of changing leaves and falling temperatures gives the...
<< Prev | Back | 1 | 2 | 3 | 4 | 5 | 6 | 7 | 8 | 9 | 10 | More | Next >>