Mens Road Bike Tops - Road Bike Shop
Shop
>
Men's Apparel Clothing
>
Men's Apparel Road Bike Clothing
>
Men's Apparel Road Bike Tops
De Marchi Campione Polo - Men's
Retail Price:
$148.95
Our Price: $59.56
buy now
Woven with the same attention to detail that sets De Marchi's technical gear apart, the Campione Men's Polo is an elegant shirt meant for cheering the sprint, talking tech with your buddies, or pedaling around town on a sunny afternoon. It's woven from super-soft Pima cotton, with a slim fit and...
De Marchi Cinelli Polo Shirt - Men's
Retail Price:
$174.95
Our Price: $52.47
buy now
It was only fitting that when De Marchi began conceptualizing its Tradition collection of clothing, it made the choice to literally weave fellow Italian brand Cinelli into a few special pieces. One of these happens to be the beautiful new Cinelli Polo Shirt. Made in Italy with Italian materials,...
De Marchi Cinelli USA 1970 Jersey - Short-Sleeve - Men's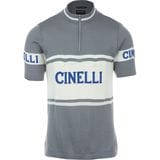 An authorized replica of the first Cinelli jersey sent to the US in 1970, the De Marchi Men's Cinelli USA 1970 Jersey travels back to cycling's golden era with its distinctive retro flair. Produced in limited numbers, this jersey is sure to be a hit among collectors and enthusiasts seeking an...
De Marchi Classico Gilet Vest - Men's
When creating its Classico Gilet Men's Vest, De Marchi allowed the undeniable functionality of a basic wind vest to stand alone, free of adornments and extras. Eschewing reflective accents, pockets of any kind, and loud patterns, De Marchi employs the simple, classic aesthetics it does best to...
De Marchi Corsa Evo Jersey - Men's
De Marchi has long been known for classy Italian style and impeccable quality, and its Men's Corsa Evo Jersey continues that tradition with muted yet modern flair. Made from a soft multifilament fabric chosen for its airy composition and low weight, this jersey breathes more efficiently than most...
De Marchi Corsa Jacket - Men's
Retail Price:
$198.95
Our Price: $112.99
buy now
Zip De Marchi's Corsa Jacket over a base layer for streamlined warmth on your next ride during a brisk, fall morning. The jacket is made with Roubaix fabric, a cold-weather staple with a brushed, fleecy interior and lofted construction that creates an insulating layer of heat between your body or...
De Marchi Corsa WP Jacket - Men's
Retail Price:
$348.95
Our Price: $157.03
buy now
Biting wind and frigid temperatures can mean an afternoon spent in the basement, staring at the TV while you spin for hours on a trainer. But they don't have to. If you'd rather get outside, grab a base layer and zip De Marchi's Corsa WP Jacket on over it for three-layer protection from the worst...
De Marchi Cotton Cycling Polo - Worlds Pack - Men's
Retail Price:
$148.95
Our Price: $59.58
buy now
De Marchi's Cotton Cycling Polo falls under its new Tradition line, which places an emphasis on blending technical materials with timeless styling and heritage-driven details. The polo was made with soft Pima cotton for a soft, natural feel against the skin. The fit is slim, but by no means...
De Marchi DS Merino Jersey - Long Sleeve - Men's
Retail Price:
$169.95
Our Price: $101.97
buy now
De Marchi refers to the Merino Jersey as the DS, claiming that "the 'Directeur Sportif used to wear this hybrid jersey." We hope that the DS doesn't wear this jersey anymore because he was fired for keeping it to himself while his team was stuck riding around in Lycra all the time. The Merino...
De Marchi France 1954 Jersey - Men's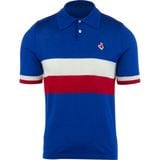 De Marchi's line of throwback jerseys pays homage to cycling's heroes and bygone days, when training plans were simpler and diets far more relaxed. Evoking pastoral scenes from the middle of last century, its France 1954 Jersey takes its inspiration from Anquetil, the first cyclist to win the...
<< Prev | Back | 11 | 12 | 13 | 14 | 15 | 16 | 17 | 18 | 19 | 20 | More | Next >>