Mens Road Bike Tops - Road Bike Shop
Shop
>
Men's Apparel Clothing
>
Men's Apparel Road Bike Clothing
>
Men's Apparel Road Bike Tops
De Marchi Classico Gilet Vest - Men's
Retail Price:
$229.95
Our Price: $114.97
buy now
When creating its Classico Gilet Men's Vest, De Marchi allowed the undeniable functionality of a basic wind vest to stand alone, free of adornments and extras. Eschewing reflective accents, pockets of any kind, and loud patterns, De Marchi employs the simple, classic aesthetics it does best to...
De Marchi Corsa Evo Jersey - Men's
Retail Price:
$139.95
Our Price: $90.97
buy now
De Marchi has long been known for classy Italian style and impeccable quality, and its Men's Corsa Evo Jersey continues that tradition with muted yet modern flair. Made from a soft multifilament fabric chosen for its airy composition and low weight, this jersey breathes more efficiently than most...
De Marchi Corsa WP Jacket - Men's
Retail Price:
$348.95
Our Price: $139.58
buy now
Biting wind and frigid temperatures can mean an afternoon spent in the basement, staring at the TV while you spin for hours on a trainer. But they don't have to. If you'd rather get outside, grab a base layer and zip De Marchi's Corsa WP Jacket on over it for three-layer protection from the worst...
De Marchi Cotton Cycling Polo - Worlds Pack - Men's
De Marchi's Cotton Cycling Polo falls under its new Tradition line, which places an emphasis on blending technical materials with timeless styling and heritage-driven details. The polo was made with soft Pima cotton for a soft, natural feel against the skin. The fit is slim, but by no means...
De Marchi Divisionism Jersey - Men's
Retail Price:
$99.95
Our Price: $39.98
buy now
De Marchi sure as hell knows how to craft a jersey that mixes classic Italian style with the kind of substantial construction that will see us through countless training rides. While we can't hope to ever look quite as urbane as Coppi in his mid-century heyday, sans helmet and sipping an espresso...
De Marchi France 1954 Jersey - Men's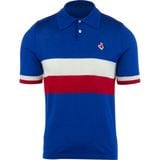 De Marchi's line of throwback jerseys pays homage to cycling's heroes and bygone days, when training plans were simpler and diets far more relaxed. Evoking pastoral scenes from the middle of last century, its France 1954 Jersey takes its inspiration from Anquetil, the first cyclist to win the...
De Marchi Heritage Polo T-Shirt - Men's
De Marchi's always about the details, so it's no surprise that the Heritage Men's Polo Shirt is a little different than most. It's woven from super-soft Pima cotton, with a slim fit and a buttonless neck that make it stand out in the standard-polo crowd. True to De Marchi's heritage, it also has...
De Marchi Herringbone Jersey - Men's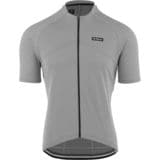 Retail Price:
$139.95
Our Price: $69.97
buy now
The De Marchi Men's Herringbone Jersey pairs an aesthetically pleasing, classic texture with technical fabrics to keep you looking and feeling cool. Constructed from light and stretchy nylon microfiber, this jersey whisks moisture away in a flash to keep you dry and comfortable through mid-summer...
De Marchi Ireland 1982 Jersey - Men's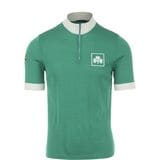 Retail Price:
$179.95
Our Price: $89.97
buy now
As part of its line of made-in-Italy vintage jerseys, De Marchi's Ireland 1982 Men's Jersey pays homage to King Kelly, Ireland's quiet but formidable classics specialist and grand tour champion. As unassuming as Kelly himself, the jersey is simple and understated with a 100% merino wool...
De Marchi Leggera Long Sleeve Cycling Jersey - Men's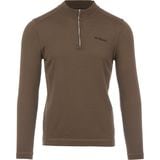 Retail Price:
$198.95
Our Price: $79.58
buy now
We always appreciate a brand with an eye for creating clean, simple apparel reminiscent of cycling's past. De Marchi, Italian-born and made, demonstrates this aesthetic beautifully. Eschewing bold patterns and flashy graphics, the brand instead pays homage to single stripes, classic colors, and...
<< Prev | Back | 11 | 12 | 13 | 14 | 15 | 16 | 17 | 18 | 19 | 20 | More | Next >>