Mens Road Bike Tops - Road Bike Shop
Shop
>
Men's Apparel Clothing
>
Men's Apparel Road Bike Clothing
>
Men's Apparel Road Bike Tops
Chpt. III 1.21 Short-Sleeve Jersey - Men's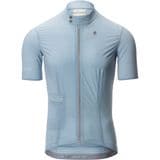 If one's experience with cycling is limited to race venues and World Tour livefeeds, it's easy to assume that cycling is just about bright colors and loud branding. However, digging a little deeper shows a growing trend towards clean, stylish kit that garners attention more for its construction...
Chpt. III 1.41 K61 Jacket - Men's
Rain jackets are traditionally unflattering affairs with a blousy cut and styling that definitely won't translate off the bike. The exception to that rule is the new Chpt. III Men's 1. 41 K61 Jacket, borne out of collaboration between Castelli's impeccable fabric construction and a former pro's...
Chpt. III 1.61 Rocka Jersey - Men's
We've made no attempt to hide our appreciation for Castelli's Gabba jersey (and now the Perfetto) over the years, as it set an entirely new standard for how inclement weather kit should perform. If we had one minute complaint, it would be that while the styling worked perfectly on race day, it...
Chpt. III 1.71 Body Warmer Vest - Men's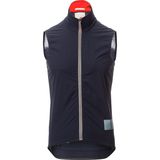 Produced by Castelli with the design input of David Millar, Chpt. III represents the next stage in the Scottish cyclist's iconic career. Staying true to the brand's focus on tasteful minimalism, the Chpt. III Men's 1. 71 Body Warmer Vest blocks nasty weather from slowing you down while exuding...
Chpt. III 1.82 Long Sleeve Wool Base Layer - Men's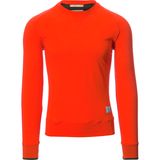 Chpt. III's Men's 1. 82 Long Sleeve Wool Base Layer, or LSWBL for short, takes classically casual and cozy sweatshirt styling and infuses it with a soft, warm, wool and nylon blend that will keep you comfortable as you sip a post-race hot cider and dive into a well-earned pastry treat. The...
Chrome Ike Windshirt - Men's
Retail Price:
$124.95
Our Price: $74.97
buy now
Fashion can be a fickle, ever-changing thing. One day, your patched-up, oil-stained denim jacket turns heads from the ladies, and the next day, it's eliciting laughter. That's why we're all seeing a resurgence in straightforward, no nonsense designs like the Chrome Ike Windshirt. From a better...
Club Ride Apparel Blaze Vest - Men's
While many of your colleagues call it quits on the commuting game as soon as they feel the hint of a morning chill in the air, you're eager to stay on the bike through the colder months. Navigating the bike lanes on those chilly morning often requires more insulation than a standard wind vest....
Club Ride Apparel Cross Wind Jacket - Men's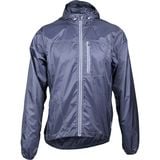 Retail Price:
$89.95
Our Price: $62.97
buy now
From the wind-swept ridgelines to rain-soaked coastal trails, the Club Ride Men's Cross Wind Jacket excels at protecting you from inclement weather and rainy conditions. This wind shell boasts Wind20 fabric that's both wind and water-resistant, shedding oncoming showers, trail debris, and brisk...
Club Ride Apparel Infinity Full-Zip Hoodie - Men's
Club Ride Apparel's Infinity Full-Zip Hoodie is a cross between trail-functional design and everyday urban style. The brushed polyester back assures that it can be worn comfortably against the skin without irritation, so it won't feel itchy as you're pouring sweat onto it during an extended...
Club Ride Apparel Jack Flannel Jersey - Long Sleeve - Men's
Retail Price:
$89.95
Our Price: $62.12
buy now
The only time that we might concede the inappropriateness of flannel is at weddings. More specifically, at our own weddings. As in, we're the bride or groom, and even then we're likely to at least sport a flannel pocket square or garter. Any other time, flannel is fair game -- even on the bike....
<< Prev | Back | 11 | 12 | 13 | 14 | 15 | 16 | 17 | 18 | 19 | 20 | More | Next >>