Mens Road Bike Tops - Road Bike Shop
Shop
>
Men's Apparel Clothing
>
Men's Apparel Road Bike Clothing
>
Men's Apparel Road Bike Tops
Castelli Perfetto Vest - Men's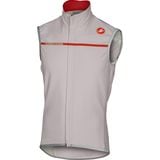 The original Fawesome vest--which is basically a Gabba without sleeves and pockets--only has one identifiable flaw: the name is... questionable, at best. That's just one of the areas where Castelli found room for improvement with the Perfetto Men's Vest, and anyone who's spent time in the...
Castelli Potenza Jersey - Men's
Retail Price:
$199.95
Our Price: $119.97
buy now
Over the past several years, Castelli hasn't been shy about making extraordinary claims for its foul-weather kit. That's because the brand behind the iconic red scorpion logo has been making foul-weather kit extraordinary enough to live up to those claims. With the Potenza Men's Jersey, Castelli...
Castelli Prologo V Jersey - Men's
When you're racing home from work to squeeze in as many miles on the roads as you can before sunset, reach for the Castelli Prologo V Jersey then get out the door and onto your bike. As you pedal away the day's stress, the Prologo V's double-layer fabric will draw moisture away from your skin...
Castelli Puro 2 Jersey - Men's
Retail Price:
$99.95
Our Price: $69.96
buy now
Winter riding kit choices get a bit more complicated than the usual summer routine of finding the closest clean bibs and jersey to head out the door, but Castelli looks to simplify the process with its Men's Puro 2 Men's Jersey. With thermal fabrics and reflective detailing, this jersey is a...
Castelli Race Day Polo Shirt - Men's
With Castelli's Race Day Polo Shirt, you'll look the part for your pre-race press conference, or, if that's not part of the agenda, any other occasion where you need to class it up a bit. It was designed for Team Garmin riders, as Castelli knows these guys need a refreshing break from their team...
Castelli Race Day T-Shirt - Men's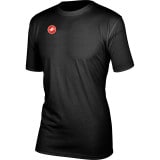 Retail Price:
$24.95
Our Price: $11.23
buy now
When you're hanging out in the pits, hosting a Tour watch party, or pulling your bike apart to make sure everything's running like a dream, wearing your Lycra kit isn't really on. You can still rock your Castelli pride, though, with the Race Day Men's T-Shirt. Made of cotton and polyester, it's...
Castelli Race Day Track Jacket - Men's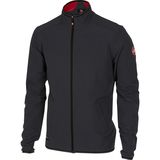 If you need a lesson on podium attire, look no further than the Spring Classics. Even with courses that you leave you dirty, grimy, and sweaty, you'll never see a filthy team kit climbing the podium. Instead, you'll see clean, timeless pieces, like the Castelli Race Day Jacket, adorning those who...
Castelli Raddoppia Jacket - Men's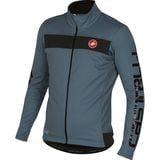 Retail Price:
$239.95
Our Price: $143.97
buy now
There are few things the truly embody the joy of riding a bicycle more than rolling through beautiful farmland as giant snowflakes float through the bright, crisp air around you. Take in the views in the warm comfort of your Castelli Men's Raddoppia Jacket, listen to the light crunch of fresh...
Castelli Raddoppia Jersey - Men's
Retail Price:
$119.95
Our Price: $65.97
buy now
When your livelihood depends on riding a bike as fast as you can, you tend to become pretty discerning about your work attire. Fortunately, Castelli thinks mere mortals training in a range of conditions deserve the same attention to detail as the pros do, which is why it uses the same fabrics and...
Castelli Riparo Rain Jacket - Men's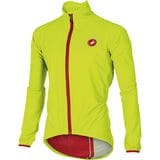 Looming clouds and threatening rainstorms are no match for the Castelli Men's Riparo Rain Jacket. This little jacket packs a big punch to combat the weather, with a mix of waterproof materials and packability that will have you out braving the elements and your friends wondering when you became...
<< Prev | Back | 11 | 12 | 13 | 14 | 15 | 16 | 17 | 18 | 19 | 20 | More | Next >>