Mens Road Bike Tops - Road Bike Shop
Shop
>
Men's Apparel Clothing
>
Men's Apparel Road Bike Clothing
>
Men's Apparel Road Bike Tops
Castelli Meccanico Puffy Jacket - Men's
Whether you're racing, spectating, or running support in the pit, the thought of setting out for 'cross in the morning during an early winter cold snap can be demoralizing at best. Castelli agrees, and the Meccanico Puffy Jacket is built to help a Mediterranean temperament deal with conditions...
Castelli Meccanico Rain Shell - Men's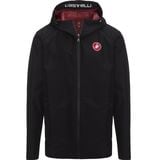 Working in the pits can be a thankless job, especially when it's rainy, but that's why Castelli is introducing the Meccanico Rain Shell. Designed to be worn when you're wrenching, not when you're in the saddle, the Meccanico is Castelli's bad-weather workhorse, with heavy-duty fabric and a...
Castelli Misto Jacket - Men's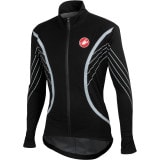 Retail Price:
$139.95
Our Price: $62.96
buy now
Warm days that seep through otherwise cool Octobers always seem to have a chance of rain in the forecast. The Castelli Misto Jacket is a pocket-sized waterproof jacket that will keep you dry without weighing you down. Castelli combines performance and fit in every jacket it designs, and even...
Castelli Mortirolo 3 Jacket - Men's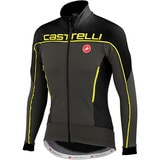 Retail Price:
$199.95
Our Price: $81.98
buy now
Not every cyclist enjoys the hardships of winter cycling, preferring instead to end the outdoor riding when the temperatures get within 10 degrees Fahrenheit of freezing. Castelli understands the reasoning behind that decision, as evidenced by the Mortirolo 3 Jacket. The Mortirolo 3 is similar in...
Castelli Mortirolo Reflex Jacket - Men's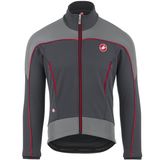 Retail Price:
$199.95
Our Price: $99.97
buy now
Castelli's Mortirolo Jacket is a go-to winter jacket for cyclists of all disciplines, and the Mortirolo Reflex continues the tradition with the addition of reflective paneling for an updated twist on Castelli's classic style. The big update for this jacket is perforated reflective fabric across...
Castelli Perfetto Light Jersey - Short Sleeve - Men's
Before Castelli released the new men's Perfetto Light Jersey, shoulder seasons were just crap shoots. Sometimes the riding would be miserable, wet, and windy, and sometimes we would set out under overcast skies only to be betrayed by the forecast and find ourselves grossly overdressed, jersey...
Castelli Pocket Liner Jacket - Men's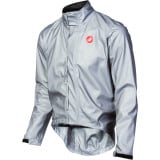 Retail Price:
$399.95
Our Price: $199.97
buy now
There's a reason pro cyclists wear the Castelli Pocket Liner Men's Jacket. Sure, most of that reason is because they're sponsored by Castelli, but they wouldn't be using the gear if it wasn't high quality. The Pocket Liner is one of the best cycling-specific rain jackets we've seen, with a design...
Castelli Prologo 4 Full-Zip Jersey - Long Sleeve - Men's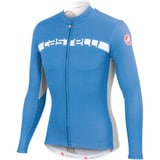 When there is still a chill in the early morning air, you want a jersey that keeps you warm without letting you overheat as the sun rises. Castelli's Prologo 4 Men's Full-Zip Long Sleeve Jersey has the ideal fit and fabric for riding comfort. The Prologo 4 is sewn from Castelli's Prosecco 3D...
Castelli Prologo 4 Full-Zip Jersey - Short Sleeve - Men's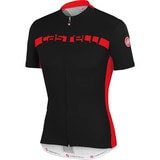 The Prologo 4 Full-Zip Jersey combines Castelli's classic designs with technical innovation to create a breathable, quick-drying jersey with a fit that will leave you inspired to ride. For the Prologo 4, Castelli used its new anti-moisture Stratus fabric, featuring a 100% polyester inner layer...
Castelli Puro Jersey - Long-Sleeve - Men's
Retail Price:
$119.95
Our Price: $59.98
buy now
For many of us at Competitive's headquarters in Northern Utah, the range of temperatures where a thermal jersey like Castelli's long-sleeve Puro Jersey for men determines when we hang the bike up for winter cross-training and take it back down for early spring intervals. Castelli recommends it...
<< Prev | Back | 11 | 12 | 13 | 14 | 15 | 16 | 17 | 18 | 19 | 20 | More | Next >>