Mens Road Bike Tops - Road Bike Shop
Shop
>
Men's Apparel Clothing
>
Men's Apparel Road Bike Clothing
>
Men's Apparel Road Bike Tops
Castelli Meccanico Puffy Jacket - Men's
Whether you're racing, spectating, or running support in the pit, the thought of setting out for 'cross in the morning during an early winter cold snap can be demoralizing at best. Castelli agrees, and the Meccanico Puffy Jacket is built to help a Mediterranean temperament deal with conditions...
Castelli Meccanico Rain Shell - Men's
Working in the pits can be a thankless job, especially when it's rainy, but that's why Castelli is introducing the Meccanico Rain Shell. Designed to be worn when you're wrenching, not when you're in the saddle, the Meccanico is Castelli's bad-weather workhorse, with heavy-duty fabric and a...
Castelli Mortirolo 4 Jacket - Men's
Dry winter days are often the ones that make us feel the guiltiest for not being out on our bikes; clear skies, bare roads, and sun bring far fewer challenges than messy, wet days do. If you're thinking about training through the winter (whether for a spring goal race or because you're tired of...
Castelli Perfetto Convertibile Jacket - Men's
Retail Price:
$229.95
Our Price: $131.99
buy now
When it comes to the original Gabba, it's so effective as the king of weather-resistant race jerseys that the only conundrum we had in purchasing one was whether to pick up a long- or short-sleeve model. The convertible option eliminated that dilemma, and the Men's Perfetto Convertible Jacket...
Castelli Perfetto Jersey Men's
Retail Price:
$199.95
Our Price: $139.96
buy now
When the Gabba first launched in 2013, it basically took over the cycling world. By now, you're likely familiar with its clandestine appearances throughout the peloton, so we'll skip the anecdotal praise and get to the matter at hand: Castelli's replacing it. The new, Men's Perfetto Jersey spells...
Castelli Perfetto Light Jersey - Short Sleeve - Men's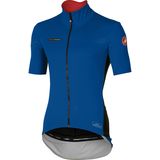 Retail Price:
$159.95
Our Price: $99.95
buy now
When you commit to shoulder season riding, you know that just about anything can happen when you're out. You also know that riding with a backpack stuffed full of every kind of layer you could need is entirely impractical. Don't panic. Castelli's Perfetto Light Jersey answers prayers the world...
Castelli Perfetto Light Short-Sleeve Jersey - Men's
Before Castelli released the new men's Perfetto Light Jersey, shoulder seasons were just crap shoots. Sometimes the riding would be cold, wet, and windy, and sometimes we would set out under overcast skies only to be betrayed by the forecast and find ourselves grossly overdressed, jersey pockets...
Castelli Perfetto Vest - Men's
The original Fawesome vest--which is basically a Gabba without sleeves and pockets--only has one identifiable flaw: the name is... questionable, at best. That's just one of the areas where Castelli found room for improvement with the Perfetto Men's Vest, and anyone who's spent time in the...
Castelli Potenza Jersey - Men's
Over the past several years, Castelli hasn't been shy about making extraordinary claims for its foul-weather kit. That's because the brand behind the iconic red scorpion logo has been making foul-weather kit extraordinary enough to live up to those claims. With the Potenza Men's Jersey, Castelli...
Castelli Prologo V Jersey - Men's
When you're racing home from work to squeeze in as many miles on the roads as you can before sunset, reach for the Castelli Prologo V Jersey then get out the door and onto your bike. As you pedal away the day's stress, the Prologo V's double-layer fabric will draw moisture away from your skin...
<< Prev | Back | 11 | 12 | 13 | 14 | 15 | 16 | 17 | 18 | 19 | 20 | More | Next >>