Mens Road Bike Tops - Road Bike Shop
Shop
>
Men's Apparel Clothing
>
Men's Apparel Road Bike Clothing
>
Men's Apparel Road Bike Tops
Castelli Perfetto Vest - Men's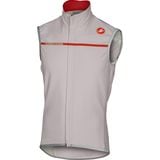 The original Fawesome vest--which is basically a Gabba without sleeves and pockets--only has one identifiable flaw: the name is... questionable, at best. That's just one of the areas where Castelli found room for improvement with the Perfetto Men's Vest, and anyone who's spent time in the...
Castelli Pocket Liner Jacket - Men's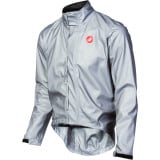 Retail Price:
$399.95
Our Price: $199.97
buy now
There's a reason pro cyclists wear the Castelli Pocket Liner Men's Jacket. Sure, most of that reason is because they're sponsored by Castelli, but they wouldn't be using the gear if it wasn't high quality. The Pocket Liner is one of the best cycling-specific rain jackets we've seen, with a design...
Castelli Prologo 4 Full-Zip Jersey - Long Sleeve - Men's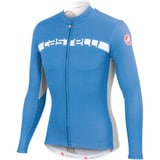 When there is still a chill in the early morning air, you want a jersey that keeps you warm without letting you overheat as the sun rises. Castelli's Prologo 4 Men's Full-Zip Long Sleeve Jersey has the ideal fit and fabric for riding comfort. The Prologo 4 is sewn from Castelli's Prosecco 3D...
Castelli Prologo 4 Full-Zip Jersey - Short Sleeve - Men's
Retail Price:
$89.95
Our Price: $62.96
buy now
The Prologo 4 Full-Zip Jersey combines Castelli's classic designs with technical innovation to create a breathable, quick-drying jersey with a fit that will leave you inspired to ride. For the Prologo 4, Castelli used its new anti-moisture Stratus fabric, featuring a 100% polyester inner layer...
Castelli Puro Jersey - Long-Sleeve - Men's
For many of us at Competitive's headquarters in Northern Utah, the range of temperatures where a thermal jersey like Castelli's long-sleeve Puro Jersey for men determines when we hang the bike up for winter cross-training and take it back down for early spring intervals. Castelli recommends it...
Castelli Race Day Polo Shirt - Men's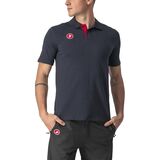 With Castelli's Race Day Polo Shirt, you'll look the part for your pre-race press conference, or, if that's not part of the agenda, any other occasion where you need to class it up a bit. It was designed for Team Garmin riders, as Castelli knows these guys need a refreshing break from their team...
Castelli Race Day Pullover Hoodie - Men's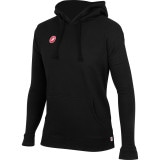 We cyclists are a finicky bunch, and that means even when we're not on our bikes, we want our clothing to fit just right. This goes for jackets and outerwear too, as a fitted pullover with just the right amount of stretch, made with an integrated hood, stands in as one of the most versatile...
Castelli Razzle Jersey - Men's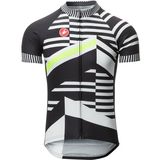 Giving a respectful nod to the maritime camouflage known as dazzle or razzle dazzle that reached its peak in popularity during the World Wars, we teamed up with Castelli to create the Razzle Men's Jersey. Adorned with the cubist stripes that were once used to distort the depth and exact location...
Castelli Riparo Rain Jacket - Men's
Looming clouds and threatening rainstorms are no match for the Castelli Men's Riparo Rain Jacket. This little jacket packs a big punch to combat the weather, with a mix of waterproof materials and packability that will have you out braving the elements and your friends wondering when you became...
Castelli Rodeo Jersey - Men's
It's no secret that Castelli sticks to a classic color palette for most of its kit, but the brand isn't afraid of mixing it up from time to time. If you're having trouble remembering which jersey you wore when because most of yours look the same, mix things up in the colors of the diverse...
<< Prev | Back | 11 | 12 | 13 | 14 | 15 | 16 | 17 | 18 | 19 | 20 | More | Next >>