Mens Road Bike Tops - Road Bike Shop
Shop
>
Men's Apparel Clothing
>
Men's Apparel Road Bike Clothing
>
Men's Apparel Road Bike Tops
Castelli Elemento 2 7x(AIR) Jacket - Men's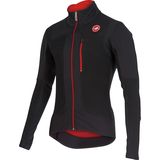 Retail Price:
$399.95
Our Price: $299.96
buy now
In warm weather, you can throw on any old jersey and hit the road, confident that you'll stay warm and happy. Winter makes things a little tricker. You want to be warm, but not sweat, because sweat will quickly turn to ice, and you want to layer up, but you don't want to look and feel like a...
Castelli Entrata 2 Full-Zip Jersey - Men's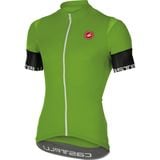 Retail Price:
$79.95
Our Price: $47.97
buy now
Trying to find a jersey worthy of being an everyday, all-around piece of training kit is usually a lot tougher than it sounds. Sorting through a mix of aero race jerseys and relaxed-fit entry level jerseys won't give you what you're looking for, which is why Castelli's introduction of the Entrata...
Castelli Entrata 2 Jersey - Sleeveless - Men's
Retail Price:
$74.95
Our Price: $44.97
buy now
Make sure you have Castelli's Entrata 2 Jersey to grab on the days that manage to be stiflingly hot before the sun is up so you can avoid being the guy dripping and falling off the back on your group ride. Designed to take away your excuses for not riding in the heat, the Entrata's airy,...
Castelli Espresso 4 Jacket - Men's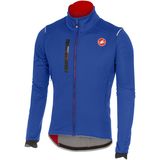 Retail Price:
$299.95
Our Price: $224.96
buy now
During the halcyon days of fall riding, it's easy to forget the winter weather that's to come. We naively pedal under crisp blue skies and through tunnels of orange, yellow, and red, but winter always arrives, thwarting our autumnal bliss with heavy grey clouds and temperatures that dip far too...
Castelli Free AR 4.1 Jersey - Men's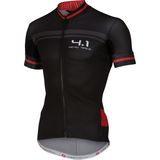 Retail Price:
$159.95
Our Price: $79.97
buy now
Putting on the Castelli Free AR 4. 1 Men's Jersey won't be enough to win you a spot on the podium of your next race all by itself, but it might help, depending on how hard your legs want to work. Formerly a pared-down racing jersey, the Free AR 4. 1 retains its competition pedigree with a few...
Castelli Gabba 2 Jersey - Short-Sleeve - Men's
Retail Price:
$179.95
Our Price: $107.99
buy now
Trying to choose between a heavy jacket and your standard cool weather jersey-and-warmers combo gets old fast, especially after you've chosen incorrectly a few times and wound up with stiff, frozen arms or spent an entire ride soggy and overprepared. Rather than trust your own weather assessments...
Castelli Hanukkah Sweater Jersey - Long-Sleeve - Men's
With the holiday season getting near, we were inspired to collaborate with Castelli to create a line of impeccably fitting long-sleeve cycling jerseys that would help us show our holiday spirit while out on the bike. The Hanukkah Sweater Jersey was made to pay homage the Festival of Lights, and...
Castelli Holiday 2016 Sweater Jersey - Men's
It's not a stretch to say we're big on the holiday festivity game, and it's a sad situation that we have to set our December sweaters aside to kit up in monochrome cycling fare to embark on the activity we love. This year, extend the cheer on any ride with the Castelli Men's Holiday 2016 Sweater...
Castelli Holiday Sweater Jersey - Long-Sleeve - Men's
We decided to collaborate with the fit experts at Castelli to create a long-sleeve jersey that celebrates the holiday season. Featuring a collection of our favorite reminders of the most wonderful time of the year -- reindeer, poinsettia, a Christmas tree -- in the style of a vintage (some might...
Castelli Idro Jacket - Men's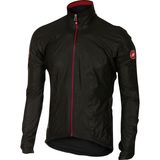 Over the past five years, Castelli has made a name for itself by continuously redefining what we expect from race-worthy, breathable weather protection. The Gabba, the Tempesta, the Perfetto--these names have come to define the genre. The Idro Men's Jacket is this heritage's latest addition; it's...
<< Prev | Back | 11 | 12 | 13 | 14 | 15 | 16 | 17 | 18 | 19 | 20 | More | Next >>