Mens Road Bike Tops - Road Bike Shop
Shop
>
Men's Apparel Clothing
>
Men's Apparel Road Bike Clothing
>
Men's Apparel Road Bike Tops
Castelli Holiday Sweater Jersey - Long-Sleeve - Men's
We decided to collaborate with the fit experts at Castelli to create a long-sleeve jersey that celebrates the holiday season. Featuring a collection of our favorite reminders of the most wonderful time of the year -- reindeer, poinsettia, a Christmas tree -- in the style of a vintage (some might...
Castelli Holy Week Jersey - Men's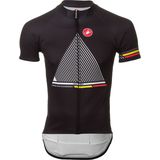 Retail Price:
$129.95
Our Price: $77.97
buy now
Given that we collaborated with the Italian manufacturer Castelli to design the Holy Week Jersey as a tribute to the hellish passages of Northern cobbles spanning the first two Sundays in April, it's only appropriate to open by borrowing from Dante: Abandon all hope, ye who enter here. Flanders...
Castelli Knight Commander Jersey - Men's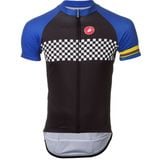 Retail Price:
$129.95
Our Price: $84.47
buy now
Ever since he first tasted gold over a decade ago, we've followed the development of Sir Bradley's career with the same scrupulous intensity that British tabloids pay to the royal family. The Knight Commander Jersey, designed with the material expertise of Castelli, represents Competitive's...
Castelli Meccanico Puffy Jacket - Men's
Whether you're racing, spectating, or running support in the pit, the thought of setting out for 'cross in the morning during an early winter cold snap can be demoralizing at best. Castelli agrees, and the Meccanico Puffy Jacket is built to help a Mediterranean temperament deal with conditions...
Castelli Meccanico Rain Shell - Men's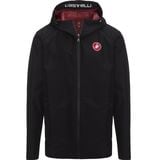 Working in the pits can be a thankless job, especially when it's rainy, but that's why Castelli is introducing the Meccanico Rain Shell. Designed to be worn when you're wrenching, not when you're in the saddle, the Meccanico is Castelli's bad-weather workhorse, with heavy-duty fabric and a...
Castelli Meccanico Top - Long-Sleeve - Men's
Retail Price:
$49.95
Our Price: $34.96
buy now
You just finished the first 'cross race of the year, and now you can't wait to get out of your muddy, soaked kit for the celebration. Keep your stained alma mater t-shirt in your bag where it belongs and change into Castelli's long-sleeve Meccanico Top to be comfortable without looking like a...
Castelli Mortirolo 3 Jacket - Men's
Retail Price:
$199.95
Our Price: $79.98
buy now
Not every cyclist enjoys the hardships of winter cycling, preferring instead to end the outdoor riding when the temperatures get within 10 degrees Fahrenheit of freezing. Castelli understands the reasoning behind that decision, as evidenced by the Mortirolo 3 Jacket. The Mortirolo 3 is similar in...
Castelli Mortirolo Reflex Jacket - Men's
Retail Price:
$199.95
Our Price: $139.96
buy now
Castelli's Mortirolo Jacket is a go-to winter jacket for cyclists of all disciplines, and the Mortirolo Reflex continues the tradition with the addition of reflective paneling for an updated twist on Castelli's classic style. The big update for this jacket is perforated reflective fabric across...
Castelli Perfetto Light Jersey - Short Sleeve - Men's
Before Castelli released the new men's Perfetto Light Jersey, shoulder seasons were just crap shoots. Sometimes the riding would be miserable, wet, and windy, and sometimes we would set out under overcast skies only to be betrayed by the forecast and find ourselves grossly overdressed, jersey...
Castelli Pocket Liner Jacket - Men's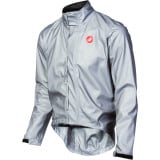 Retail Price:
$399.95
Our Price: $239.97
buy now
There's a reason pro cyclists wear the Castelli Pocket Liner Men's Jacket. Sure, most of that reason is because they're sponsored by Castelli, but they wouldn't be using the gear if it wasn't high quality. The Pocket Liner is one of the best cycling-specific rain jackets we've seen, with a design...
<< Prev | Back | 11 | 12 | 13 | 14 | 15 | 16 | 17 | 18 | 19 | 20 | More | Next >>