Mens Road Bike Tops - Road Bike Shop
Shop
>
Men's Apparel Clothing
>
Men's Apparel Road Bike Clothing
>
Men's Apparel Road Bike Tops
Castelli Advantage T-Shirt - Short Sleeve - Men's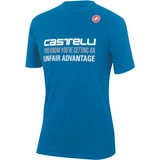 Even the most dedicated cyclist will find himself off the bike from time to time. For these rare occasions, Castelli has created the Advantage Short-Sleeve T-Shirt. Made from a 60/40 cotton and polyester blend, the Advantage T-Shirt features contrasting neck tape and screen-printed logos. Since...
Castelli Aero Race 5.1 Full Zip Jersey - Men's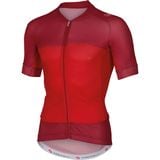 Retail Price:
$179.95
Our Price: $125.96
buy now
Shedding grams and saving watts is tricky business, especially when you're wading through hyperbolic claims and constantly-changing technologies to choose kit that will actually make a difference. Before your summer race calendar gets going, upgrade your race kit with Castelli's Aero Race 5. 1...
Castelli Aggressor Short-Sleeve Jersey 3.0 - Men's
Retail Price:
$129.00
Our Price: $83.85
buy now
While it may not hold the glory of yellow or the glamour of green, the pursuit of the most combative rider award certainly contributes to the overall spirit of the Tour in a way that shouldn't be overlooked. Big attacks, breakaways that are hopeless from the start, and neck-and-neck contests from...
Castelli Alpha Jacket - Men's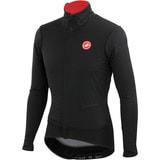 Retail Price:
$349.95
Our Price: $157.48
buy now
As we prepare for another season of cold-weather cycling, it behooves us to pause for a consideration of winter climbing. Climbing makes you hot, so your body produces sweat. But then you hit the top, and the fast descent through cold air cools everything off -- including the sweat. Since this...
Castelli Alpha Wind Jersey - Long-Sleeve - Men's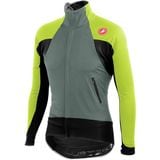 After being inspired by its warm, adaptable Alpha jacket, Castelli set out to create an even more minimal layer for winter riding that protected like a jacket and fit like a jersey. Sure, the jacket fits impeccably and protects against winter's harshest conditions without feeling like a...
Castelli Climber's 2.0 Full-Zip Jersey - Men's
Retail Price:
$129.95
Our Price: $90.96
buy now
Jumping on the bike knowing you've got a full day of huge vertical gains ahead of you takes a special kind of motivation, and if you've got it -- kudos. But even if you're all sorts of jazzed up to earn a few new PR's in your local hill climb or training ride, a little extra encouragement to get...
Castelli Cross Prerace Jacket - Men's
The start of 'cross season signals the arrival of crisp, chilly mornings and warm afternoons with plenty of colorful foliage in between -- if you ask us, perfect racing weather. It's also the time of year when your pre-race warm-up takes on a more literal meaning, and getting your engine up to...
Castelli Elemento 2 7x(AIR) Jacket - Men's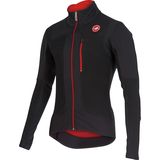 Retail Price:
$399.95
Our Price: $219.97
buy now
In warm weather, you can throw on any old jersey and hit the road, confident that you'll stay warm and happy. Winter makes things a little tricker. You want to be warm, but not sweat, because sweat will quickly turn to ice, and you want to layer up, but you don't want to look and feel like a...
Castelli Entrata 2 Full-Zip Jersey - Short Sleeve - Men's
Retail Price:
$79.95
Our Price: $55.96
buy now
Trying to find a jersey worthy of being an everyday, all-around piece of training kit is usually a lot tougher than it sounds. Sorting through a mix of aero race jerseys and relaxed-fit entry level jerseys won't give you what you're looking for, which is why Castelli's introduction of the Entrata...
Castelli Entrata 2 Jersey - Sleeveless - Men's
Retail Price:
$74.95
Our Price: $52.46
buy now
Make sure you have Castelli's Entrata 2 Jersey to grab on the days that manage to be stiflingly hot before the sun is up so you can avoid being the guy dripping and falling off the back on your group ride. Designed to take away your excuses for not riding in the heat, the Entrata's airy,...
<< Prev | Back | 11 | 12 | 13 | 14 | 15 | 16 | 17 | 18 | 19 | 20 | More | Next >>