Mens Road Bike Bottoms - Road Bike Shop
Shop
>
Men's Apparel Clothing
>
Men's Apparel Road Bike Clothing
>
Men's Apparel Road Bike Bottoms
2XU Compression Cycle Bib Short - Men's
Tri training asks a lot of your muscles, so the next time you head out on an all-day weekend ride to build stamina for your next long race, we'd grab the 2XU Compression Cycle Bib Short. Constructed with 2XU's 105-denier Lycra and featuring graduated compression, the short helps stabilize your...
2XU Compression Tights - Men's
The 2XU Compression Tights are identical in every regard to their higher-dollar Elite Compression Tights with only one difference: The Elite version is made with 70 Denier fabric at the calves and hamstrings, and 50 Denier everywhere else. In comparison, the standard Compression Tights use 50...
2XU Elite MCS Compression Short - Men's
2XU has been designing compression clothing for athletes since before there was compression clothing for athletes. It hasn't rested on its laurels, though. 2XU constantly pushes the science of compression forward to increase athlete performance and reduce injuries caused by high-impact workouts....
2XU Elite MCS Compression Tights - Men's
2XU is one of the true pioneers of compression clothing for athletes. Its newest athletic tight, the Elite MCS Compression, takes compression to the next level with its revolutionary Muscle Containment Stamping system, which targets specific, high-risk areas of your legs and protects them while...
2XU Elite MCS Thermal Compression Tights - Men's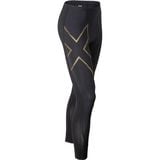 Featuring 2XU's next-generation Muscle Containment Stamping (MCS) for targeted compression over key muscle, tendon, and fascia groups, the 2XU Men's Elite MCS Thermal Compression Tights provide high levels of power and support for blistering fast rides and long-distance efforts. MCS provides...
2XU Hyoptik Compression Tights - Men's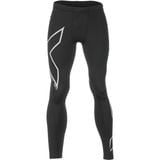 Powerful compression and stand-out style coalesce within the 2XU Hyoptik Compression Tights. Engineered with graduated compression for enhanced bloodflow, these full-length tights protect key leg muscles from soreness and fatigue resulting from high-endurance workouts. PWX Flex fabric...
2XU Recovery Compression Tights - Men's
Don't let one long ride obliterate your leg muscles. Slip on the 2XU Recovery Compression Tight, ride longer, and recovery faster thanks to the compression fabric's ability to enhance your blood flow. More blood to your muscles means more oxygen and less lactic acid buildup. This leads to better...
2XU XTRM MCS Compression Short - Men's
You've done the work all winter and maintained impressive base mile fitness, but with your goal race a few months away, you're moving towards strength and speed training to get faster. Anytime you intensify your training, you risk injury and fatigue, so having gear like 2XU's XTRM MCS Compression...
7mesh Industries MK 1 Half Shorts - Men's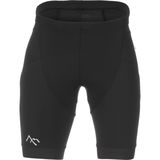 Given the lush foliage and ominous, misty woods of 7mesh Industries' marketing materials, you'd be forgiven for assuming that it's primarily a mountain bike clothing manufacturer. While much of 7mesh's small line of introductory offerings does lean toward the damp trails of early spring, the MK1...
7mesh Industries MK1 Bib Shorts - Men's
When designing the MK1 Bib Shorts, 7mesh Industries must have started from the ground up. While the upstart manufacturer doesn't specifically claim this, the details that inform the shorts' construction indicate that it didn't blindly adhere to any industry truisms. From fabric to fit and even...
<< Prev | Back | 1 | 2 | 3 | 4 | 5 | 6 | 7 | 8 | 9 | 10 | More | Next >>