Mens Road Bike Bottoms - Road Bike Shop
Shop
>
Men's Apparel Clothing
>
Men's Apparel Road Bike Clothing
>
Men's Apparel Road Bike Bottoms
2XU 3/4 Thermal Compression Tights - Men's - Men's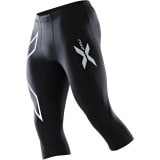 Retail Price:
$119.95
Our Price: $47.98
buy now
We know that your legs are the last holdout. Sure, you'll give in and cover up your arms and core with layers, but you want your legs to remain as free as possible until it's absolutely necessary to cover them up. We feel the same way, which is why we look for 2XU's 3/4 Thermal Compression Tights...
2XU Compression Tights - Men's
The 2XU Compression Tights are identical in every regard to their higher-dollar Elite Compression Tights with only one difference: The Elite version is made with 70 Denier fabric at the calves and hamstrings, and 50 Denier everywhere else. In comparison, the standard Compression Tights use 50...
2XU Elite Compression Tights - Men's
2XU is the bike industry leader in compression wear, thanks both to their R&D and their close association with the Cervelo Test Team and Team Garmin-Transitions. Of the dozens of pieces they produce, the Elite Compression Tights is the crown jewel of their entire line. What makes them stand apart...
2XU Elite Compression Tights - Men's
2XU takes its market-leading compression tight to the next level with the Elite Compression Tight, which offers even greater training and recovery benefits. 2XU has carefully designed this tight to provide graduated compression up the leg, which encourages optimal blood flow to the heart, reduces...
2XU ReCovery Compression Tights - Men's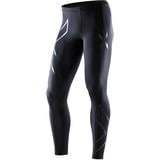 Don't let one long ride obliterate your leg muscles. Slip on the 2XU Recovery Compression Tight, ride longer, and recovery faster thanks to the compression fabric's ability to enhance your blood flow. More blood to your muscles means more oxygen and less lactic acid buildup. This leads to better...
2XU Sublimated Men's Bib Shorts - Men's
Retail Price:
$179.95
Our Price: $89.98
buy now
If you're like us, you have a mental checklist that you go through when viewing bib shorts. At the top of our list, and probably yours, is comfort. However, we understand that 'comfort' is a subjective term that takes shape in many forms. Not surprisingly, 2XU takes the same view. And with its...
2XU Thermal Cycle Bib Knickers - Men's
Retail Price:
$174.95
Our Price: $87.48
buy now
Keeping you warm and protected from the elements was 2XU's main objective when it decided to create the Thermal Cycle Bib Knickers. The new design blends smooth, insulating fabrics with a supportive chamois in order to keep you comfortable while spinning away out on the open roads this fall and...
2XU Thermal Sub Zero Bib Tights - Men's
Retail Price:
$199.95
Our Price: $99.98
buy now
If you aren't one to let seasonal changes throw off your training regimen, the 2XU Sub Zero Bib Tights will provide the warmth and protection against the elements that you need to brave the cold while also maintaining race shape in the off-season. Though the 14-degree temperature rating of these...
Arc'teryx A2B Commuter Pant - Men's - Men's
If you'd rather get beaten around the face with a U-lock than sit in your car in traffic on the way to work, the Arc'teryx A2B Men's Commuter Pant has your back. Designed with bike commuters in mind, it's made of a stretch twill fabric that looks like denim but performs like magic, courtesy of a...
Assos Competitive Cyclist T FI.Uno Bib Shorts - Men's
Retail Price:
$219.99
Our Price: $154.00
buy now
Referring to its T FI. Uno Bib Shorts as 'all-around racing and training shorts,' Assos perfectly describes what this technical pair of bibs were designed for. The cut and fabrics used to construct the shorts provide the ultimate blend of comfort and day-long riding support, making them the...
<< Prev | Back | 1 | 2 | 3 | 4 | 5 | 6 | 7 | 8 | 9 | 10 | More | Next >>