Mens Road Bike Bottoms - Road Bike Shop
Shop
>
Men's Apparel Clothing
>
Men's Apparel Road Bike Clothing
>
Men's Apparel Road Bike Bottoms
Castelli Evoluzione 2 Short - Men's
In Castelli's world, entry level kit means something a bit different than what you might've been conditioned to think. Instead of ill-fitting garments made with low-end materials and few comfort-enhancing extras, kit like the Castelli Evoluzione 2 Short gives new riders a warm introduction to the...
Castelli Free Aero Race Bib Short - Men's
Castelli's Free Aero Race Bib Shorts hide their assets in their name. Namely, free speed, aerodynamics, and race-oriented. The Free Aeros utilize a variety of surface textures, fabrics, and time in the wind tunnel to deliver a claimed 10-watt savings at 50kph. This may not seem like much, but...
Castelli Free Aero Race Kit Version Bib Short - Men's
Castelli once again complements its Free Aero jerseys with a pair of matching bib shorts displaying the classic, clean aesthetics that have long defined the brand. Devoid of clashing sponsor logos and bright graphics, the Free Aero Race Kit Version Bib Shorts feature the full range of Castelli's...
Castelli Free Aero Race Team Bib Shorts - Men's
While they already fit like a second skin, the Free Aero Shorts go a step further and incorporate dimpled fabric at the outer panels to move air much like the surface texture of a golf ball. The seat and front panels are constructed from a breathable fabric so you won't overheat. Both fabrics are...
Castelli Libero Shorts - Men's
With a casual style and tech-driven fabric, the Libero Shorts by Castelli were originally designed for the Garmin-Barracuda riders. They're what the guys pull on over their bibs before and after race stages -- perfect for diving in and out of hotels and team buses, giving interviews, and...
Castelli LW Bib Tight - Men's
Winters have slowly but surely been on their way to becoming unseasonably warm. In a matter of years, some of our favorite burly winter layers have become obsolete when Old Man Winter just isn't dealing the same big blizzardy blows to us that he used to. Castelli brings to the table the new LW...
Castelli Meno 2 Bib Tight - Men's
Castelli's original Meno Bib Tights were a highly functional exercise in simplicity for cold-weather protection. The latest iteration, the Meno 2 Men's Bib Tights, retain that dedication to impeccably simple design with four-panel construction and fabrics that keep you warm without any excess...
Castelli Meno 2 Wind Bib Tights - Men's
The Meno 2 Wind Men's Bib Tights push the simple effectiveness of the standard Meno 2 tights to the logical extreme. The Meno 2 Wind model incorporates AirFlex Thermo panels in the front in order to extend the tights' range into the depths of winter. AirFlex Thermo is a windproof, so it sheathes...
Castelli Nano Flex 2 Bib Knickers - Men's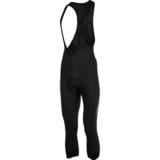 Ill-fitting knickers are the bane of road cyclists' existence, particularly those who train in cold-weather locales. If you can't recall a pair of knickers you've owned that you've actually liked, know that you can toss your ill-fitting old knickers and trade them for something made to fit well....
Castelli Nano Flex Pro Bib Tights - Men's
Rumor has it Castelli is working on a portable pedal-powered force field that will protect you from rain and wind when you're riding, but it's still in the test phase, so they wheeled out the new Nano Flex Pro Bib Tights to keep you dry while they run through some more R&D. It's a simple, elegant...
<< Prev | Back | 1 | 2 | 3 | 4 | 5 | 6 | 7 | 8 | 9 | 10 | More | Next >>