Mens Road Bike Bottoms - Road Bike Shop
Shop
>
Men's Apparel Clothing
>
Men's Apparel Road Bike Clothing
>
Men's Apparel Road Bike Bottoms
Capo Pursuit Bib Shorts - Men's
Retail Price:
$169.95
Our Price: $118.96
buy now
The Pursuit kit occupies the top of Capo's Corsa range. Corsa is a series of shorts and jerseys that use Italian-sourced fabrics to offer club ride-ready comfort, but with the performance you would expect from the technical style savants at Capo. The Pursuit Bib Shorts follow the contoured...
Capo Pursuit Bib Shorts - Men's - Men's
In the well-developed Capo hierarchy of cycling apparel, the Pursuit lines up at the top of the Corsa range, which is the company's club-fit clothing for those seeking technical cycling gear but with a bit more comfort for us non-professional cyclists. The Capo Pursuit Bib Tights fulfill this...
Capo Pursuit Roubaix Bib Knickers - Men's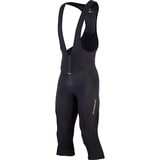 Capo's Corsa line of clothing focuses on combining breathability and a hint of muscle-stabilizing compression in a classic, European-inspired design. This comfort-themed recipe results in the ideal platform for cold-weather cycling gear. By starting with the Corsa's basic ethos and adding...
Capo Pursuit Roubaix Bib Shorts - Men's
The divide between the proponents of full-length tights and those who prefer shorts and warmers is traditionally situated in the Atlantic ocean, with the former in the Americas and the latter in Europe. Traditional affiliations aside, though, we can appreciate the benefits of both sides; however,...
Capo Pursuit Roubaix Bib Tights - Men's
While not as heavy-duty as the company's premium Padrone bib tights, the Capo Pursuit Roubaix Bib Tights are still an excellent pair of cold-weather tights that use similar fabrics in a slightly lighter package. To place the Pursuit Roubaix bib tights near the top of its warming bottoms, Capo had...
Capo Riga Shorts - Men's - Men's
Not all cyclists wear bib shorts. In fact, there are many who crave the simplicity of a more traditional pair of cycling shorts. Capo knows this better than most, which is why its designers developed the Riga Shorts. Unlike Capo's Dragos or Ceramicas, which feature multiple technologies and...
Capo SC-12 Bib Shorts - Men's
Retail Price:
$199.95
Our Price: $109.97
buy now
Capo has divided their entire line of kits into three categories: Corsa, Super Corsa, and the top-shelf ATS line. The best-selling SC-12 (short for "Super Corsa 2012") kit rests squarely in the Super Corsa category, as this series offers an intelligent blend of Capo's best fabrics, and most...
Castelli Body Paint 2.0 Bib Short - Men's - Men's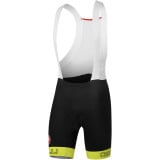 Retail Price:
$249.95
Our Price: $199.96
buy now
When most of us hear the words 'body paint,' we think of Mardi Gras or wild Vegas shows. But that certainly is not what Castelli had in mind when it coined the phrase to describe this line of high-quality cycling wear. The Castelli Body Paint 2. 0 Bib Shorts will fit so well that you'll feel like...
Castelli Body Paint 3.0 Speed Suit - Long-Sleeve - Men's - Men's
Retail Price:
$379.95
Our Price: $303.96
buy now
The discussion over the effectiveness of fabric verses bare skin in races against the clock is never-ending. It's been proven, by the numbers, that certain textures of fabric placed across the direction of wind flow are more aerodynamic than bare skin, but that's only if they have been engineered...
Castelli Body Paint Tour Limited Bib Shorts - Men's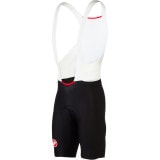 Retail Price:
$249.95
Our Price: $149.97
buy now
Castelli's Body Paint lineup never ceases to impress us, as the fit is always spot-on and the ultra-thin fabric applications make seamless transitions (literally) to our skin. Positive feedback from professional team riders continues to flow into Castelli's headquarters, which is why it decided...
<< Prev | Back | 1 | 2 | 3 | 4 | 5 | 6 | 7 | 8 | 9 | 10 | More | Next >>