Mens Road Bike Bottoms - Road Bike Shop
Shop
>
Men's Apparel Clothing
>
Men's Apparel Road Bike Clothing
>
Men's Apparel Road Bike Bottoms
Attaquer Gone Fishin' Kit - Men's
We had no idea how much overlap there is between fishing and cycling until Attaquer sent us the Gone Fishin' Kit. Both disciplines have elements of costume and gear that make them look silly to others, both require planning and usually a significant block of dedicated time to properly enjoy, both...
Attaquer Green Peacock Kit - Men's
No one has ever called the Australians subtle, and if they have, we'd imagine they quickly took the statement back. The sun-drenched continent with miles of roads ribboning alongside golden beaches and turquoise seas has recently supported the emergence of innovative new cycling apparel...
Attaquer Heat Map Kit - Men's
Attaquer's Heat Map Kit cleverly fools your opponents by displaying the globe's heat centers on your upper body, suggesting that your cardiovascular system is well in the red while masking your primed engine's heat-producing speed with cooling blue oceans and a sliver of Antarctica. Reassured by...
Attaquer Mountain Climb Mash Kit - Men's
A relative newcomer to the cycling apparel game, Attaquer wants you to look as bold as you feel when riding. The Attaquer Mash-Up Kit will certainly make heads turn in the pack. Stand out from the crowd with your riding and your outfit when you chose Attaquer. The jersey is a Pro-Fit, body...
Attaquer Night Rider Kit - Men's
Retail Price:
$318.95
Our Price: $255.16
buy now
The Night Rider Kit demonstrates Attaquer's romantic side, painting a Lycra canvas with a starscape that appeals to the lovelorn stargazer in all of us. Of course, Attaquer is also remarkably tech-nerdy, so the Lycra is race-ready and Italian-bred. The stars themselves are also mapped out and...
Attaquer Palms Kit - Men's
Anyone who thinks there's no room for palm fronds on race-cut, competitive-minded cycling kits has clearly never been paying attention to the annual February exodus from Europe to Qatar during which Belgians ride around in the subtropical desert blowing the peloton apart in crosswinds. Attaquer's...
Attaquer Rockies Eagle Kit - Men's
From their nascent, initial upthrust of Precambrian metamorphic rock during the Upper Carboniferous subperiod (circa 300 Ma) to our weekend epics tracing the opening salvo of the queen stage of Utah's home race from Salt Lake City to Park City, the Rocky Mountains -- whether Ancestral or...
Attaquer Skinsuit - Men's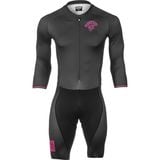 Retail Price:
$248.95
Our Price: $236.99
buy now
Everyone laughed when Cavendish started wearing skinsuits to races, but then he won himself a world title, and now it's unusual not to see the guys expecting to be competitive in a race against the clock wearing anything but a skinsuit. With the Attaquer Skinsuit, you can have the same...
Attaquer Windsurfer Kit - Men's
We can't say for sure, but we'd imagine that Attaquer's Sydney-based founding duo may have taken inspiration for its Windsurfer Kit from the assortment of bright sails that often dot the coves of Sydney Harbor, and we must admit, the colorful design sets itself apart from other kits you'll see...
Bellwether Forma Shorts - Men's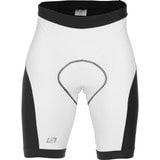 Retail Price:
$94.95
Our Price: $23.99
buy now
While the Italian cycling apparel brands often get the credit for being the best in the world -- and this is arguably true in many instances -- American brands like Bellwether easily compete, and articles like the Bellwether Forma Men's Shorts are beautiful showcases of how. Bellwether relies on...
<< Prev | Back | 1 | 2 | 3 | 4 | 5 | 6 | 7 | 8 | 9 | 10 | More | Next >>