Mens Road Bike Bottoms - Road Bike Shop
Shop
>
Men's Apparel Clothing
>
Men's Apparel Road Bike Clothing
>
Men's Apparel Road Bike Bottoms
Attaquer Bandits Kit - Men's - Men's
We'd really like to say the name of the movie behind the design of the Attaquer Bandits Kit, but alas, Hollywood isn't one to agitate -- even '80s Australian Hollywood. However, we are able to say that it involved a few characters named PJ, Goose, and Judy, one of whom went on to marry a pretty...
Attaquer Batter Up Kit - Men's - Men's
Let us introduce you to Attaquer. Attaquer, North America. North America, Attaquer. Now you're friends, and believe us, Attaquer wants to shake your hand from across the Pacific -- Australia to America. Perhaps that's why the designs for its latest collection are based around America's most...
Attaquer Go Long Kit - Men's - Men's
Even for Australians, the pull of the Oakland uniform is powerful -- either that, or Attaquer is a really big Suicidal fan. We suppose that the same sentiment stands true to you. Regardless of whether you love to get "psycho" with your friends Mike and Rocky, you're really into padded dudes...
Attaquer Shooting Hoops Kit - Men's - Men's
While it's true that the interpretation of style is in the eye of the beholder, the presentation of cycling style typically, well, kind of sucks. Either it's too serious, too bland, or blatantly too Euro to a point of fault. This isn't simply conjecture either. If it were, the rising Australian...
Babici Corsa Bib Shorts - Men's
Retail Price:
$179.95
Our Price: $71.98
buy now
Quality is a subjective term. More than just a singular trait, we believe that true quality is measured with a perspective of totality. So, for bib shorts, what sets apart the innovators from the fakers? Well, Babici has a checklist for its bib shorts -- design, style, comfort, function, and...
Babici Lumiere Bib Shorts - Men's
Retail Price:
$189.95
Our Price: $75.98
buy now
We're so used to describing Babici's designs in grandiose, romantic terms, that we were caught off guard by its new Lumiere Bib Shorts. Instead of requiring a history book for a lengthy revisiting of a namesake, the Lumiere characterizes everyday comfort and subtlety. Yes, the design is beautiful...
Bellwether Newton Bib Shorts - Men's
Retail Price:
$159.99
Our Price: $63.99
buy now
Sir Newton may not have been loved by everyone. But Bellwether's bib shorts that bear his name will turn even the hardiest and most stubborn of short-wearing cyclists into bib aficionados. Bellwether constructed the Newtons with a dual knit. A denier gradient fabric pulls moisture away from the...
Bellwether Newton Shorts - Men's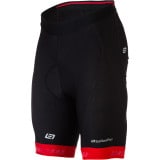 Retail Price:
$129.99
Our Price: $49.99
buy now
For the cyclist who prefers shorts over the more conventional bibs, Bellwether's Newton Shorts take the guesswork out of which pair to choose. Bellwether constructed the Newton shorts with Powergrid Flash. It is designed with a grid-like matrix that not only stretches to conform to your muscles,...
Capo Adriatico LE Bib Shorts - Men's
Retail Price:
$180.00
Our Price: $89.99
buy now
Capo teamed up with Competitive Cyclist to design the new Adriatico limited edition jersey/bib shorts, which pay homage to the storied seven-day stage race that takes place in Italy each spring. Called by many as the 'race of the two seas,' the Tirreno-Adriatico spans the country's interior, and...
Capo Ceramica Bib Shorts - Men's - Men's
While wool was the original fabric of choice for cycling shorts, Lycra quickly took over. For years bib shorts touted various blends of the fabric with 2-way or 4-way stretch and various panel counts. But Lycra is not a do-all material, and for as many pluses as it has, it also has its drawbacks....
<< Prev | Back | 1 | 2 | 3 | 4 | 5 | 6 | 7 | 8 | 9 | 10 | More | Next >>