Mens Road Bike Bottoms - Road Bike Shop
Shop
>
Men's Apparel Clothing
>
Men's Apparel Road Bike Clothing
>
Men's Apparel Road Bike Bottoms
Santini Cero Bib Short - Men's
Retail Price:
$119.99
Our Price: $101.99
buy now
Ideally suited for those warmer rides of summer, the Santini Men's Cero Bib Short focuses on keeping you wrapped in light, breathable comfort and reliable protection from harsh UV rays. Crafted from a stretchy, anti-bacterial fabric, and with plenty of mesh panels, the Cero allows you to move...
Santini Cima Coppi Bib Short - Men's
Every year, the Giro awards the Cima Coppi to the first cyclist to summit each edition's tallest peak. While the Cima Coppi changes from year to year, no climb is as iconic as the Stelvio. It's the highest point the Giro ever reaches, it's the first Cima Coppi, and--by dint of being the highest...
Santini Core 2.0 Bib Short - Men's
Retail Price:
$94.95
Our Price: $71.21
buy now
Whether you like papaya fruit or not, you have to admit that it's an interesting name for the proprietary fabric used to construct Santini's Core 2. 0 Bib Men's Short. Santini doesn't give us much information about what exactly constitutes Papaya, but we do know it's a synthetic composition of...
Santini Gara 2.0 Bib Short - Men's
Retail Price:
$119.95
Our Price: $89.96
buy now
Let's face it, the long haul is a really long haul. After 80km, everyone needs as much help as they can get. And while your personal jury might still be out on dedicated compressive apparel, a prudent compromise takes shape in the Santini Men's Gara 2. 0 Bib Shorts. For the construction of the...
Santini Maglia Nera Bib Short - Men's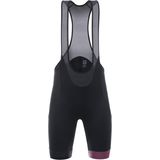 Retail Price:
$138.95
Our Price: $101.43
buy now
Few artifacts of cycling culture embody the spirit of suffering quite as well as the Maglia Nera. It was awarded in the form of a black jersey to the Giro's last-place rider from 1946 to 1951, though the ghost of the Maglia Nera remains a symbolic point of pride because it reminds us all of the...
Santini Mago Bib Short - Men's
Retail Price:
$159.95
Our Price: $111.96
buy now
Finding a pair of affordable bib shorts worthy of long days in the saddle is somewhat akin to searching for a unicorn. Santini calls an end to the search with its Men's Mago Bib Shorts, whose compressive support is designed to comfortably usher you through epic miles and day-long adventures....
Santini Monza-Milano Bib Short - Men's
Any cyclist lucky enough to make it through the arduous climbs of the Giro in one piece will earn a much-needed respite with a finish beneath the towering spires of Milan's Duomo. If you recreate this finishing route through the close streets of that cosmopolitan outpost in Northern Italy, you'll...
Santini Nimes Bib Short - Men's
Retail Price:
$119.99
Our Price: $75.59
buy now
Ride out in pure comfort and iconic style with the Santini Men's Nimes Bib Short. A stretchy, breathable construction ensures you enjoy the entirety of your ride in cool, dry comfort with plenty of room to move around, while mesh throughout the bib straps ensures that air continuously flows to...
Santini Photon 3.0 Bib Short - Men's
Retail Price:
$239.95
Our Price: $201.56
buy now
The Santini Men's Photon 3. 0 Bib Shorts blend aerodynamic design, supportive compression, and exceptional breathability worthy of the longest races and warmest training rides. The main body is fashioned from Thunderbike Power, a Lycra fabric that provides fatigue-fighting support for your...
Santini Primo Bib Short - Men's
Retail Price:
$125.00
Our Price: $61.25
buy now
You can never go wrong with a classic pair of black bib shorts, but some rides call for the Euro flair and bright comfort of Santini's Primo Men's Bib Shorts. Fashioned from Thunderbike Power fabric, these bib shorts are stretchy enough to allow full freedom of movement while also providing a...
<< Prev | Back | 21 | 22 | 23 | 24 | 25 | 26 | 27 | 28 | 29 | 30 | More | Next >>