Mens Road Bike Bottoms - Road Bike Shop
Shop
>
Men's Apparel Clothing
>
Men's Apparel Road Bike Clothing
>
Men's Apparel Road Bike Bottoms
Mavic Cosmic Elite Thermo Bib Knicker - Men's
It might be a stretch to say that knee warmers are the bane of our existence, but they can be pretty darn annoying with all the shifting, bunching, and uncomfortable pinching if they're tight enough to stay in place. Stay protected and comfortable with a pair of Mavic Men's Cosmic Elite Thermo...
Mavic Cosmic Elite Thermo Bib Short - Men's
Mavic knows wheels. Since it launched the 500 hub in the mid-70s, the French firm's yellow has come to be synonymous with wheels; however, it's only recently become a force in the soft goods side of cycling, and kit like the Cosmic Thermo Elite Men's Bib Shorts demonstrate that Mavic is perfectly...
Mavic Cosmic Pro Bib Short - Men's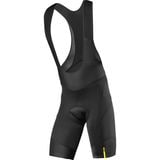 Grinding up Independence Pass is never easy, but with Mavic's Cosmic Pro Men's Bib Short, you'll at least get some some seriously breathable support to make the classic climb a little bit easier. The ultralight Skin Power fabric is engineered to keep you cool on the hottest summer days, but it's...
Mavic Cosmic Pro Wind Bib Tight - Men's
Rolling into spring season with a mid-season level of power doesn't happen by sitting on the couch with snacks all winter, instead its best achieved by a winter of dedication. That means getting out in blustery winter winds, come rain or shine, committing to the base miles, and the Mavic Cosmic...
Mavic Cosmic Ultimate Bib Short - Men's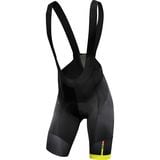 The Cosmic Ultimate Men's Bib Short is Mavic's top-tier bib. It's designed for long days in the saddle over the roughest roads. From its advanced fabrics to its multi-density 3D Pro chamois, the Cosmic Ultimate is poised to provide the comfort and support needed for your grandest days out on the...
Mavic Ksyrium Elite Thermal Bib Tights - Men's
We refuse to go out on a cold weather ride if we can't stay warm and comfortable. Granted, we want to stay fit in the offseason and be ready to go come spring realizing that big gains can be made now while others are lounging on the couch. The solution to finding the courage to go out and brave...
Mavic Ksyrium Pro Bib Shorts - Men's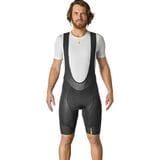 Retail Price:
$189.95
Our Price: $149.95
buy now
Serious cyclists tend to be more worried about high-level muscle support than splattered bits of mashed banana, so the Mavic Ksyrium Pro Men's Bib Shorts are the bibs you'll be after once you've graduated from a high chair to high ambitions in the saddle. They're built to offer serious...
Mavic Ksyrium Pro Thermo Bib Tights - Men's
Retail Price:
$249.95
Our Price: $149.97
buy now
Cold-weather cycling isn't for the faint of heart. Your eyelashes will freeze, your lungs will hurt, and your fingers will scream, but that just means each completed ride is that much more rewarding come spring. Mavic's Ksyrium Pro Thermo Men's Bib Tights can't save your digits or unfreeze your...
Nalini Aeprolight Bib Short 1 - Men's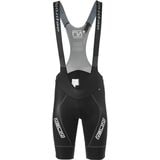 Retail Price:
$239.95
Our Price: $167.96
buy now
Lightweight and durable aren't two words that usually go together, but the Nalini Aeprolight 1 Men's Bib Shorts aren't your usual piece of cycling apparel. Made with the company's proprietary Hot Moa X-Light fabric, the Aeprolight is carefully designed to keep your engine out of the red zone on...
Nalini Aludra Bib Tight - Men's
You can't start spring strong if you don't train in the winter, but if you're anything like us (or at least some of us), you can think of ancient forms of torture that you'd enjoy more than listening to the whine of an indoor trainer. Nalini made the Aludra Bib Tights so you can bang out your...
<< Prev | Back | 21 | 22 | 23 | 24 | 25 | 26 | 27 | 28 | 29 | 30 | More | Next >>